Sliders are gone!, 125 package deal for bumpers, they are being blasted right now!
Well if you haven't seen my post in the pub....it will give you some ideas of why these are for sale...I lost my jeep in a fire...the rear bumper hasn't been mounted on the jeep ever, and the front hasn't since I added the hitch and took of the brushgaurd...but they were the only three things salvagable from my jeep....there is a front bumper for a yj...it only needs holes drilled in the mounting tabs and paint and it is complete...the rear bumper needs the reciever 5/8" drilled and mouting holes drilled and paint...and the rock sliders have all holes ready to go with some paint...they look like they are warped but they were from when I welded them and the heat pulled them, but when they were on the jeep they went straight...these bolt on the side of the tub and do not protect underneath but run front stock yj front flare to rear.
Here are specs
**looking for a dana 30 out of a tj or newer xj, if you have one i will trade***
$110 front bumper....3/16" 2x4 construction, 2" reciever, 1/4" plate power steering skid
$150rear bumper....same exact thing as front 2" reciever and 1" thick dring mounts with a hilift mount on top of the bumper, except it wraps around and follows line of stock yj rear flare...can easily be modified for larger openings.
$125 rock sliders are made out of 3/16" flat stock and 1/8" 1x1 tube.
here are a pic of the rocksliders...please keep in mind that everything is covered in soote but still in excellent condition minus the black...it wouldn't take hardly anything to clean them up for paint.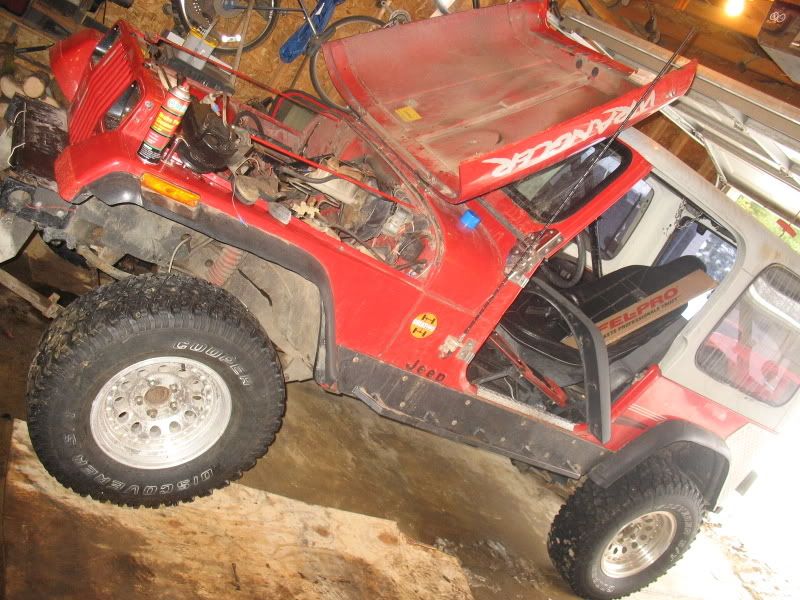 300 for all and I am 99% sure I can have all parts sandblasted so they are ready for paint...i guess i really don't have any needs for trades now that the jeep is gone unless you have any body parts or interior parts for a ranger that will work for a 99 or who knows what else