Windrock was a good time!
Leaving
We arrived Friday night and set up camp. I was woke up Saturday morning by the downpour that lasted about 1.5 hours. Got out of bed at 8:30 and was at the trail by 10.
Saturday was very very TN red clay greasy!!
When going down hills it was more of a controlled slide. This was quite unnerving considering that the drop off on the side of the trail would pretty much kill you.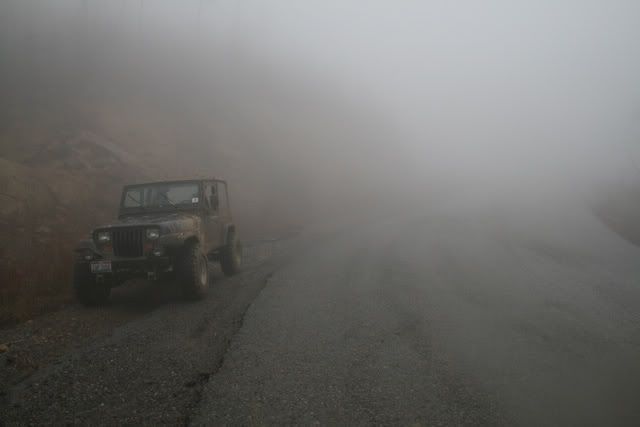 No body likes to die . . . ya know :sonicjay:
When we got up in the mountains the fog rolled in and it was super dangerous with visibility at roughly 30 feet. Quads, dirtbikes and jeeps were cruising at like 2.5 miles per hours so there wasn't any accidents.
Basically the first half of the day kinda blew! The moderate trails were hard and the extreme trails where impossible so we just drove around and tried to have as much fun as possible.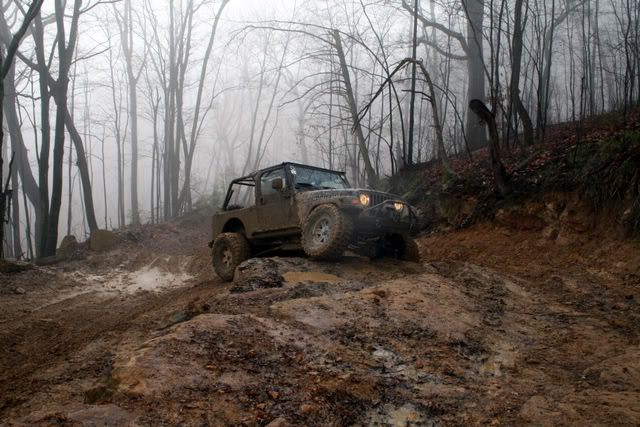 At the end of the day we went and scouted our RattleRock. I walked down it from the top and wish I would have brought my camera with me. It is the most insane, intense, huge freekin boulder trail I've ever seen. At the bottom of the trail playing in the wet slick rocks was a tube jeep on 44s and was having quite the difficult time in the rocks. Like stupid slick when wet.
After that we went to help some dumb butt who went out wheeling by himself and without a winch. Good Karma we though :beer:
For dinner we went to Captain Tom's BBQ . . it was closed
So . . . we ended up at Sagebrush Steakhouse in Oak Ridge. DO NOT EAT THERE!!!! IT WAS HORRIBLE!! :whiz:
Day 2:
We were all set to hit Rattle Rock!!
But Joe broke on the way.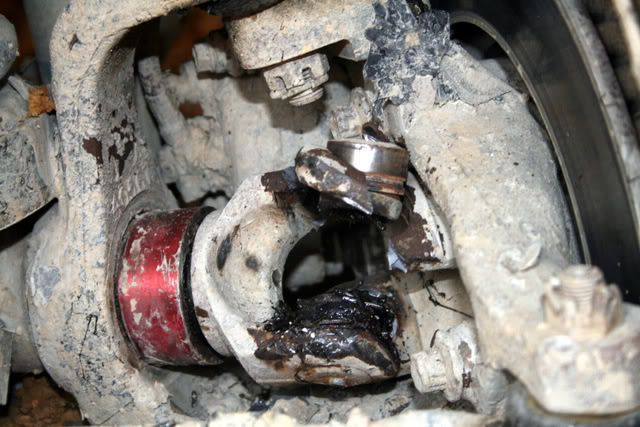 So winch time.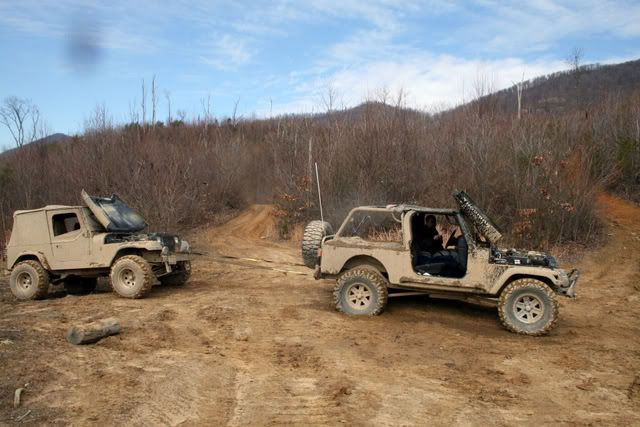 And fix it time :woot:
The problem child!
Almost wrapped up
Joe did good. Took about 45mins to get down the mountain and swap shafts.
A little mountain shot