2000 Nissan Xterra, 180ish kilometers
A/c, power windows/locks etc etc
5spd, trans was rebuilt and new clutch under 5000k ago
rear end was replaced under 5000k ago
Spencer Lowe Racing steering
Sway-away Torsion bars
Safari Snorkel system
Skid plates
Volant Air intake
Calmini Upper control arms/w grease nipples (older style, more better)
Deaver rear 3 AAL leaf springs
Calmini shackles
3 inch body lift.
ARB bumper with winch
Custom rear bumper with swingaway tire carrier.
Has 33 inch boggers with it with great tread (90%ish) on AR 767's and stockers on it now on pathy rims
Front fenders have some damage, but very cheap to replace ($160 a side CDN), i was just going to wait until spring to do so. truck runs good, got it for the wife but she wants something different, so i told her to buy her own truck and im putting this up for sale/trade for something different:
-hot rods
-pickups
-surprize me
No paint ball or stereo equipment, no /XJ/ZJ, bikes + cash an option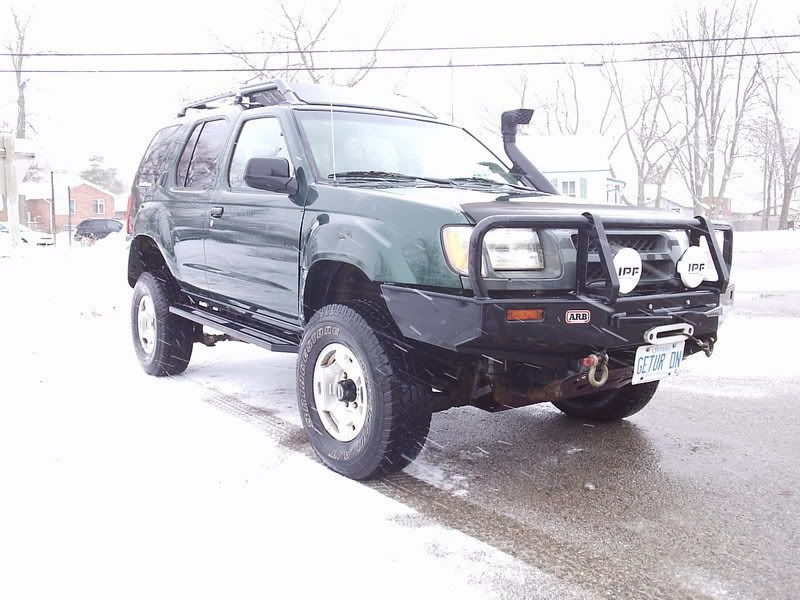 Tons more pictures here:
http://s274.photobucket.com/albums/jj241/mayhemincorperated/Xterra/
I dunno whut to put for price so ill say $7000 but more partial to trades.
Oh n heres the IFS skidplate