I'll be adding pictures as I can. But from the fisrt one I linked, It appears I need to do some Major resizing to make them less obnoxious.
There won't be many as I hadn't originally planned on doing a thread, and the major hunk of my build took place of 5 very long days without time to take pictures.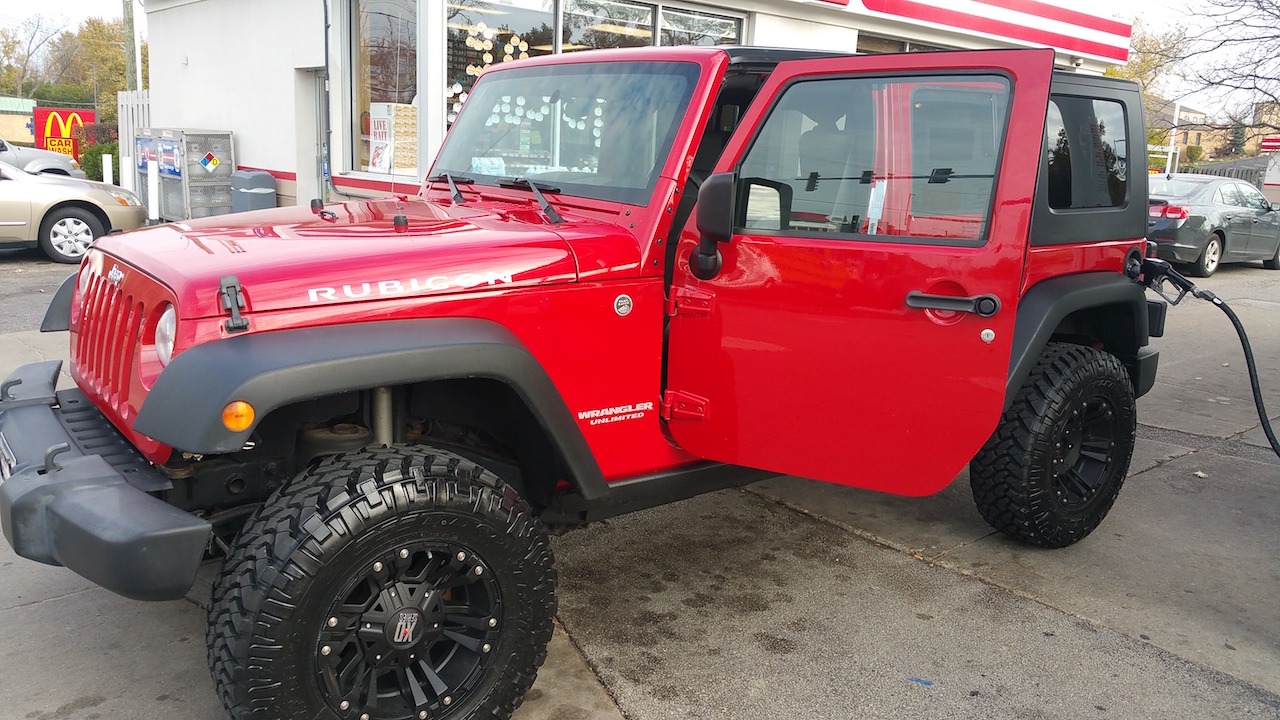 The Start.
2008 JK Unlimited Rubicon.
When I purchased it the previous owner had installed a 1" Body lift and was running 33x10.50 Trail Grappler MT's wrapped around KMC XD Series 2 Wheels. Stock spare tire and wheel though, blech
Came with the Dual Top package, Hard Top and Sunrider Softtop, unfortunately had one torn up window, but easily remedied.
80K miles, ran good, no leaks, a few little rust spots on the body, but nothing but a little surface rust.
Unfortunately the First thing done wasn't a Mod, but was a repair. Radiator had a leak after the second week of owning it.
I ordered a Mishimoto Aluminum Replacement
DON'T DO THIS!!!!!
Thinking it had a lifetime warranty and should be a good buy.
Unfortunately last week, a meer year and a half after purchase it failed to the point of needing replacement while I was up at silver lake (It had a slow leak that I knew would need to be dealt with that turned bigger) and am now battling them to honor their warranty.
When Pulled i saw leaks (between the end tanks and fins) in 4 different places.
Since I was doing the Radiator I took the opportunity to install an Aux trans cooler and oil cooler. Both of those were also Mishimoto, and so far have been solid.
Next to Address were the crappy stock headlights. I went with Trucklite Led's and couldn't be happier with them.
Also at that time I had noticed on the highway the hood bouncing up and down A LOT which i found to be a common issue.
I ordered the daystar? straps and installed them. They hold it way tighter and hasn't been an issue since.
It was also getting colder, and having been used to my Grand Cherokees and heated seats was already tired of having a cold bum.
After looking at options etc I ordered a set of Wet Okole seat coves with the carbon fiber heating pads installed.
I got them in Red and Black, heating pads, lumbar support and sunglass pockets.
Been super happy with this purchase, easily one of the best things I did.
Covered up the stock Grey fabric seats and gave the Jeep a custom look, and are hella functional.