Discussion Starter
•
#1
•
Decided that I really owe it to Ryobi to do a quick review on the string trimmer they make. As the title says, it's the 25cc, 2-cycle, straight shaft power head and I have the: string trimmer, brush cutter, tiller, and pole saw attachment.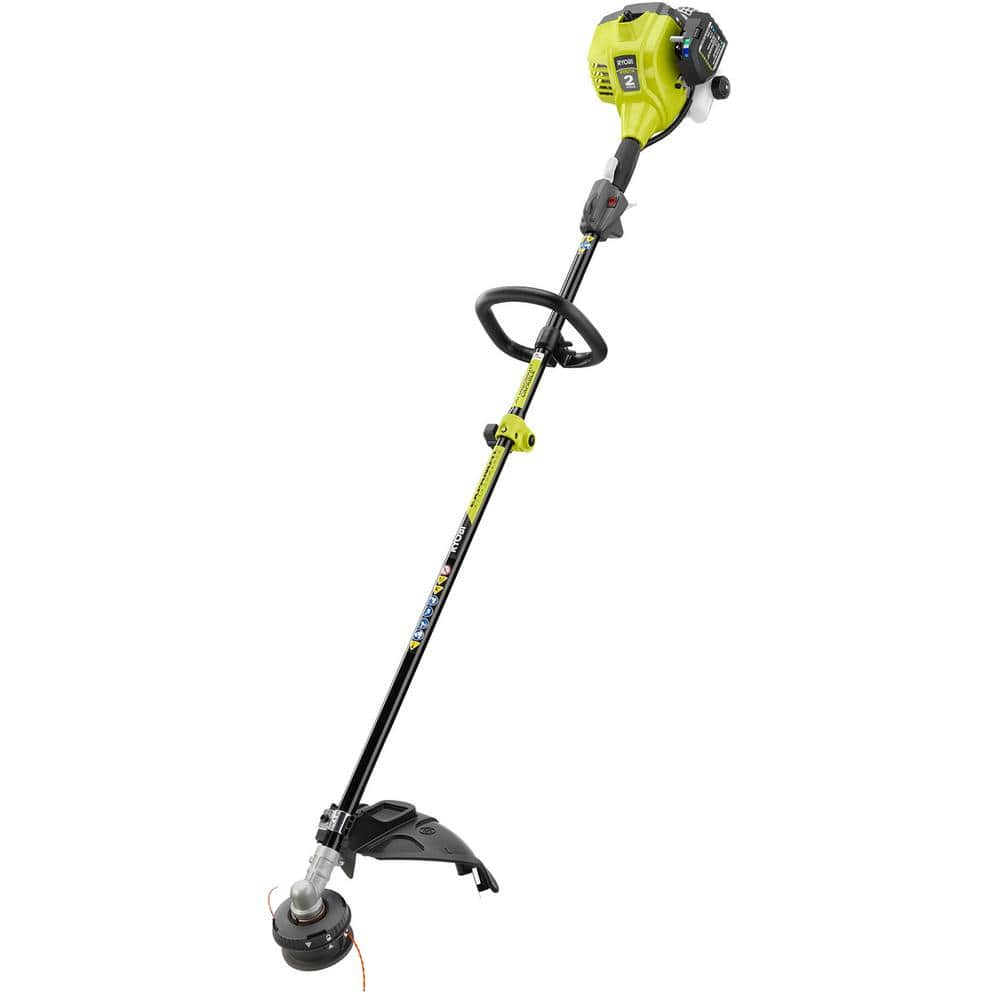 This RYOBI 2-cycle gas straight shaft string trimmer features a full crank engine that creates 2x longer life. Accepting RYOBI expand-it universal brand fit attachments, this string trimmer offers versatile
I've had the trimmer for a couple years, and it has never let me down or failed to do what I wanted it to. It is on the smaller side, and is a big box store; none of that seems to matter as the little guy just runs like a bag of wet cats. Only main issues are it does not like to idle when it's cold (i've also not done a filter or plug replace on it), but ti still starts up and once runs even if it doesn't want to idle all the time; once warmed up it'll sit there and purr until the fuel runs out. It came with the straight shaft trimmer head, and that works flawlessly, renewing the string is literally as easy as pulling replacement through the hole an winding the head up. Nothing more to be said really. Just a good trimmer head.
I also bought the brush cutter attachment, since the power head is Ryobi's expand-it design, which is amazing and ridiculous that other manufacturers have a similar design, but for way more cash. Admittedly, the brush cutter is not a Ryobi, it's actually a Trimmer Plus, seems exactly the same as Ryobi but different paint. The design also seems to be the same as the craftsman, Troy Built...etc. Replaced the cutter head it came with for an 8 inch saw blade and that's what I use for all my brush cutting working, everything from wild blueberry bushes, to 3" thick trees. Cuts them all. Not as fast as good stihl, or larger trimmer, but for the price, it does the same amount of work for a lot, lot less.
Also purchased the tiller head for it, which I thought was a stretch, cause, well it's a 25cc 2-cycle; but what the hell, I had a coupon. Lo and behold, the tiller works fantastically as well, no power issues, no running issue. hit the gas and it churns whatever soil you put at it. I used it for a small food plot at my deer blind, about 10x30. It takes forever and a day since the tiller is so small, but it gets the job done. Through berry bush roots, pine tree roots, hard pack top layer soil...everything. 100% recommend for smaller jobs.
Just decided to pick up the pole saw attachment for it, which again I had put off since, well it's a 25cc 2-cycle, cheaper power head. But, I didn't have a coupon, but reasons. Got the saw hooked it up, and call me mary, thing runs the 12ft long, 12" pole saw without any issues. Used it for an hour or so to trim branches along the camp road, and not a problem with any of it. Cut 6" pine branches and 4" oak branches without stalling out or anything. The only actual problem is, the damn thing has some gravity to it. It gets really heavy to use after a bit. I had the stock handle that came with the trimmer, the little H hook one (or whatever it's called), put that on the extension part of the pole saw and that at least lets you get a good grip on it. Still, 100% recommend.
No pics, as I never thought I'd feel it necessary to write anything about it, as it's a (at the time) $120, 25cc string trimmer from Homeless Despot. For what it is, i'm buying another one just to make sure I have a spare cause I absolutely love it. I use it for everything out at camp, house, lake lot. Treat it like it is, take your time, and it'll do anything that a $350 Stihl will (my uncle has the stihl). I did abuse it with the brush cutter as I ended up tearing the metal where the attachment point it, but all I ended up doing was little metal massaging and weld it back up. Been like that for a year.
I honestly can not say enough good things about this little guy; if it blew up in the next couple months, I wouldn't be mad or upset. disappointed yes. I've used that thing and them some probably for far more than it was ever intended.
The brush cutter I bought from Amazon, as it's a trimmer plus brand, the others are all Ryobi brand and bought from Home Depot. The poles saw was $20 less at HD than online as well.