Discussion Starter
·
#1
·
After parting out my
Scrambler project
due to cost I knew I wouldn't be happy not having anything to build and I REALLY want to get back out wheeling. My biggest financial focus is still buying a house this spring, but I also decided to build another much more budget-minded rig to enjoy until I get a better opportunity to go all-out. Realistically I expect to go in stages, where I do the mild(for me) budget build now, wheel and enjoy it for a while, and do various upgrades over the years. It'll be more expensive in the long run, but it's worth it to be able to get out and enjoy it rather than being in the garage forever and out of funds. For now I came up with a very specific plan and a very specific budget to do it in and I intend to stick to it.
Here's what I wanted:
-4.0L 5speed soft top TJ in decent shape. Something running and driving, or at least damn close so that I don't get nickel and dimed to death doing another scratch-built rig.
-Built 1/2 ton axles. I had a set of 1 tons halfway built already but not what I wanted. Those would've been close to $4k all said and done, where I can find well built 1/2 ton axles for under $2k. Plus the weight savings is nice, I didn't want
quite
fullwidth, and I want to give myself a glass ceiling of tires I can safely run. I know with 1 tons I'd end up running at least 40s and going overboard again. Plus I want to run a twin stick D300 so wanted passenger drop. I want to stick to 37s for price, weight, and streetability, and being limited by axle strength while wanting to be very reliable will help me do that.
-Custom longarm suspension with ~100-102" wheelbase. I kept the links off the Scrambler to use on the new rig. 2.25" .375" DOM lowers with Johnny Joints, 1.5" .25" DOM uppers with Ballistic flex joints and/or heims. Triangulated 4 link rear, 3 link front with panhard.
-Custom cage with frame tie-ins
I just got rid of the bulk of the Scrambler last weekend and I was really in no huge rush to find a TJ, but I ended up finding one near Pittsburgh, PA for a good price. 98 TJ, 4.0L, 5 spd, dark blue, high miles, for a pretty low asking price. A college/wheeling buddy of mine who lives near there was kind enough to go check it out for me. Long story short, it's got some issues that are fairly minor to me but were major enough for most people that I was able to get it dirt cheap. I went down Friday night and picked it up: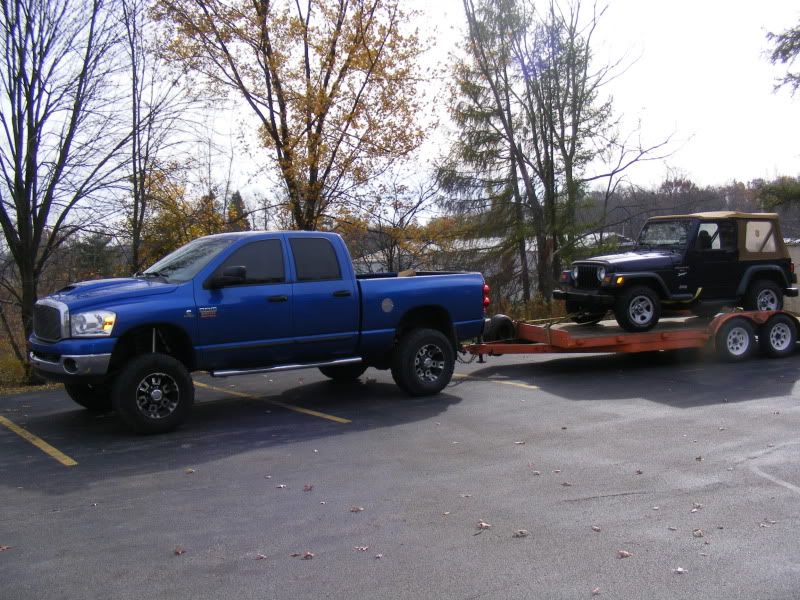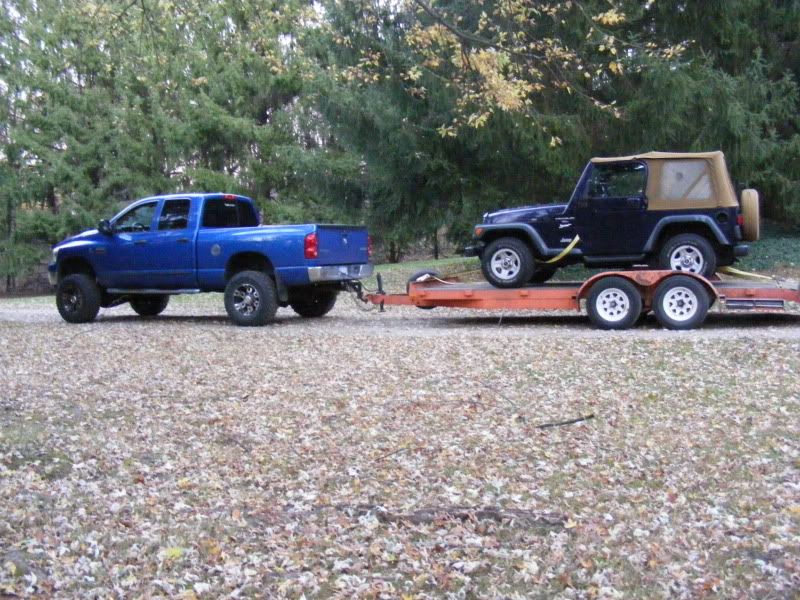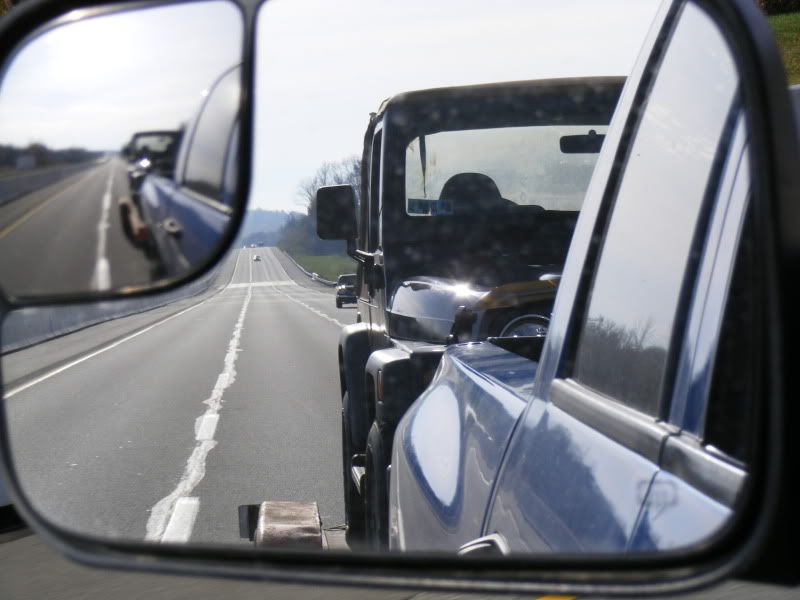 I made it a whole 6 days without having a Jeep project at home:lol:
Now the reason for the project name: It looked dark blue in the pics I saw, looks dark blue in most light, but if the sun reflects the right way it's definitely got a purplish tint to it. Chrysler called the color "deep amethyst" but over the past 12 years the sun has turned it a little more blue and a little less purple. So what color is it? It's blurple. It'll be getting lots of armor and upgrades that are planned to be Blitz Black, so it'll only be about 50% blurple.....I still like the name though!
Definitely got some miles on it: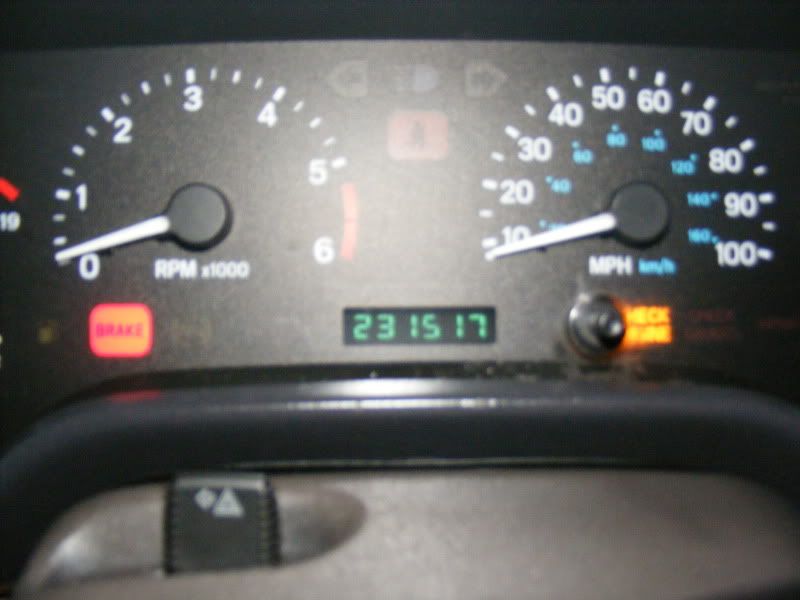 I got it home and spent about 20 minutes bombing through the yard and into the woods a little bit and it's already a blast. Definitely like a little go-cart compared to anything I'm used to.
The whole underside and frame is in great shape with only this exception: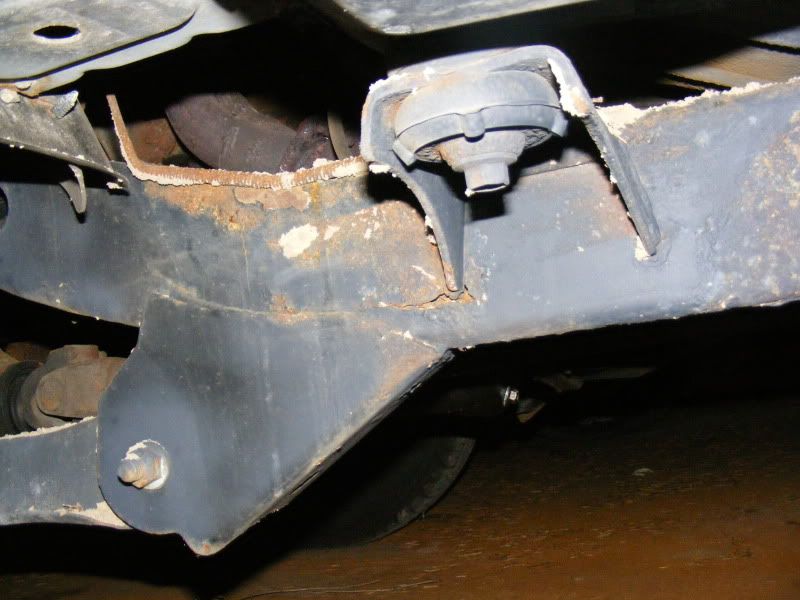 That's no problem for me considering I built the entire frame of the last project, but it was enough to get the price knocked way down. I'll cut it out, patch it, and probably plate over it to be safe.
The body is pretty good overall. Front fenders are cracked but those will become highline tube fenders anyway, there's a bad spot in the tub by the passenger side rear body mount that I'll cut out and weld in a new panel even though it'll be getting covered in armor, then just a couple hinges, eventually a windshield frame, etc. Nothing bad at all. It'll be getting banged into trees and rocks in no time but I still want it to look pretty good.
And of course, the retarded driveway poser shot:
I'll be building it over the winter and fully intend to have this phase done and ready to wheel spring 2011. The cheap purchase price saved me enough to do some extra upgrades and I kept some parts from the Scrambler to use as well. The specs of what'll be happening shortly:
-4.7L stroker (I'll have the crank and rods this week)
-Rebuilt AX-15
-New upgraded clutch
-Twin sticked Dana 300 (got it already and in great shape)
-Triangulated 4 link rear, 3 link with panhard front (got links leftover)
-Coilovers at all corners (looking for 12-16" travel, 2" body, remote resi's for sale for a good price, let me know if you see any)
-37" IROK radials (picking them up for a good price in the next week or so)
-15" beadlocks (shipping to me tomorrow)
-Full cage, harnesses, suspension seats, etc. I plan to be able to use a back seat but won't have it in most of the time
-RCI 2161 fuel cell behind rear seat(would love a GenRight setup but not for $900)
-Black soft top to replace the fugly worn out tan one, and got some 1/2 doors already that I'll run most of the time.
-Passenger drop D44 front from mid 70s FSJ widetrack Cherokee, 65" WMS, rotated knuckles, 4.88s, Detroit, Yukon stubs, Yukon Superjoints, stock inners machined for full circle clips, mid 80s Dodge outers, flattop knuckles. Probably gonna get full Alloy USA shafts and keep the existing ones for trail spares. Might get Longfield joints, or might run the Superjoints in the new shafts and throw the Alloy USA(heat treated Spicer) joints in the spares.
-Mid 70s Ford 9", 65" WMS, 4.88s, ARB, disc brakes. Gonna run stock shafts for now, hopefully these'll last till I can upgrade the front to some variation of built 9", at which point I'll put 35 spline alloys in the rear too.
Got em for a great price from a member on here: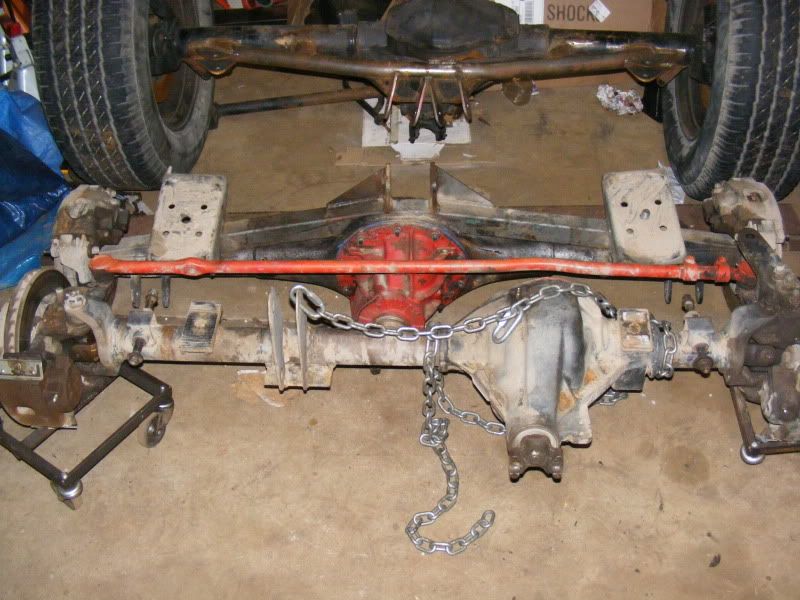 :beer: