Discussion Starter
·
#1
·
I am naming this truck Edith because I have always liked the name.
Edith is a 1984 C30 with a 350, 465, and 14 bolt. I know it is not pretty and needs a lot of work. But, it is a good starting point in my book for what I plan on using it for. This thread will basically be a list of upgrades as stuff is needed.
I bought it Friday night and drove it almost 50 miles from Lansing to Middleville. The suspension is surprisingly comfy and does not have the hard rebound my last 1 ton was known for. The heavy steel bed might have a bit to do with that.
Edith has a sweet rear end. That snow came from Lansing.
When I picked it up it had been sitting for a few months and had air in the lines. So, me and the previous owner poured some break fluid in it till it would stop. Lot of air in the lines but I made it to the house. Manuals rock when you have 1/2 a pedal.
When I first seen this thing I planned right away to rebuild the 465 and get a new carburetor. But, after driving it the 465 shifts smooth and stays in gear. Someone pulled the choke plate off the carburetor before the previous owner got it. So, it was a bit of a pain to start and I was expecting accelerator pump and float issues. None of that happened the carburetor is a beast and accelerated great.
Stock engine bay nothing messed with or modified.
Pre BS hydroboost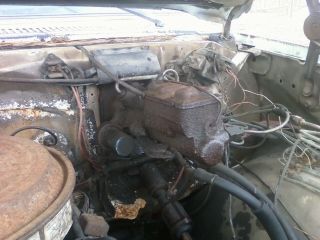 Choke plate missing
I still had the choke issue though. I hit Craigslist Saturday and managed to find a carburetor off of a El Camino for $20. I tossed the dice on whether it would work or not but as soon as I seen it I knew it was the same model. I went home and tore off the choke plate and installed the one from the El Camino pumped the gas 3 times and turned the key. Fired right up and idled what feels like 1000. I let it idle for a minute then burped the throttle and it dropped down. Yes, fast idle is set and the thing needs no tuning.
Nice to know I have extra parts If i do need them though.
I still have a long list of junk to upgrade and replace. ie it has 16.5 trailer tires on the front, more air then fluid in the breaks, needs exhaust gaskets, no radio, passenger door glass needs the lock, the back of the bed wanders and so on.
But, it drives down the road great, shifts great, and with a 12x8 bed will allow me to pull my 5 ton axles, 5 53" tires, 2 quads, massive amount of wood, or whatever I see a need for.
I love these trucks and wont mind dumping a couple grand into this one to make it a sweet daily driver.
My sweet interior. Windshield is not cracked and has the antenna in the center.:woot: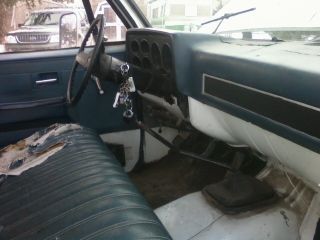 Power windows: Nope
Power locks: Nope
Nice and simple and it just works.
The frame looks great throughout. But, I plan on doing something in the rear to hold the bed on a bit better as well as add some mud flaps.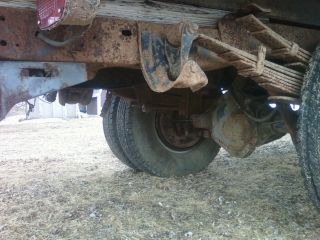 The bed is held on right now with 4 of these massive U bolts in front of the axle. The Previous owner said he had them made for like $120 or so. They still let the rear of the bed wander a little though. I plan on leaving them in place and bolting some plate steel to the frame at the bolts in the picture to prevent and side motion.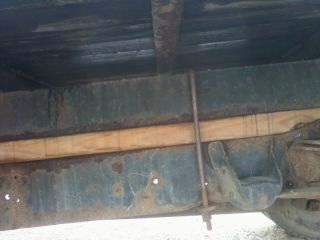 I got new shiny mufflers up there. To bad who ever installed them did not bother to do the exhaust gaskets and doughnuts at the same time. You can see where the bed moved a bit within the 50 miles of driving. I did take 92nd from alto to whitneyville and enjoyed the ride despite the "rough road" causing my escort car to fall behind.
I need to plate/insure this thing some time this week and plan on driving it by next Monday.