Discussion Starter
·
#1
·
Taking some babysteps with this project-
first a little background on the rig:
07 unlimited X package
6 sp
5.5" rockkrawler triple threat lift
5.13's pushing 40's ridin on da d30 and d44, both open
DD jeep
Here's my plan so for:
this pile-o-parts will eventually be a front axle-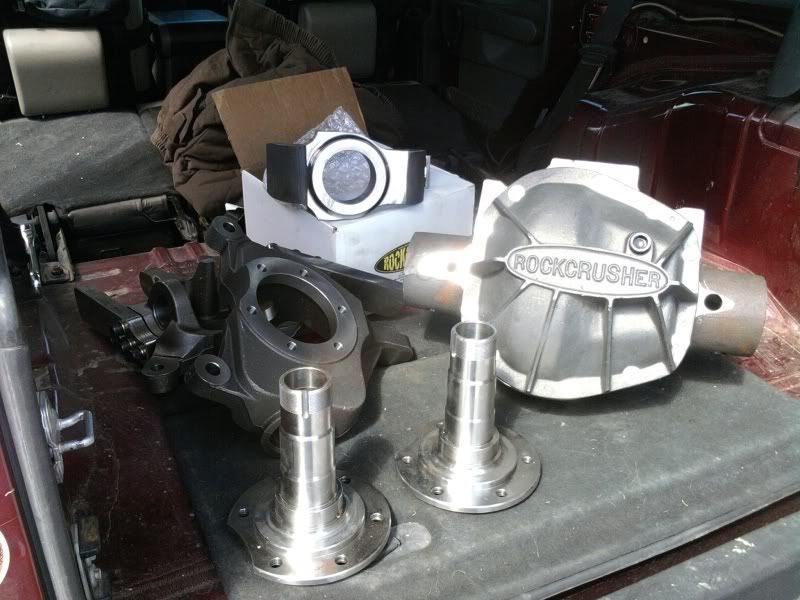 but first i must address the rear because i have too many parts to purchase and dont need to add rims to the list right now
for the rear i picked up a ford dana 60 for $5 at an auction. at the time i was simply pumped cause A. it was $5, B. it was a full float. now i'm not sure that the ff is the way to go. from my understanding the odo needs at least one tone ring to work. I can care less about the abs/esp/bas christmas tree lights that loom my dash already, but i need a speedo. if i'm correct a SF style shaft will be easier to mount the tone ring?
so what im thinking is cut the ends off the ford axle, fab up or purchase a bearing housing to weld on like
this
or
This
-would run the set 20 bearing, reuse the brake housing, pick up a tone ring from currie and run a off the shelf 35 spline ford 9" style axle shafts drilled for both the 5on5 and 5on5.5 i havent measured the d44 flange yet - but i will assume it is different than the ford versions?
also the area where the tone ring is pressed on the shaft i will assume is specific to the jk, so the run of the mill shaft wont work ?anyone make this type of kit
http://www.currieenterprises.com/cestore/productsRE.aspx?id=3371
what i cant seem to find is how to determine the housing length- how much to cut off the old housing, and well for that matter is it even long enough? do i just get the shafts bought and work backwards from there?
whats the diff between set 20 and set 80 bearings?
any other thoughts? like will this even work?