I have decided that its about that time to sell my truck. Ive had it since 2003 when I was a junior in HS and it had 120k on it. Its at 165k rite now. It came stock with a v6 5 speed, now has a 2005 5.7 Hemi motor and 5 speed 545rfe double over drive auto trans. T case is a flipped D300 with stock internals and air shifters. Front axle is a Dana 44 from a 78 F 250. I pulled it from a junk yard and had brand new 4.56's put in with a Lock Rite. It also has Yukon shafts and spicer u joints. 5x5.5 bolt pattern using bronco/F 150 outters and stock brakes with EBC pads. Front suspension is a long arm 3 link with 14 inch travel FOA remote reservoir coilovers. Steering box has been moved forward and braced so there is no contact with anything else. Track bar has been built to match the drag link perfectly and there is no bump steer.
Just replaced an output seal now it has no oil leaks. The motor and trans have about 40k on em and it puts out really nice power, about 400hp and 420ft/lb. 0-60 is under 6 seconds. I have not taken it on a 1/4 mile, but it would prob run a 13-14 if you care about that sort of thing. I had it up to 100mph over the summer, it was very stable. I would not suggest doing that again only because the tires are not rated for that speed. This is my DD so it is reliable and fun to drive around town.
Rear suspension consists of a Ford 9 inch axle from a 79 Bronco with a 4.56 gear and a Detroit Locker. It has disc brakes using drilled and slotted rotors from the front of a 95 Suzuki Sidekick and its stock calipers. Brand new bearings and Yukon alloy Shafts. Brand new custom made Alcan leaf springs, just put those in about 2 months ago and they ride great. They are 8 leaf springs iirc and have a double wrap on the front eye.I do not have any shocks on the rear rite now because the top stud from my 5150 broke and I have not ordered new ones yet but I was running 12 inch travel shocks back there. I have the 2 5150's you could run or some 12 inch travel Pro Comp MX6-R's too. I was considering buying some Rancho adjustables for it, just never made up my mind on that.
Rear bumper has been removed for weight and departure angle reasons but I still have it. Tailgate removed in favor of a tail gate net but I still have that too and it comes with the truck. 22 gallon fuel tank, it gets around 15mpg. I have a roll bar that you can have with it too, I pulled it out a few years ago. Rear end has a class III hitch that I mounted for better departure angle but can quickly be lowered for better towing height. Body has some rust in the rockers and bottom of the drivers door. Left fender has some old damage to it. I have a brand new fender, but never got it painted to put it on. The wheel well lips were all cut off and universal fender flares put on to open up the wheel wells for the 35's and to remove some rust they had. The new fender still needs to be trimmed a little before going on and getting painted
The tires on it now are 35x12.50 15 goodyear silent amrors on American racing 15x8's. Those are the street tires for it, I bought em brand new about 10k ago, they are wearing great and have been properly inflated and rotated. No cupping or air leaks. I also have a set of 35x12.50 15 Mickey Thompson MTZ's on 15x7 dodge hurricane wheels. They have maybe 5k road miles on em. They are a little cut up from the trails but not bad at all, they ride great on the street
It has a trans cooler mounted in front of the rad that needs to have a fan installed. I have it and the mounting kit and relay, just have not done that yet. I have a trans temp gauge and it never gets hot at all during normal driving, just needs that fan for off road. There is a large electric fan on in front of the rad. Same deal with that, it runs cool at around 170-180 during normal traffic. I never have to turn the fan on unless im off road. Also, the rear end is howling a little. I was told it had new gears when I bought the 3rd, but they may need to be replaced/adjusted. Ive been driving on that 3rd for 20k or so now. I had the windshield replaced last year, ball joints done last fall when new shafts went in. Fresh fluids in everything.
This is a standard cab short box truck, wheel base is around 110 or so iirc. I stretched the front axle forward a few inches from stock. It really does work great off road. Plenty of power to all 4 tires and it will flex out to around 40 inches. I will post up pics of it tonight. I am sure I am forgetting some stuff on here, any questions just ask. Its located in St Clair Shores, Mi. Price is 9,000, trades can be considered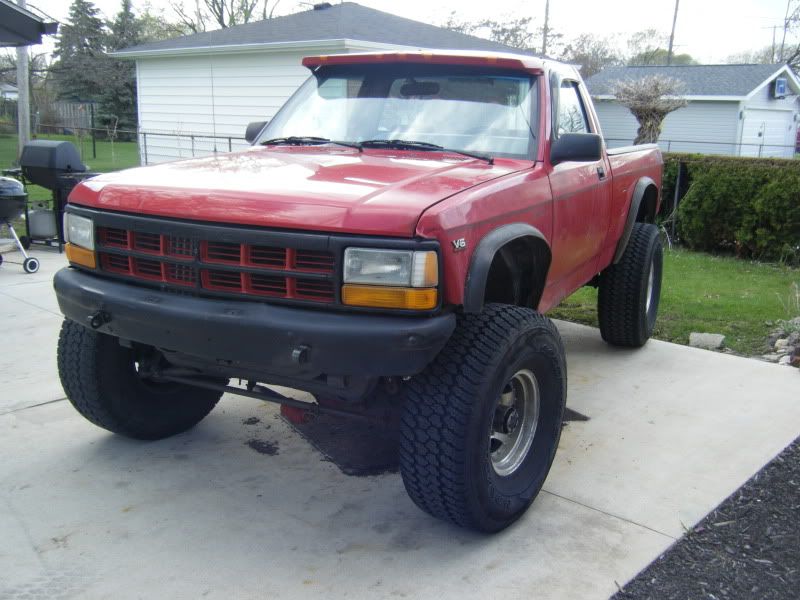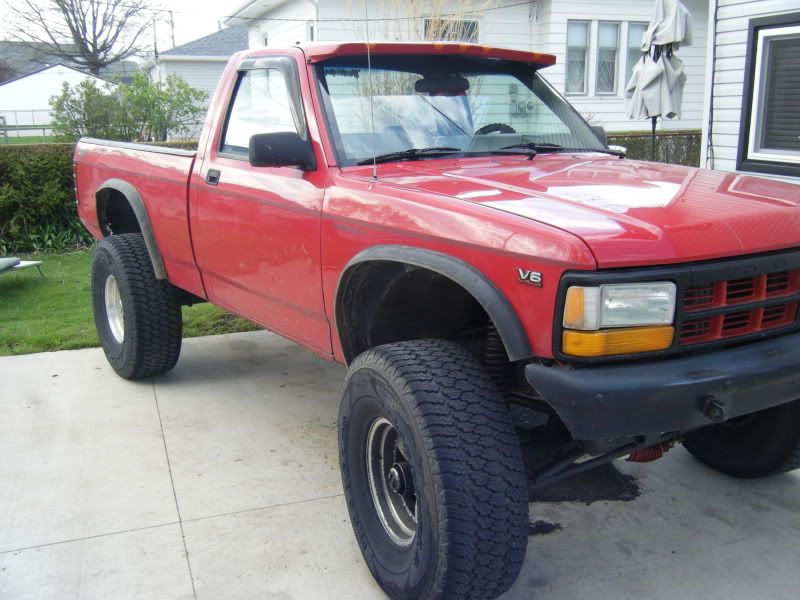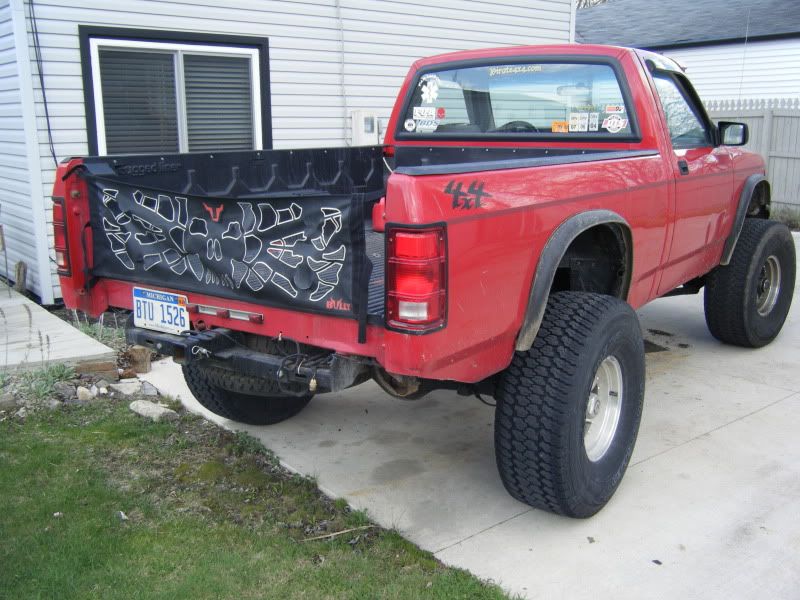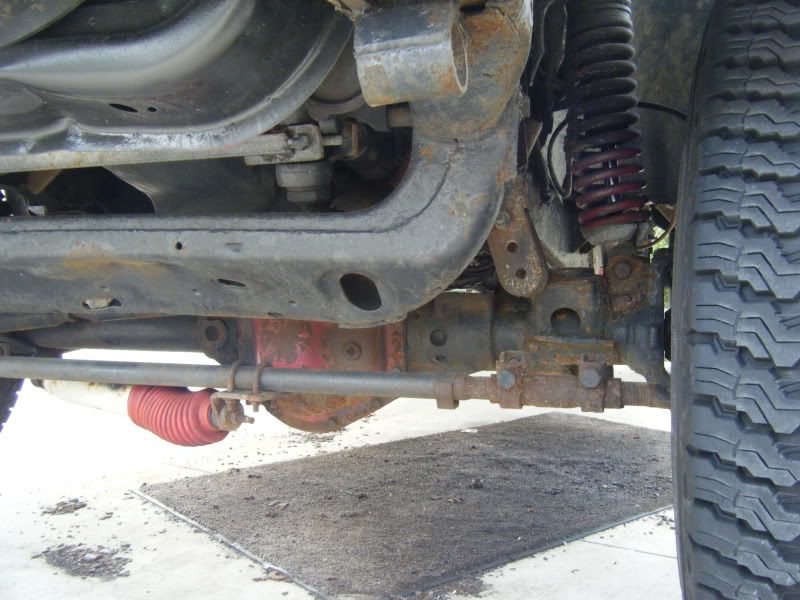 The rear suspension, the brackets on the frame in this pic will be gone very soon
The under belly, the exhaust is not rusted like that. It is VHT paint that I put on to protect it from rusting out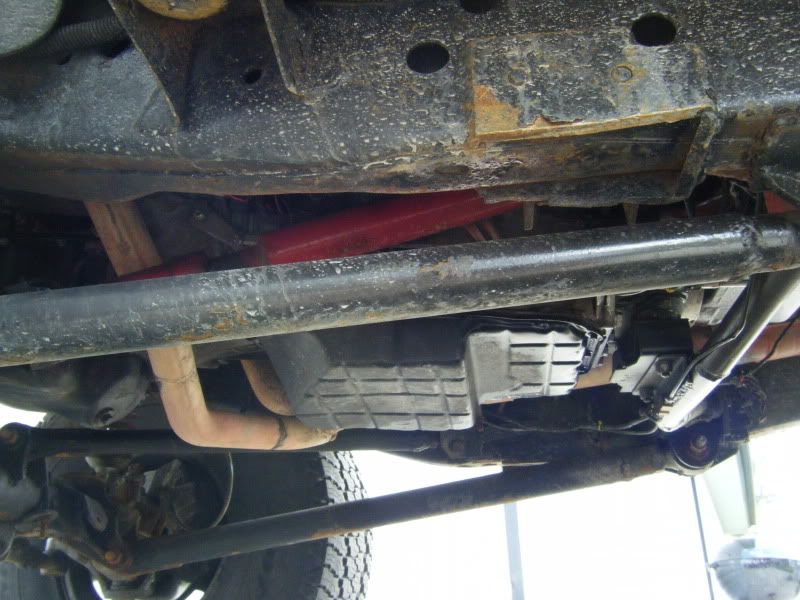 Air shifter setup on the D300