Here is the list how I got it. Alot of imperfections its a trail jeep. I have a new headliner which is installed. The jeep needs to crank for a second then starts right up. It is actually a pretty sweet set up for the four wheel drive system. Im asking 2700 being that the bumper had a mishap and the one side needs to be fixed other then that it is an offroading machine.
1990 Cherokee Sport
2 door, red with gray interior
4.0 liter fuel injected with a K&N air filter, new battery, runs sweet
4 speed auto with heavy duty cooler and manual override switches
271 transfer case
D30 without central axle disconnect 4.10 gears
d35 without C-clips 4.11 gears and a quick-loc (not installed, can be at no cost)
4.5 total lift
Front 3" coils and ACOS adjustable spacers, Tera-Flex long arm control arms and track bar, sway bar disconnects
Rear 3" leaf and Tera-Flex shackles, rear sway bar "fell out"
Rocker panels replaced with 3/16 wall box tube (high lift jack anywhere on it)
Custom rear bumper with 2" reciever and rear trail lights
BONUS SPARE PARTS
Left and right front axle shafts with installed unit bearing for easy trail repair
Left and right rear axle shafts with seals and bearing installed for easy trail repair
Front drive shaft with u-joints
rear drive shaft with u-joints
set for stock rear leafs
Since I have taken posession of the vehicle I have already dropped 500- 800 into it .
New oil cap and Oil drain plug.
New distributor with warranty
New plugs and wires with warranty
Oil changed
I painted the solid rocker panel black to clean them up
I power washed the engine and is super clean
The jeep has rust its a trail jeep.
For 200 more I will throw in the 34's to go along with it. This is a trail jeep and it does have Rust its a 90 most of them are rusted so.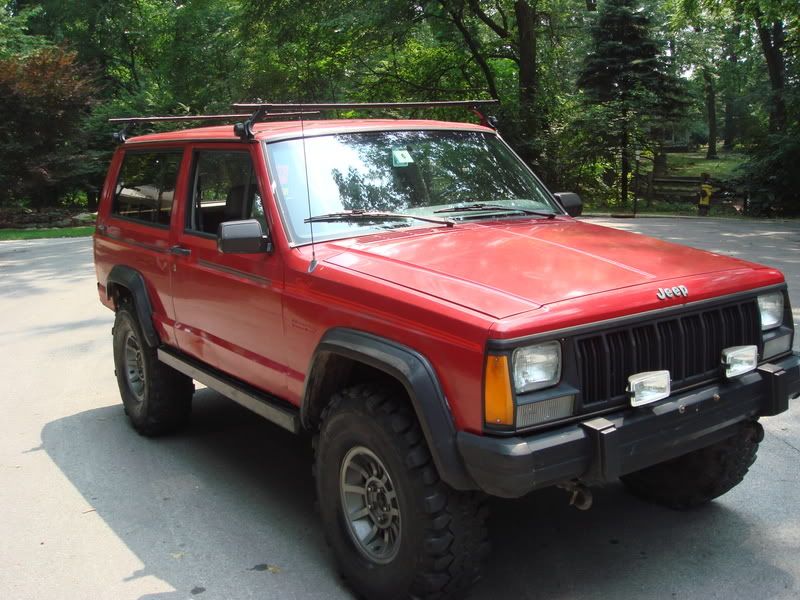 Solid rocker panels
Brand new orv sticker
New plugs wires and distributor
Front and Rear Trial light switches
4 Wheel drive toggle switches far right is to turn off ecu click it into 1-2 and the far left switch is to shift the trans middle switch to turn off torque converter.
Still alot of life on the 34's
The interior is half way decent the seats have some snags in them but other then that its prettty clean.
214 and still runs like a champ no knock.
The rear lenses were cracked out and the bulbs still work.
Custom solid rear bumper with 2" reciever
Pioneer cd player sounds half way decent
Blasted the engine Bay clean new oil camp drain blug K&N airfilter I have a new valve cover gasket not installed yet.
Heavy duty trans cooler the driving lights are hella all the way around.