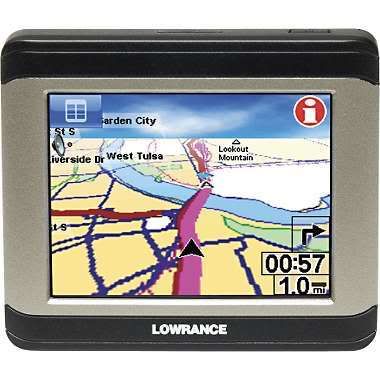 Magellan Crossover vs. Lowrance XOG
I recently decided to purchase a GPS to use in my Jeep for recording and navigating trails, road navigation, and some hiking or geocaching. I decided early on that a crossover unit would best fit my needs. The crossover market is small so I quickly narrowed my search to two units the Magellan Crossover and the Lowrance XOG. Both have similar features and are similar in price, but because the Lowrance XOG is so new I was not able to find much information on it. Unable to make an educated decision I bought both and will return the one I do not like.
Below is a review that highlights the strengths and weaknesses each unit. This review is based on my experiences and opinions. I tried very hard to keep and open mind and be fair to each unit. I am by NO means an expert on GPS nor do I want to be. My decision to keep one of these units is based on my specific needs and requirements, other people will have other needs which may be better met by another unit. My advice is to decide how you will use your GPS then make a decision based on which best meets your needs.
There are basically three types of GPS available for land use, which include handheld units designed primarily for trail/hiking use, automotive units which are designed for road navigation and show the locations of hotels, restaurants, and gas stations. The third type is a crossover which tries to combine features of both handheld and automotive units in one package.
Why a crossover
I quickly realized that an automotive unit simply would not do what I needed because they lacked the ability to record tracks or display topographic maps. So I began to search for a handheld unit but was disappointed that the screen sizes were smaller and they lacked road navigation unless I spent an additional $100 on street maps. Additionally, a handheld unit would not have a touch screen or voice instructions. This led me in the direction of a crossover GPS which would have voice navigation, a large touch screen, road based maps, Topographical maps, and the ability to navigate off road. I found two units which fit my budget ($250); if you wish to spend more (at least $400) do your research because there are other GPS that can do both road and trail navigation.

Cost
Both the Lowrance XOG and the Magellan Crossover were $250 delivered. I purchased the Lowrance XOG from Crutchfield with free shipping for $250 and the Magellan Crossover from Costco for $229 plus tax and shipping for a total of $250.
Size
The Lowrance XOG has the advantage here with a thinner profile and smaller footprint measuring 3.25"x 3.75"x .75" and weighing 7.1 ounces. However, the Magellan Crossover measuring 3.4"x 4.3"x 1.1" and weighing 7.8 ounces is still comfortable to carry and feels extremely solid, both units feature a 3.5" touch screen.
Design
The Lowrance XOG has a clean and sleek housing design and flashy graphics. The Magellan Crossover is not as clean and sleek looking but is by no means ugly, just boring. However the Magellan Crossover is built like a tank and will do well for those who choose to use it out of the vehicle. For example, it comes with a green rubber protective cover which helps protect it from falls, and it has nice thick rubber seals over each opening in the unit which is very easy to open and close. The Lowrance XOG also features rubber seals, but I found them to be more flimsy and require more work to ensure that they are completely closed. I was also disappointed when I received my Lowrance XOG because I thought the top and bottom black areas were molded rubber to give it protection but unfortunately it is only black plastic.
The graphic design of the Lowrance XOG is excellent, and I like the ability to customize all of the information displayed on the map screen. The Magellan Crossover has more boring graphics out of the box, but with a quick and free software update they look much nicer. I really like that the Magellan Crossover features an auto night mode which turns the screen black except for the roads, this makes the unit very easy to read at night while not distracting the driver. The Lowrance XOG relies on a manual dimmer function for night use which only reduces the backlight; while still effective it is not nearly as good as Magellan's approach.
Maps
The Lowrance XOG has an advantage in this category with slightly newer street maps and the ability to download detailed Topo maps or even aerial imaging like that on Google earth. However, it should be noted that the Lowrance XOG does not ship with Topo maps. The Topo maps must be purchased separately, adding $100 to the bill if you want an SD card with the entire US. However, Lowrance has a new website which allows users to buy squares of very detailed Topo maps for $5 a square, which is really cool but can add up quickly if you need a large area. The Magellan Crossover however ships with basic Topo maps already installed which show elevations, roads, and major features such as rivers and streams. More detailed Topo maps will be available, but they have not released yet. Additionally, the Magellan's street maps are slightly older but this was not a problem in most driving situations.

POI's
In this area the Lowrance XOG has a clear advantage with 3 million POI's vs. the Magellan's 1.5 million POI's. Although, when comparing list of POI's I was surprised how good the list on the Magellan Crossover compared to the list on the Lowrance XOG. What I noticed is that important things such as hotels, restaurants, and gas stations were quite similar. The Lowrance XOG had a few additional listings here and there but not double. I think where the Lowrance XOG has more additional information is in other categories such as shopping and attractions.
Ease of use
Without a doubt the Magellan Crossover is easier to use, I was able to figure out nearly every feature without having to refer to the users guide. All features are intuitive and easy to use! The basic features of the Lowrance XOG are also easy to use, but I found myself having to reference the users guide many times to understand special features and still had to experiment to make sure I had it right. I also think that the Lowrance XOG is more difficult to use on the fly. The Magellan Crossover has some handy features which make it easier to operate without being distracted, such as exit POI's, and automatic detour options.
Battery life
This is a killer for the Lowrance XOG, the battery life SUCKS!!! I would not even consider this a unit for handheld navigating, I have to take the charger everywhere I go and I always seem to turn it on only to discover a near dead battery. This is due to the fact that the Lowrance XOG only gets 2 hours of battery life, you can reduce the backlight to extend battery life but that is just a temporary fix. The Magellan Crossover has a full 8 hours of life with the screen on bright and with its handy ability to navigate with the screen completely off when the unit is in a backpack or pocket the battery life is extended even more. This makes it possible to actually use the Magellan out in the woods for a full day without having to worry about a dead battery.
Screen quality
The Magellan Crossover has a bright display that is always easy to read even in bright sunlight. The Lowrance XOG display is not as easy to read in direct sunlight which may be a big problem in my open top Jeep. The touch screen on both units work quite well but the Lowrance XOG is a bit more sensitive to finger taps. Both units also have the ability to pan maps which allows you to view a large area and follow routes but the Lowrance XOG was much quicker and smoother while doing this.
Map readability
Both units are pretty equal in displaying map information in a clear and easy to read manner. I really like that the Lowrance XOG has an auto zoom feature which zooms in and out depending on if you are approaching a turn or are on a long straight away. I wish the Magellan Crossover had that feature. Another neat feature of the Lowrance XOG is the ability to change the information overlaid on the map. You can also choose what to display and position the information where you want it on the map screen. The Magellan Crossover only allows customization of only a few displayed items but not the location.
Navigation
In my experience I have had good results with each unit but I usually trust the directions I get from the Magellan Crossover. The Magellan seems to pick very logical routes and almost always routes the same way that I would when driving to a familiar destination. The Lowrance XOG is usually good but has had a few instances where it just did not make any sense. I also noticed that when I would intentionally miss a road the Lowrance XOG had a habit of telling me to make u-turns or just repeatedly try to take me back to the original route rather than just giving me a new route. In my experience the Magellan Crossover would usually recalculate new routes that do not require you to backtrack or turn around. A great feature of the Magellan Crossover is automatic detour which displays a detour button on the map screen when your speed is significantly reduced for a chosen amount of time.
What bothered me most when navigating with the Lowrance XOG is that the unit does not always make it clear that you have arrived at your destination without looking at the map. When testing the unit out I actually missed the hotel I was trying to find by a quarter mile and had to backtrack. The Magellan Crossover is much better, when you approach the destination it says "you have arrived" and it stops navigation, the Lowrance XOG keeps on going either trying to still navigate a few more feet or telling you that you are "off route".
Verbal directions
I have also found that the Magellan Crossover is much easier to follow without having to look at the screen. I tested each unit blind only using the voice commands to guide me and the Magellan Crossover was much easier to follow. Little things made all the difference, for example just before you should turn the Magellan Crossover has a chime so that there is no mistaking which street to turn on. The Lowrance XOG tells you a turn is in a specific amount of feet ie. "turn in 700 feet" or "turn in 400 feet" but at the turn you do not get a confirmation that you are at the turn which required me to have to look at the map many times just to make sure I was at the right street. I also noticed that the Lowrance XOG would often give directions that could be mistaken for a turn rather than a lane change for an upcoming turn.
Volume
In my testing I was able to hear both units well at slow speeds, and on the highway I could hear commands but they were barley loud enough, which is actually quite impressive in a soft top Jeep! The Lowrance XOG may have been slightly louder at its maximum volume but the voice was slightly distorted and you could tell the speaker was working very hard to maintain that volume. I usually turned it down one notch which made each unit identical in volume and clarity.
Reception
Both units have excellent reception; I really thought that the Magellan Crossover would be the hands down winner here because of its Sirfstar III 20 channel Receiver but suprisingly the Lowrance XOG's Dyna Trak 12 channel receiver consistently outperformed it in side by side test. Regardless, both units had such good reception that I would recommend either one. To give you an idea of how good both of these receivers are I was able to get a strong signal in a central room of our house with no windows and the door closed!
Extra features
Both units have a lot of extra features; the Lowrance XOG has the ability to download aerial imagery maps like those on Google Earth, and the ability to display custom information. Also, I really like that when the Lowrance XOG is in the car it will automatically turn on and off with the power source, the Magellan Crossover will turn on but only turns off after a set amount of inactivity (10 minutes minimum). The Magellan Crossover has a home button which allows you to navigate back home in seconds and at the start of each route it gives the option of how you prefer to go (fastest time, shortest distance, expressways, or back roads). The Lowrance XOG does not give this option without going into a buried menu of slider controls which are quite vague as to their effect on navigation. In talking with Lowrance fans it was recommended that you leave the sliders in their default position, and after some really strange routing experiences with the sliders moved I think they are right. Additionally, the Magellan Crossover has a really cool typing feature which blanks out unused letters when typing addresses making the process very quick. I also like that when on an expressway if your speed drops for a period of time an icon appears asking if you would like to take a detour, this extremely handy in heavy traffic.
Routing calculations
To evaluate both units ability to get me to a specific location I timed how long it took to program and calculate an extended route. Starting on the map page at my current location in California I searched for and routed to Disney World in Florida. From start to finish it took the Magellan Crossover just under 2 minutes to find and route. The Lowrance XOG took just over 4 minutes to do the same task.
Mounting
The Magellan Crossover has more mounting options right now because it has been out longer and it is based on the popular road mate series. I imaging that in time the Lowrance XOG will have just as many options. Looking beyond that I considering the actual connection method used to mount each unit. The Magellan Crossover has a very positive lock when mounted that is not going to come loose under any circumstance. On the other hand, the Lowrance XOG has a pretty wimpy mounting system consisting of a small grove on the top and bottom of the unit. For normal use it is probably okay but, I would have concerns using it off road or on a motorcycle. Additionally, I like that the mounting bracket for the Magellan Crossover has threaded screw holes in it to allow screwing it to a flat surface or custom bracket.
Trail use

Both units have similar features for trail use with the ability to navigate in a straight line and the ability to leave breadcrumb trails for backtracking or for future navigation of the same trail. Both units also have the ability to save and share tracks and can backup data to an SD card. The Lowrance XOG allows you to zoom in closer than the Magellan Crossover but upgrading the Topo maps of the Magellan Crossover fixes that. Out of the box the Magellan Crossover and Lowrance XOG had plenty of zoom for navigating trails and some geocaching. The Topo maps of the Magellan Crossover are simple and they provide elevations, the Lowrance XOG in stock form is basically blank when off road, showing no elevations and minimal detail such as rivers and large streams, the mountains I was near this week are only shown as a tiny triangle with the mountains name, no elevation data whatsoever.
Each unit treats navigation modes in a different way. The Lowrance uses the same navigation screen for all functions on or off road which is nice because it is seamless and uses the same address book and street maps. The Magellan Crossover takes a different approach, by allowing the user to select from three main menu modes which are street navigation, outdoor navigation, and marine navigation. Unfortunately, each mode is treated as a separate entity with no sharing of address books or saved locations. It is really like having three separate units in a single housing rather than one integrated unit. The Lowrance XOG approach is much more logical and useful; Magellan should really take this same approach with its unit.

So which one did I pick?
This was a really hard decision, both units are great and they each excel in different areas, but after almost a month of evaluating each unit I chose the Magellan Crossover. I felt that the routing was consistently better and despite the reduced POI's and slightly older maps I did not have any problems. I really liked how easy the crossover was to use on and off road. I also preferred the voice instructions of the Magellan and could easily drive anywhere without ever looking at the screen. I also choose it because the battery life allows it to be used out of the car, the Lowrance XOG does not really allow this with its short battery life. If the Lowrance had improved battery life and better routing instructions my decision would likely be different but until then I am happy with my Crossover.