I googled for at least an hour and couldn't find an answer or even a comment regarding this. Here's the situation.
I had 4.10's in my 8.8 with an aussie. I'm regearing to 5.13's right now. 5.13's in an 8.8 require the use of a notched cross pin or trimming a tooth. It would require alot of tooth trimming so I choose the notched pin. When using a notched cross pin, you put the internals in the carrier and then put the ring gear on. Later after everything is set and you're ready for axles, you turn the crosspin to one side so you can slide the axle in to install the c-clip and then turn the other way for the other one.
THIS IS WHERE THE PROBLEM LIES.
I can install the aussie but, when you open the cam gear up to slide the c-clip in, it opens enough but the spacer is in the way....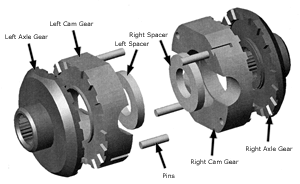 My spacers look slightly different than the pic above. The are more cup shaped and are not solid meaning that the inner part is machined out some to provide a place for the c-clip to ride in.
HERE ARE MY OPTIONS AS I SEE THEM.
1. Grind the notched crosspin wider to provide enough space for the spacer to slide into.
2. grind the the spacer enough to allow the c-clip to slide through it.
3. grind a ring gear tooth enough so that I can install the cross pin after the ring gear is on the carrier.
4. buy a c-clip eliminator kit ($160 more than I want to spend)
5. sell the aussie and weld the 8.8
I'm looking for thought's on this just in case I'm missing something. I can't be the only person who has tried to solve this issue....