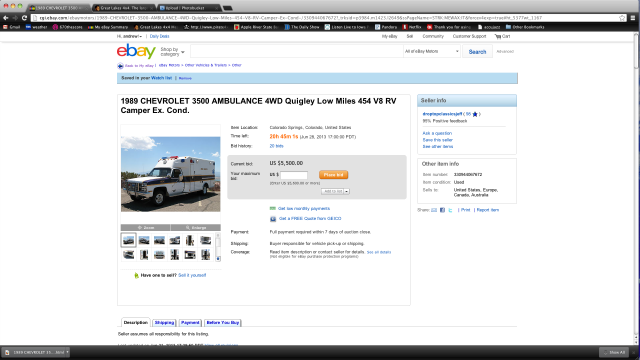 http://cgi.ebay.com/ebaymotors/1989-...ht_5377wt_1167
* 1989 Chevrolet 3500 4 Wheel Drive Ambulance *
* NO RESERVE!! *
Before you and up for bid at NO RESERVE is my exceptional 1989 Chevrolet Series 3500 4WD Ambulance. The particulars of the ambulance are as follows:
* Southeren Colorado county ambulance purchased new through BURT Chevrolet in Denver. Fire station garaged & pampered (it should go without sayin'...but, also non-smoker)
* 3500 Series (1 Ton) truck, full ambulance equipment conversion installed by: Wheeled Coach of Orlando, Fl.
* Essentially this truck began life as a 3500 (1 ton) Chevy 4WD with a standard cab, it was then professionally outfitted with a heavy duty ambulance package.
* Nothing has been altered or removed with the exception of the two way radio
* ONLY 59,124 Actual Miles! I just drove it over 300 miles this past Saturday over Wolf Creek Pass, it performed flawlessly.
* Factory 4 Wheel Drive, 2WD High, 4WD High, 4WD LO with manual lock out hubs
* 454 Tonawanda V8 engine, starts, idles & runs exceptionally well with NO annoying drips or leaks.
* Dual fuel tanks, switch operated
* Fleet maintainance by the county since new, this vehicle received meticulous care. These service vehicles are overly preventative maintained, given the uncompromising demand for service reliability. Never in private ownership.
* Automatic Transmission, incredibly smooth shifting through all forward gears & reverse.
* Ice Cold Front & Rear AC
* Power Steering & Power Brakes
* ABSOLUTELY ZERO RUST!
* Exceptionally Clean Throughout...including the under carriage.
* NO ACCIDENT HISTORY!
* This Ambulance is in remarkable condition. It looks, runs and drives great! When not on service calls, it was fire station indoor garaged.
* Every emergency feature is still fully operational; the light bar and its multiple lighting features as well as the various sirens, yelp, phaser, horn, buzzer, etc.
* Immaculate interior; the front cab is in excellent condition, NO tears or splits to the vinyl seats.
* NO Dash Cracks
* Very nice door panels
* Clean carpet
* Period correct SONY AM/FM/Cassette
* Tilt steering wheel, NO cracks
* Original glass throughout, no cracks or chips
* All weather stripping is soft & pliable
* All safety features are fully operational, lights, directionals, wipers, horn, etc.
* The ambulance box is equally clean throughout, there are two seats as well as a full bench seat w/3 seat belts that doubles as a bed with stow away storage beneath both.
* 110 wiring converted, this would make an excellent RV camper, or a service truck for an electrician, plumber, mobile mechanic or locksmith. It would also be ideal as a support/tow vehicle for an auto or motorcycle race enthusiast...heck...it could be your end of the world, "bugout" prepper vehicle! With the 4WD, it'll take you almost anywhere you want to go!
* Why spend $20-$30K on a 4WD Quigley conversion when this excellent truck is available for much less?
* Full SELF-SUSTAINING capability!
* All interior and exterior lighting is fully functional
* 7 large exterior access storage cabinets with partial interior access, they are astro turf lined throughout.
* Generous interior shelf storage throughout for canned goods, tools, provisions, etc.
* Interior sliding door access between the cab and box
* Dual wide access rear doors
* Excellent interior microwave oven shelf and refrigerator provision
* All storage locks are keyed the same
* The GoodYear tires have 50% tread wear remaining, they are not mismatched or dry rotted.
* Original owners manual and 2 sets of keys
* NEVER used for towing
You are bidding to purchase the ambulance, not to be the first to "look at it".
Inspections are welcomed and will be facilitated to the best of my ability prior to the auction concluding. Thank you.
Please have your funding in place prior to submitting your bid.
Transportation or delivery is the sole responsibility of the buyer. I can recommend a reputable shipper for you, if needed.
The truck and I are located in the Colorado Springs vicinity. If you choose to fly in and drive home, I will gladly pick you up from the airport in Colorado Springs.
I am offering the ambulance at NO RESERVE! Bid to own with full confidence in its fine condition, ownership history, very low miles, and the meticulous care it has received.
Buyers from the U.S., Canada, the UK, Europe, Australia and New Zealand are welcome and encouraged to bid with confidence.
Export buyers, I will assist in coordinating with your chosen shipper to get it to port.
If you are new to eBay, have 0% feedback or excessive negative feedback, you will need to CALL ME prior to placing your bid, otherwise, your bid will be cancelled. I am a legitimate seller simply seeking a legitimate buyer.
A $1000.00 initial payment is due and payable within 24 hours of auction close VIA PayPal.
The balance is then due and payable within 7 days thereafter, under condition and arrangement made between myself and the buyer.
The balance is to be paid VIA a legitimate bank to bank wire transfer, as it provides a documented record of the transaction for both parties.
Clear Colorado title
eBay provides for only 24 photo's. I have selected pictures that best present a concise overview of the truck. If you would like any area specific pictures, simply request them, I have over 60 available.
If you would like to discuss a "buy it now", call me and PRESENT YOUR OFFER. Do NOT call and ask me, "what's the lowest that you'll take?"
Bid what you can afford and are willing to pay for the exemplary 1989 Chevrolet 3500 4WD ambulance that you see before you,
I answer my phone quicker than I respond to e-mail, call me with any questions.
Thanks for looking and good luck when you bid!
Jeff
719.492.1234, c