I got a 95 GMC C1500 am throwing up as well.
Truck has pretty much been completely redone. Tons of new parts and bunch of extras as well.
OD says 96,XXX (I think its may been have rolled back or swapped out at some point but I can not be 100% sure. This is due to all the repairs I had to have done)
TBI 350/4L60E. Trans was replaced. The new one has around 75k on it. (Sorry No prof of true miles) OE one was slipping badly.
Every single sensor has been changed out under the hood, Brand new O2 sensor, Exhaust was redone (no Cat) with a Thrush Welded muffler and new Tail pipe.
Has a brand new Gas tank and sending unit, fuel filter.
Truck has been swapped over to 6 lug (LD 2wd 3/4 front rotors and 14b SF rear axle w/ 3.73) Front Rotors and Pads are brand new, Rear axle has brand new Ring and Pinon with all new shoes, hardware, drums and wheel cylinders and lines.
Lots of body parts switch out
Cab Corners Replaced, Doors clean and off a Tahoe from Texas, Front Clip was off a Southern Ohio Suburban. Box Has two spots on it were I have done some body work. All don the right way and is holding up just fine(looks like they drove it between two very tight trees). Right now it has some small holes drilled in it from fender flairs but is rust free and clean with a welded on roll pan, Have two tailgates, one has a shaved handle and the other is bone stock and a bit beat up. Truck is in flat black primer and I was going to leave it like that.
Rims and Tires.
I have a nice set of Goodyear Wrangler RT/S 235/75/R15 mounted on 15x8 Chevy Rally rims with 4 Center Caps that will go on it.
Interior is in great shape. Center console was broken by my son and I replaced it with a Tan one as I could not find one in Gray.
Dash is apart right now as I was working on hiding some wiring for the stereo and just never got back to finishing it up.
Other Items I have for it
I have a DJM 3/4 lowering kit. Kit has drop shackles w/ drop front spring brackets and front drop spindles.
I also have drop lower control arms and leaf springs with some extra items.
99-00 GMC Denali front clip. Its all there, Both fenders, Hood, Bumper, Bumper Cover, Fog/Driving lights, Core support, Head lights, Turn signals, Grill and Inner Fender wells. Its in good over all shape. Need to be sanded down and repainted. I was just going to flat black it all and have it match the truck.
I have a set of Factory 20s off a 2008 Tahoe/Suburban with some crappy tires.
Got a bed topper for it as well. All new lock set and lock rods. Needs new lift rods for the cold weather time.
I am sure I am forgetting something on this thing but I will add it once I remember.
I have way to much time and money into this that I will never get back from it and I am just tired of working in it.
It does need to be finished up and to put back together and bolted up completely. Front Clip is not fully bolted down and the Box is On but not bolted down. There is a few other thing not dont but like I said and can't remember it all.
Like to trade for Gas Saving Car or Small Pick up with a Stick or Maybe something I can stuff a 350 into.
Will sell is for $3800 with all the Extra Goodies I have listed for it.
Just the truck with it put back together 2600
Pretty much how it is as of now. Just the Bed has the top on it and it is packed full of spare truck parts.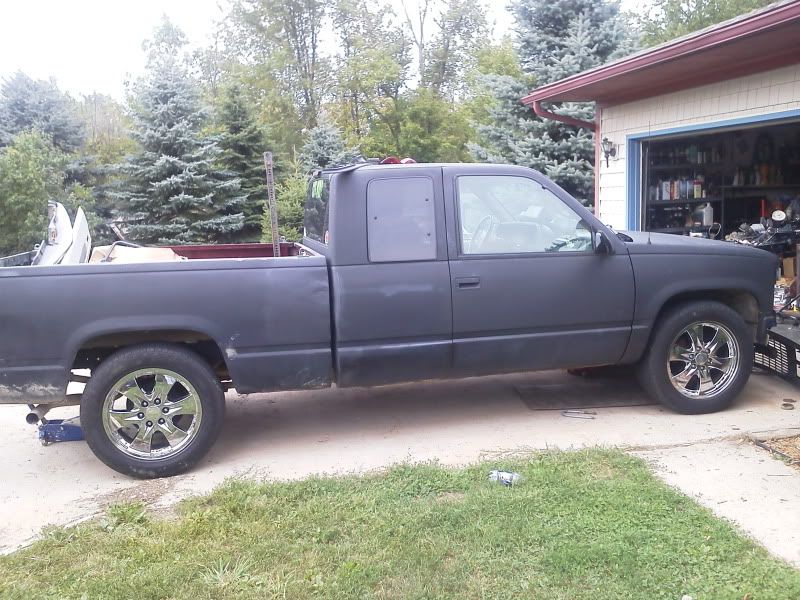 Here it is shortly after I replaced all the crap body panels with the nice and new stuff.