Well it looks like Iím going back to a fullsize rig, at least for awhile.
My brother was looking to off this thing and I needed a new rig.
This isnít exactly what I want in a rig, so I will try to adapt it to the needs I want out of a rig, wheel it until I either get bored or want something else.
Way back when, I did a bunch of work to this thing, and then it pretty much just sat in storage. I want a vehicle I can wheel, and cruise around in the summer with the top off, and since Iím so familiar with this particular vehicle, it seemed like a natural choice.
Specs:
1994 Ford Bronco
DRIVETRAIN:
Engine - 302 V8
Trans - E4OD Auto Ė Seems to have a shift kit already???
T-case - Borg Warner 1356 Electric shift
Rear Axle - Sterling 10.25, 4.10 gear
Front Axle - Hybrid D44/D50 TTB with chevy 8 lug outers
LIFT:
2Ē Coil spacer in front
Lift block and AAL in rear
Thatís pretty much it, I donít think itís been on more than one wheeling adventure either, and that was a drunken mistake on my brothers part, but this was the outcome.
Snofari is pretty much going to be a cherry poppin event for this thing
If I donít like wheeling a fullsize, or canít handle the power of a V8, then Iíll give it back to my brother and keep looking for a new rig.
Hereís a pic that I was emailed a few weeks ago when it finally saw some daylight.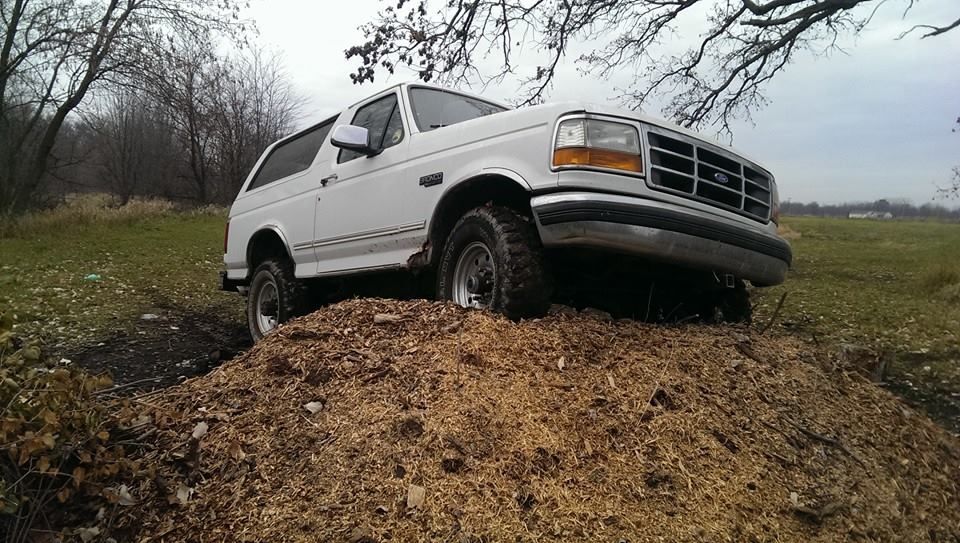 Iíll probably post lots of pics as I take them; Iím hoping to pick it up from cold storage tomorrow.
So, on the to-do list for Snofari:
Figure out why it wonít start
Check all fluids
Insurance
Transfer Plate and Title
CB Radio
Mount interior tire carrier
Spare Tire
Recovery kit, tool box tie downs
General roadworthiness/maintenance checks
If this makes it to full project status Iíll have to think of a clever name.
Future build ideas may include, but not limited to:
Family style roll cage (that still fits under top)
D60 Front
NP205 T-case
5.13 regear
Lincoln lock the rear
Grizzly locker up front
460 BBF
C6 with E4OD low gearset
Shoot for sitting lowish on 37Ē tires