SOLD for asking price plus $50 delivered to Greenville
98 Cherokee Sport 4.0/auto/4x4/NP231. Mileage 145k. Overall was in decent running condition prior to the engine overheating. Will need engine replacement, which if it doesn't sell I'll drop a motor in it once I get the cash for it. Currently the head is off the motor and there is piston damage. Has 2" receiver hitch on rear, decent brakes, decent tires (9-10/32" all around Goodyear Wrangler RT/S). Power windows/locks. Cruise. Tinted windows. A/C reported to work when ran. Currently no radio but I have a few that could go with it for the right price. Located in Grand Rapids, MI. I have a tow dolly and can deliver in the Grand Rapids area for free, further for a fee.
I also would consider installing a motor if one is provided or paid for before the work is begun. Cost to install would be $300 plus parts/fluids.
If you don't mind a dented but functional hood and a cracked but also functional header panel, I'll take less for the truck to swap with the ones on my daily driver, which is the same color. Same deal with some fenders i have that are bent/dented but functional. Looks like the truck below with the same rims, but black fender flares and rusted rockers. Floors are fine though. Windshield is cracked. I don't have good pictures of it because it is in my garage surrounded by my junk.
Blue book in fair condition is $2840, which is what I would consider it once there's a good motor in it. That was my plan, but plans change with life sometimes.
$700 as is
$600 if i swap the hood and header panel
$550 if i swap the hood/header panel/fenders
This is not the Cherokee I have, it is just for refereence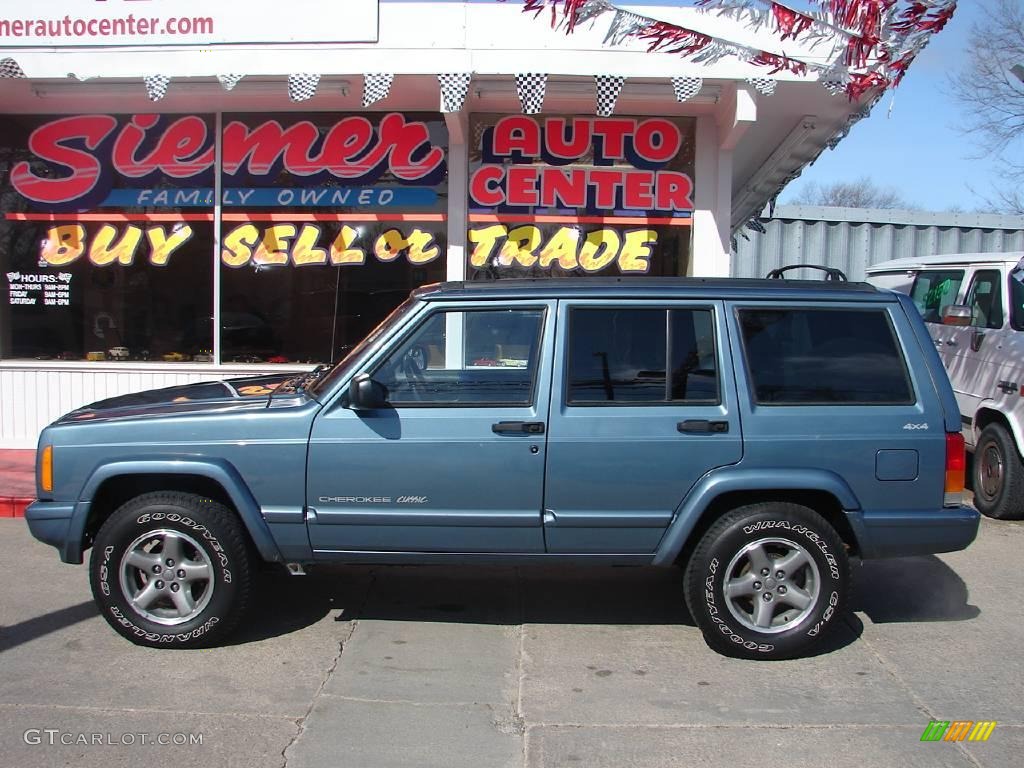 UPDATE: some pics, not the best quality. The pics of the Jeep outside with damage to the fenders, hood, and header are the of my daily driver. If I swap parts, those are the ones that would end up with the Cherokee that's for sale.
https://docs.google.com/file/d/0BwlA...it?usp=sharing
https://docs.google.com/file/d/0BwlA...it?usp=sharing
https://docs.google.com/file/d/0BwlA...it?usp=sharing
https://docs.google.com/file/d/0BwlA...it?usp=sharing
https://docs.google.com/file/d/0BwlA...it?usp=sharing
https://docs.google.com/file/d/0BwlA...it?usp=sharing
https://docs.google.com/file/d/0BwlA...it?usp=sharing
https://docs.google.com/file/d/0BwlA...it?usp=sharing
https://docs.google.com/file/d/0BwlA...it?usp=sharing
https://docs.google.com/file/d/0BwlA...it?usp=sharing
https://docs.google.com/file/d/0BwlA...it?usp=sharing
https://docs.google.com/file/d/0BwlA...it?usp=sharing
https://docs.google.com/file/d/0BwlA...it?usp=sharing
https://docs.google.com/file/d/0BwlA...it?usp=sharing
https://docs.google.com/file/d/0BwlA...it?usp=sharing
https://docs.google.com/file/d/0BwlA...it?usp=sharing
https://docs.google.com/file/d/0BwlA...it?usp=sharing
https://docs.google.com/file/d/0BwlA...it?usp=sharing
https://docs.google.com/file/d/0BwlA...it?usp=sharing
https://docs.google.com/file/d/0BwlA...it?usp=sharing
https://docs.google.com/file/d/0BwlA...it?usp=sharing
https://docs.google.com/file/d/0BwlA...it?usp=sharing
https://docs.google.com/file/d/0BwlA...it?usp=sharing
https://docs.google.com/file/d/0BwlA...it?usp=sharing
https://docs.google.com/file/d/0BwlA...it?usp=sharing
https://docs.google.com/file/d/0BwlA...it?usp=sharing
https://docs.google.com/file/d/0BwlA...it?usp=sharing
https://docs.google.com/file/d/0BwlA...it?usp=sharing
https://docs.google.com/file/d/0BwlA...it?usp=sharing
https://docs.google.com/file/d/0BwlA...it?usp=sharing
https://docs.google.com/file/d/0BwlA...it?usp=sharing