Brand new Victor Firepower 250 series set. Includes everything needed to weld or cut except the tanks. Still in package, bought it and I've never gotten around to buying or leasing some tanks.
Quote:
Victor® Firepower 250 Welding & Cutting Outfit 0384-2550

Perfect for the do-it-yourself handyman or light duty contractor. Firepower includes a trangular tube cutting attachment that is designed to work with all fuel gases and related tips.

The apparatus is manufactured to Victor's rigid standards; including built-in flashback arrestors and check valves. It is repairable using many common parts to Victor® Professional and Victor® CutSkill apparatus and accepts all Victor® cutting, welding and heating tips.

Features
250 Medium Duty Regulators
WH270FC-FS Torch handle with built-in flashback arrestors and check valves
CA250-FS Cutting Attachment
0-UM Welding Nozzle
Series 3 Cutting Tip
3/16" x 12.5' "R" Grade Hose
Welds up to 5/64" (3" / 76.2mm with optional nozzles)
Cuts up to 3/8" / 12.7mm (3" / 76.2mm with optional tips)
Includes Striker and Goggles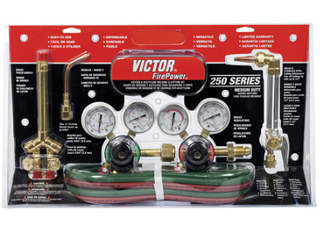 Asking $175 obo. Located in Grand Rapids, MI.
call or txt 616 area code 446, 26O5