$3000 FIRM
OR
Trade + Cash for:
3-4" lift springs & bumpstops for TJ
5 - 33x10.5x15 prefered (will take 33x12.5x15) MT's
5 - Rims with 4.0" back spacing for above tires
Rear swing out bumper & tire carrier for TJ
Savvy arms
1-2" Body lift
Rear D44 or 8.8 out of another TJ (any ratio)
Complete set of metric & SAE 1/2" Drive impact sockets (truck brands/similar only)
NP231J w/sye & CV DS (23 spline)
-180K miles
-5.3, 4x4 Z71
-Heated leather
-Ext cab
-Tires are 70%+ tread
-new rear u joints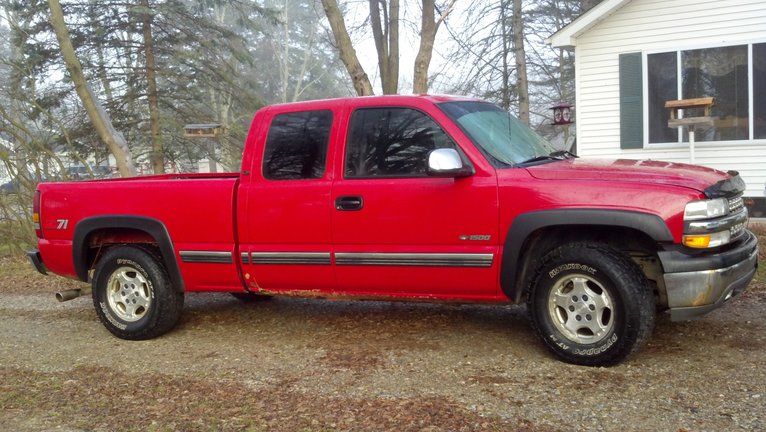 Runs great, drive great. Good brakes. Typical rust on the cab corners and rockers. Everything works. I drove it about 50 miles last week, aside from the noise (see below) it ran great.
Needs:
-99% certain rear pinion bearings are bad, only makes noise on acceleration
-Factory radio knobs are MIA, still works but no knobs.
-plastic trim on top of tail gate MIA
I spoke to someone about the rear end work, they quoted $300 in labor + about $100 in parts to replace all the bearings (not just pinion bearings). JY rear ends range from $400sh to $650sh for similiar mileage axles.
Why dont i just get it fixed/swap in a new rear end?
Im trying to sell this truck, its not plated and i dont plan on driving it anymore. I just put a new top end on my Jeep, and frankly I am cash poor for the next few weeks. Id rather take a hit on the price and move it sooner, than later.
Clean/Green title
eight one zero 358 83 two two
8 am to 11 pm