Actually the easiest and most direct way is to count the bolts on the front of the beam.
10 bolts - D35 / 12 bolts - D28
You will want the D35. Unless you find a D28 for free (and I mean free AND close by AND has matching gearing AND complete)
The only catch being the D35's with D28 internals, feel the lower 1/2 of the aluminum housing, if you feel ribs - d35. if it's smooth, it's a D28. This is pretty rare, but every once and a while they pop up. They are technically an improvement over the regular D28, but D35's are common enough you really shouldn't bother with it (unless it meets the free criteria above)
D35 with D28 parts: (note the smooth casting on the bottom)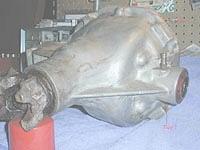 True D35:
Other than that, ALL of them physically swap, bolt in replacement. 1984 to 1997 Rangers. 1984 to 1995 BII's and Explorers.
D35's will be on 92+ for the most part.