I'm selling my Kimber stainless raptor pro with less than 50 rounds thru it. It is in perfect condition.
It will come with:
-Brand new Gould and Goodrich IWB leather holster
-Extra Kimber magazine
-100 rounds Winchester target ammo
-1 box of 20 Hornady Critical Defense 185 gr FTX
Here are some pictures: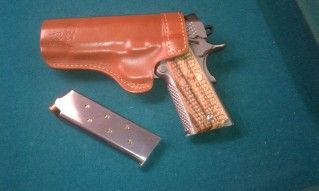 I'm looking for $1000/FIRM, NO TRADES. If you have any questions feel free to pm me.
Thanks, Curt
SOLD
------------------------------------------------------