I had been searching for a Toyota to offroad with for sometime. Initially I was looking for an FJ40, however I looked for quite a while, and with my budget was not finding what I wanted.
Finally I decided on a different route, getting a pickup to bomb around in until I have more funds avaliable. So after that I found a 92 Toyota pickup on craigslist... It was a steal at 400 bucks! Good running condition. I got it home and realized the extent of the rust damage.
I began looking for a replacement frame. As you all know up here in the bitter north it's hard to find a good frame on that old of a vehicle. I couldn't find one close enough, but I did find an 85 pickup with the solid axle and a decent body, frame was shot and didn't have an engine, but did come with 2 transmissions.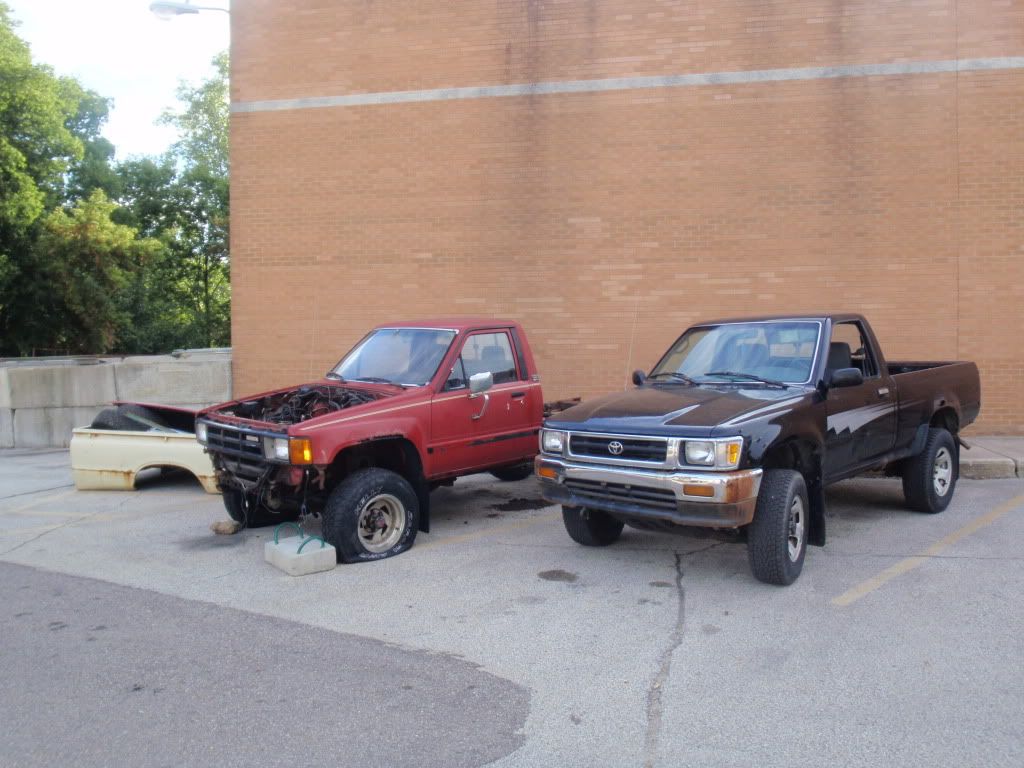 The reason I needed a new frame: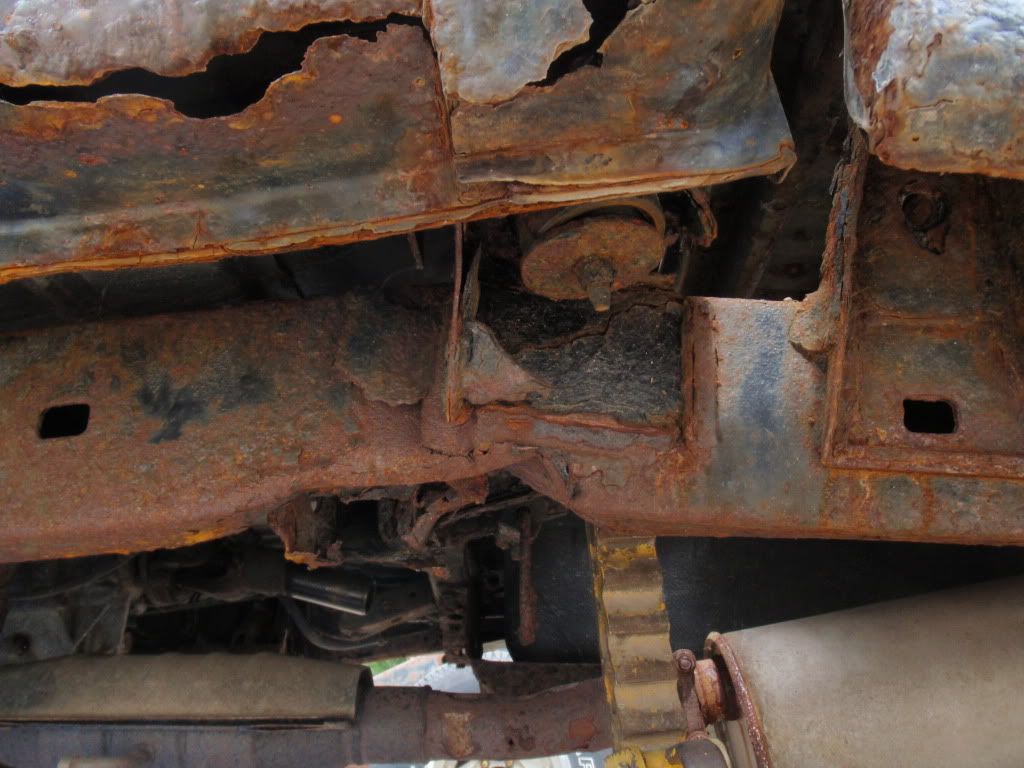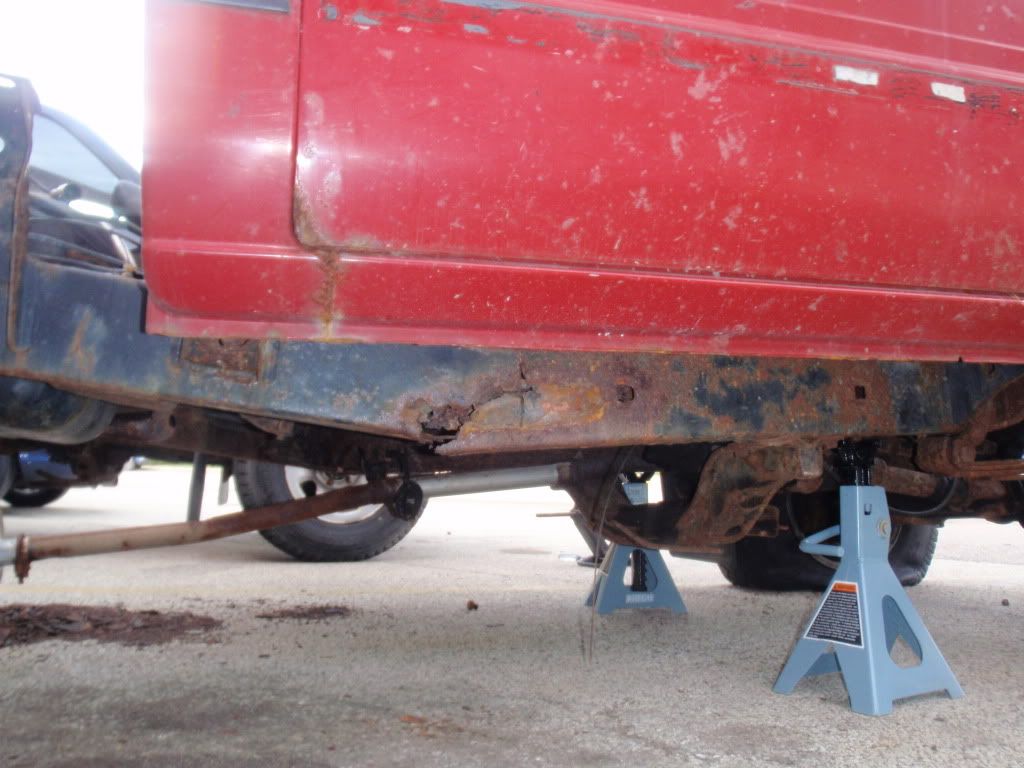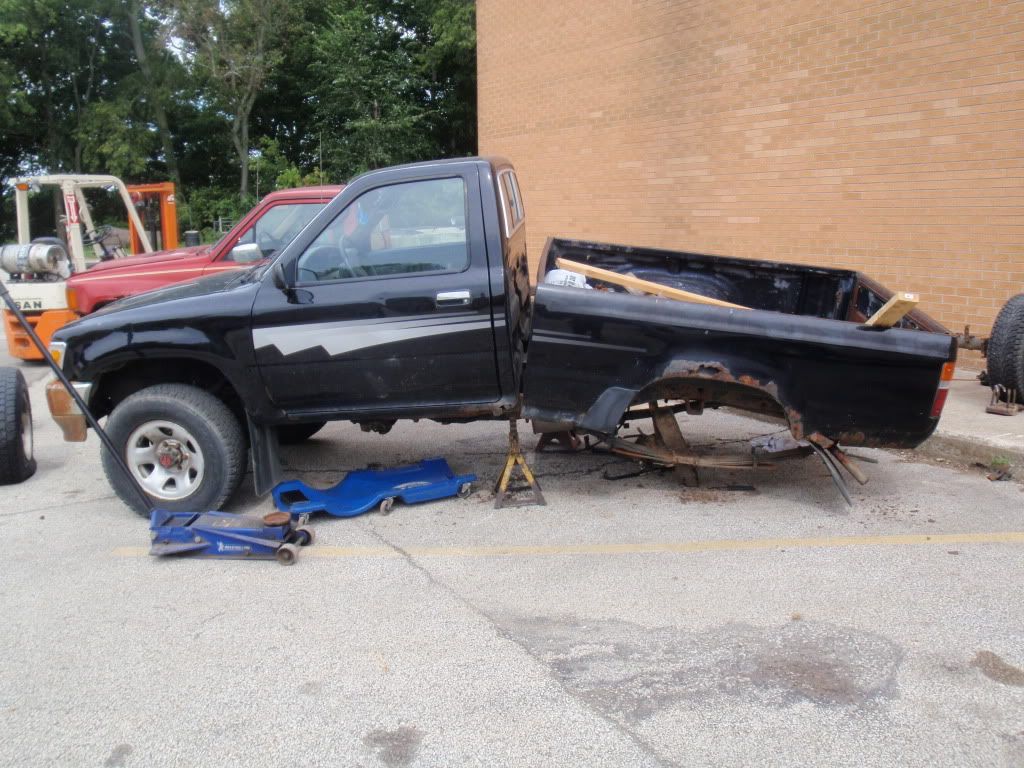 I spent the rest of the after noon after this laughing...
After surveying the damage, and not finding any replacement frame. I decided to build my own frame... Bright idea, right? It may not be the most time effective solution, but it will sure be beefy. Well, I am making progress... All 2x4 steel tubing 3/16 inch walls. I've got 3/16 plate to plate over the but welds for strength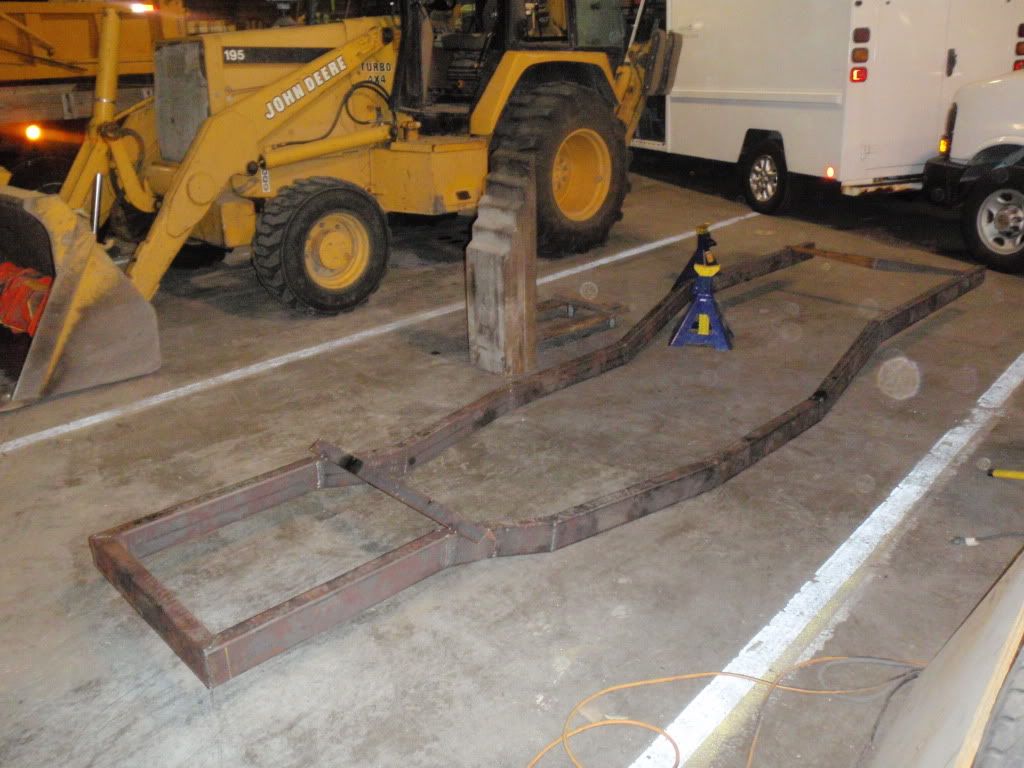 This is far from finished, those are just temporary cross members to help maintain the shape. I have made considerably more progress on it, but no pictures of it yet. Gotten the front spring hangers installed, the engine and transmission mounts, the rear spring mounts, and the back of the frame is now closed in. I have already been working on this whole project going on 5 months or so...
Cutting holes for the front spring mounts: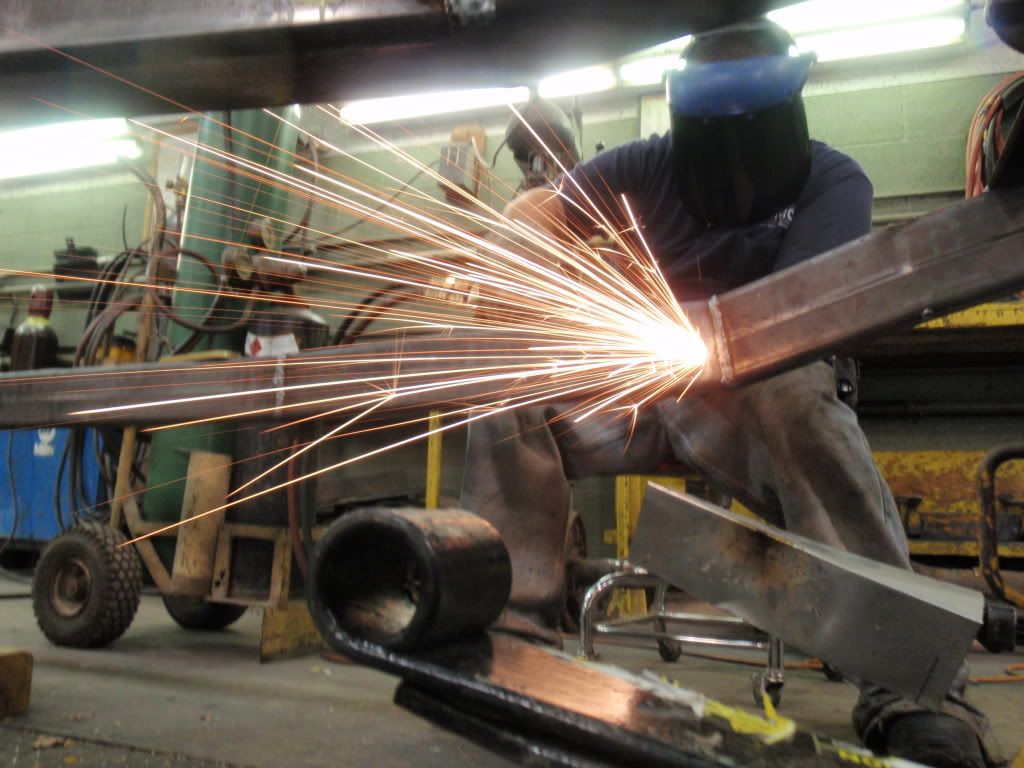 The front axle will come from the 85, the rear from the 92. The engine and transmission will be from the 92. The transfer cases will be a mix of parts from all three that I have. Not going to put on either of the beds, both are pretty rusty. I am currently looking for an extended cab for the build instead of either of the regular cabs I have now. I think I've tracked one down!
Just got the body off of the frame of the 85 earlier this week. A few cuts later and it was ready for the scrap yard... Got 50 bucks for 450 lbs of steel! Woo!
The pallet of parts I have slowly gathered to put on as I have the time. :D I now have all of these parts in my army trailer (the trailer with the picture of the cut up frame). I've been toting them around to keep them out of the way.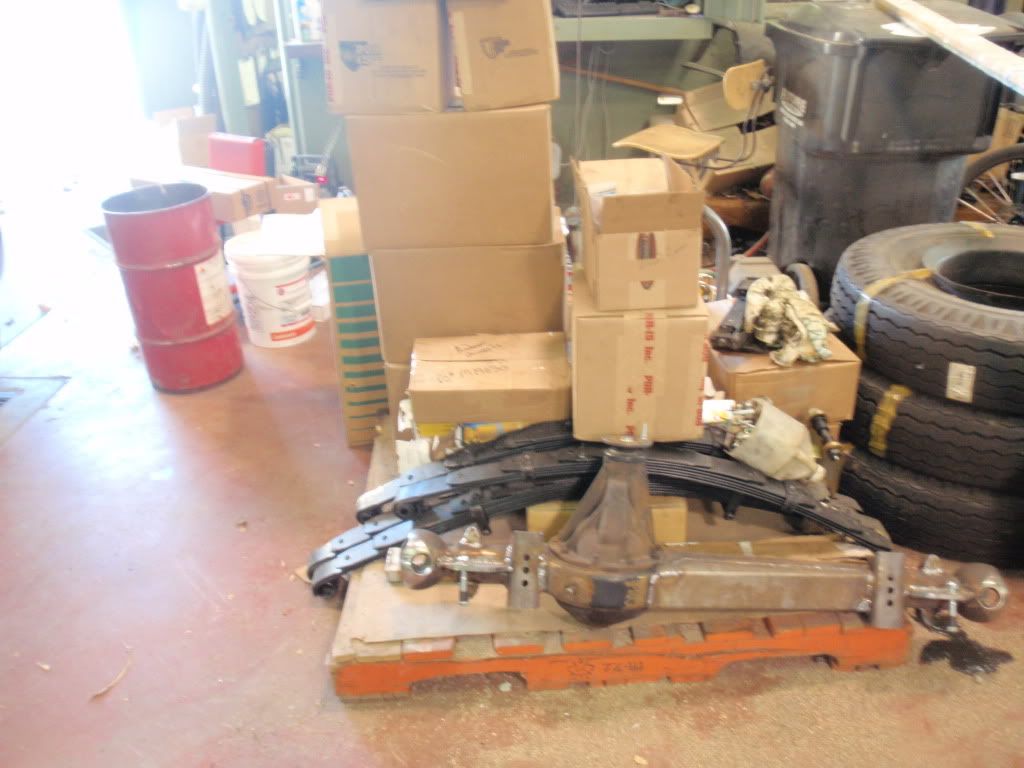 The front axle from the 85. All the brackets are off, but after the fact I realized I should have left the spring perches on... I did it several months ago before I had really thought through the axle rebuild. Oh well...
Luckily I had a few extra spring perches. The complete axle with ball and axle gussets from marlin crawler: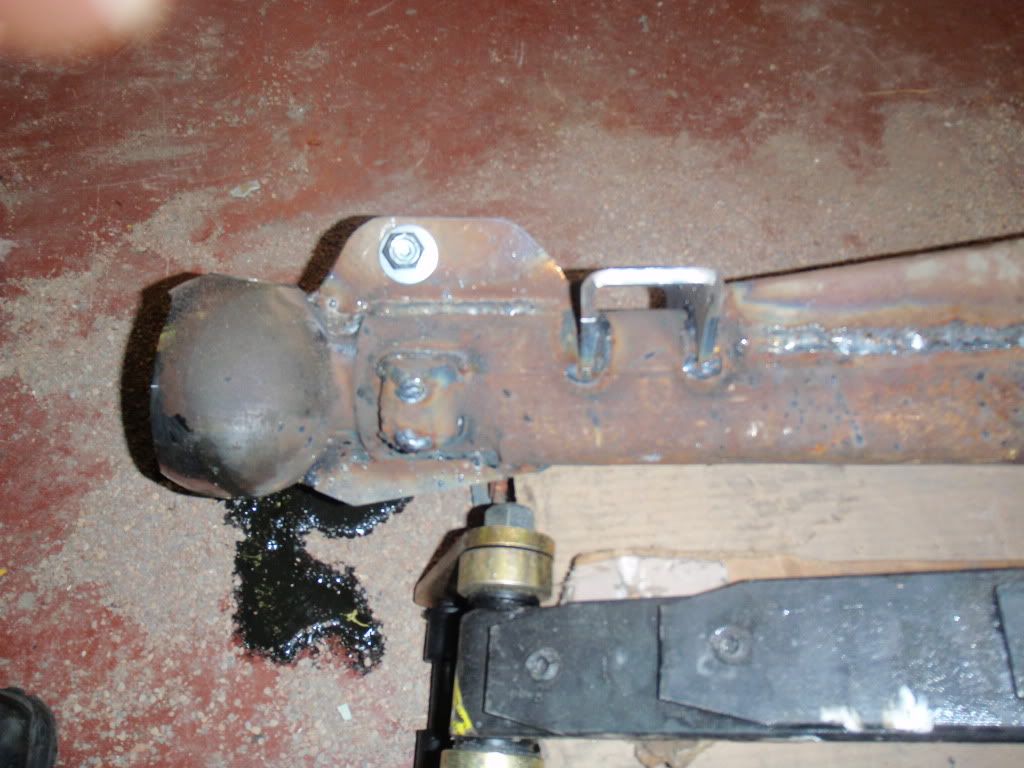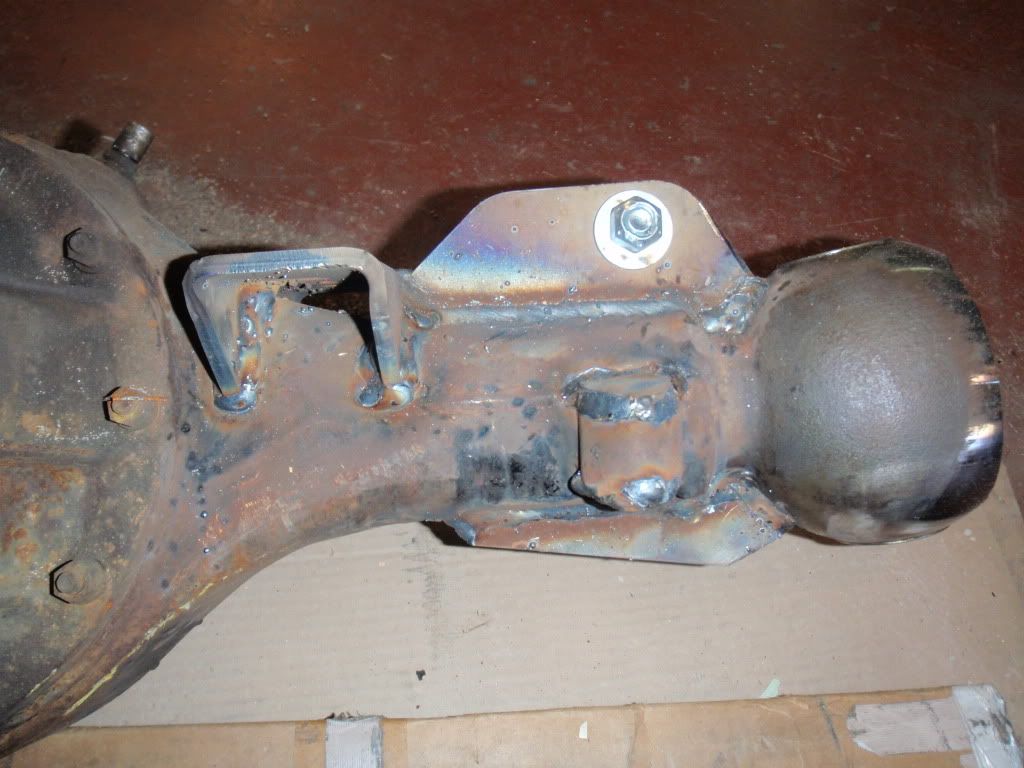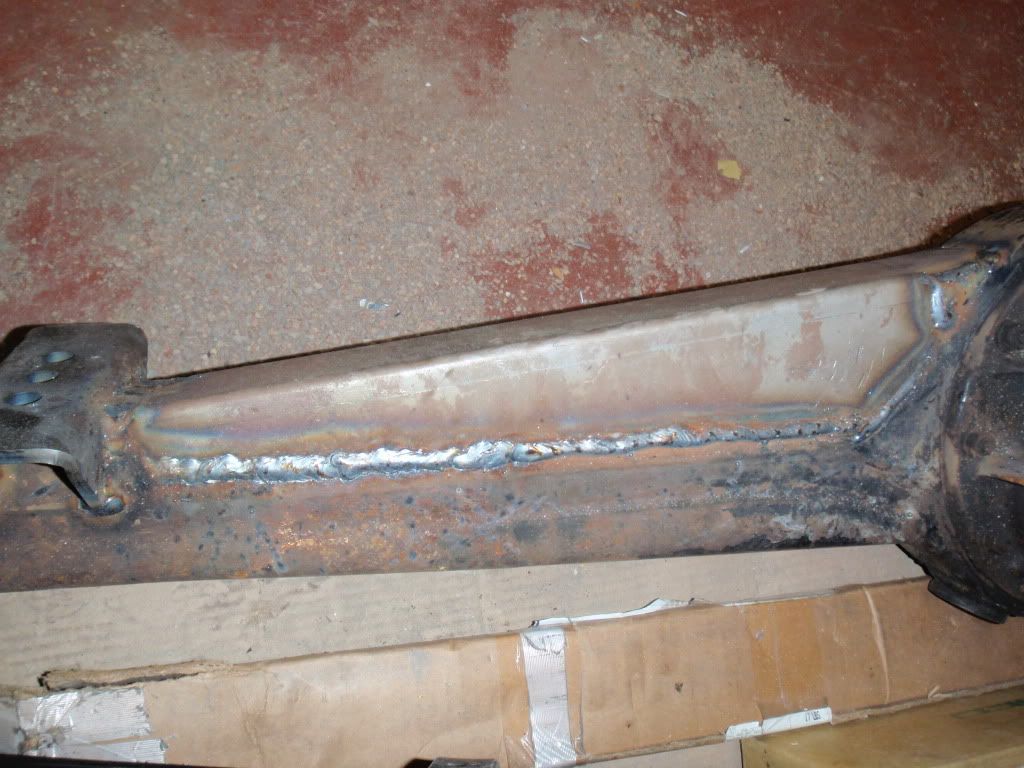 I have also gotten full differential armor for the front from Marlin Crawler since I took these pictures. Looks pretty sweet.
One of the transfer cases just after I got it out: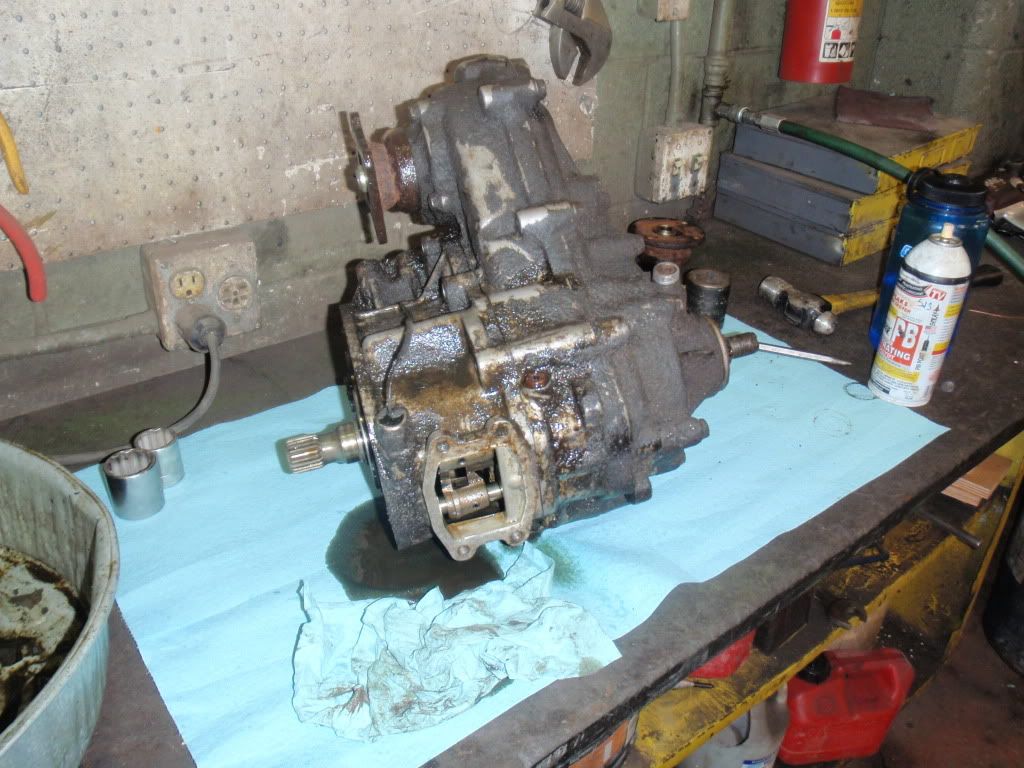 Right now I have the engine and full transmission dual transfer case set up all bolted together. The 22RE engine, W56 transmission.
Planned upgrades I have parts for (and funds)
:meh::
- New Beefy frame
- Full suspension lift, all-pro offroad 4 inch springs
- bilstein shocks
- all new mounts, shackles, etc...
- High steer cross over steering
- Solid Front axle (from the 85)
- with ball joint gussets and axle gusset
- Marlin Crawler dual-transfercase adapter
- Vented Front brake upgrade
- Rear disc brake conversion
- 33'' tires (haven't decided what type yet)
- ARB rear air locker, ARB compressor
- POR 15 paint for the new frame
Planned upgrades I don't have parts for (or funds... lol)
:
- Custom front and rear bumper
- Warn 8274 winch
- Front ARB air locker
- Possible diesel conversion
- belt driven air compressor
- full roll cage
- flat bed
My wil-e-coyote in training brother after we got both the axles out:
The biggest thing I've learned from this project is that projects like these take much longer than estimated... Being in school limits my working on it to breaks and summer time. So it'll get done eventually.
I'll get some more upgraded pictures next time I work on it. :)
Jman :)