OK, here's a few pics and comments about my trailer, and trailering in Michigan. My rear opening is an extra 1' tall making it 85 1/2" tall by 91" wide. Distance between fenders is 83".
Looking in from the back you can see an overhead shelf I added that sits just in front of the windshield of the jeep. This allow for light weight items such as soft top, bikini top, chairs, etc. On the right I added a hanging rack for ratchet straps and also a couple hooks to carry dune flags. In front of the overhead rack on the right is a hanging rack for broom, shop coat, etc.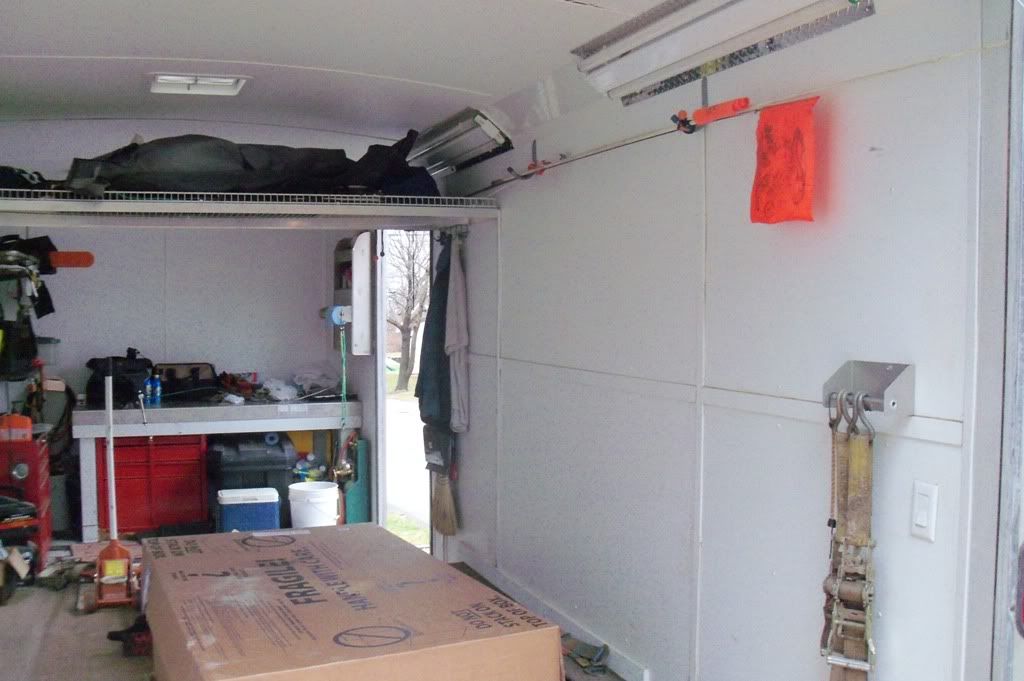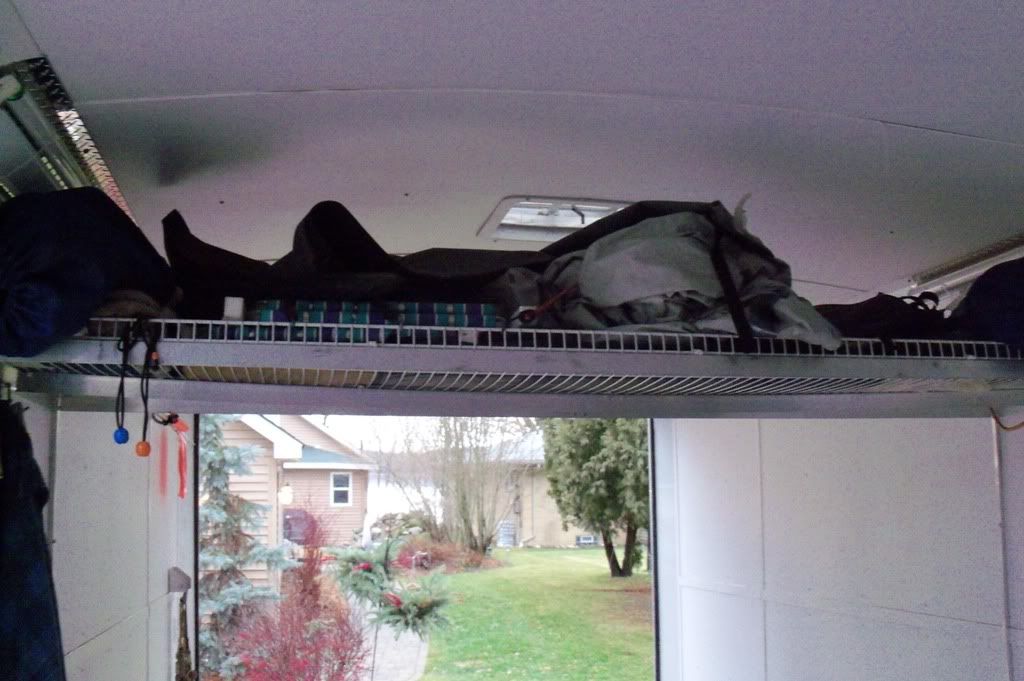 Up front is a wood work bench covered with 1/8" stainless steel. This allows a good work bench that doesn't capture grease and oil like a wood bench does and won't rust. A vise is attached on the left and a fold down can rack with dual paper towel dispenser is on the right. Note that I had them mount the electrical outlet at a height for ease of tool plug ins. The work bench is clear underneath allowing for a tool box and a roll out storage box. The roll out box carries spare parts, etc. Above the tool box on the left are a couple racks that hold misc items like chainsaws, coolers, etc. I planned to add a rack across the front but never have.
I also opted to carry a small set of torches, a small air compressor, jack stands, etc. on the floor.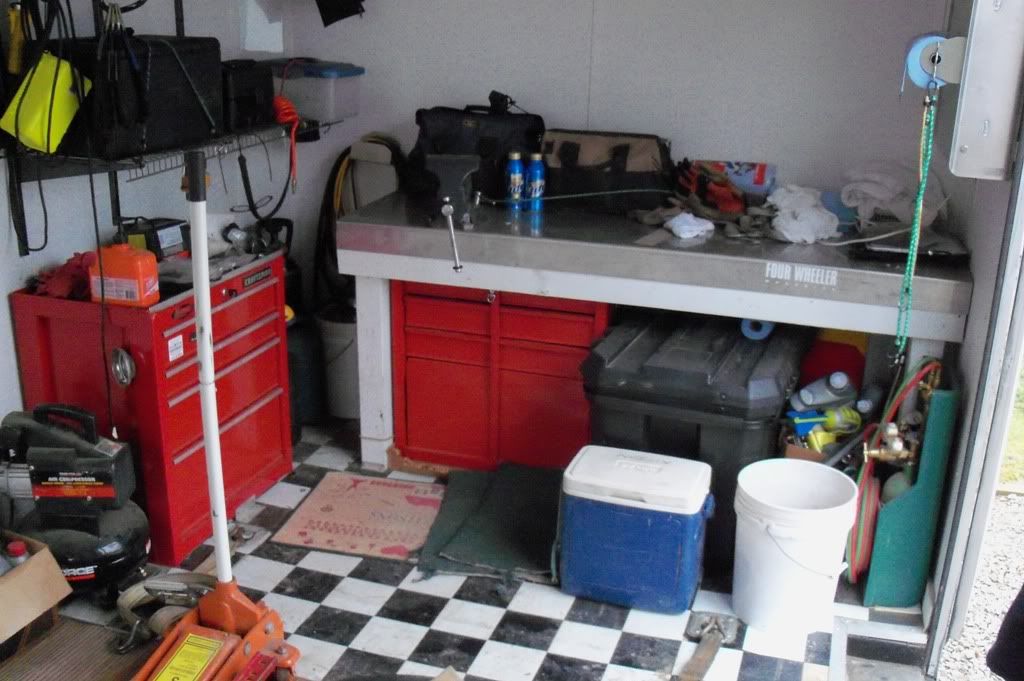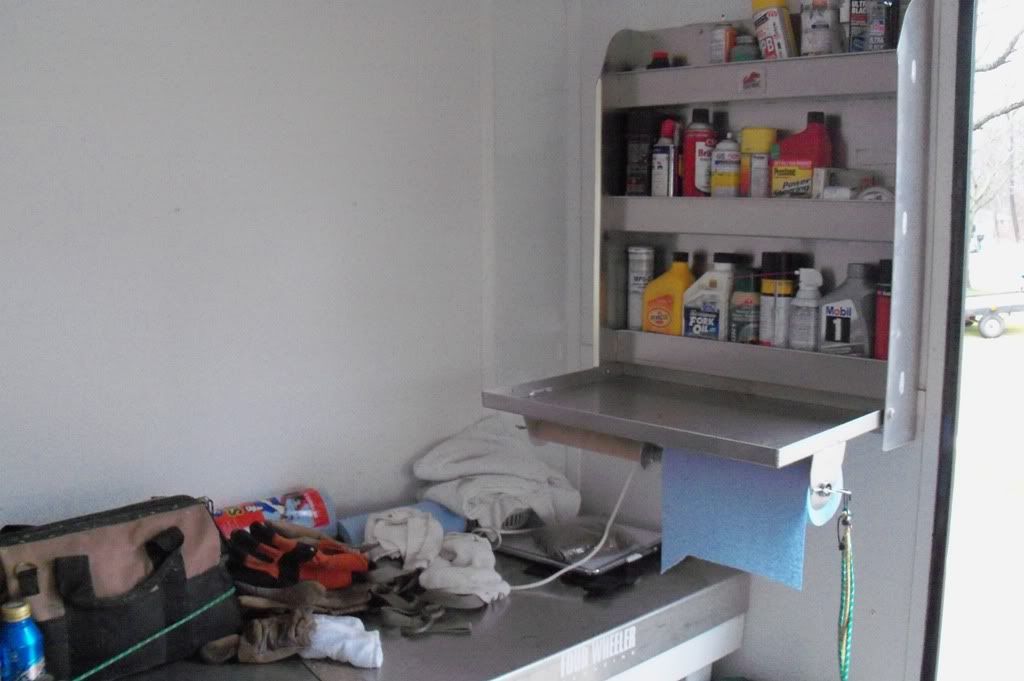 The side door is 48" wide. I actually ordered it 36" and it came as the standard 48". Rather than reordering, I accepted it. If I were to reorder it again, I would still do the 36" door. Wall space is important. The floor jack is actually held in place by a couple 2x4's screwed to the floor that capture the floor jack wheels. When the jeep is loaded, the front bumper stops just short of the handle. You can see how much extra room is there for bicycles, gas cans, etc. This area also doubles as a great changing room after a day of wet muddy wheeling before you climb into your tow rig. You can also see under the spare tire a reddish color mat. This is an oilproof mat that I bought from speedway to keep all mud, oil, etc off of the checkerboard floor. It can be pulled out and hosed off as necessary.
The one downside to this pic is that the front floor d-rings are further forward than necessary. They become a bit of a trip point. If reordering, I would have them moved back to the next cross member.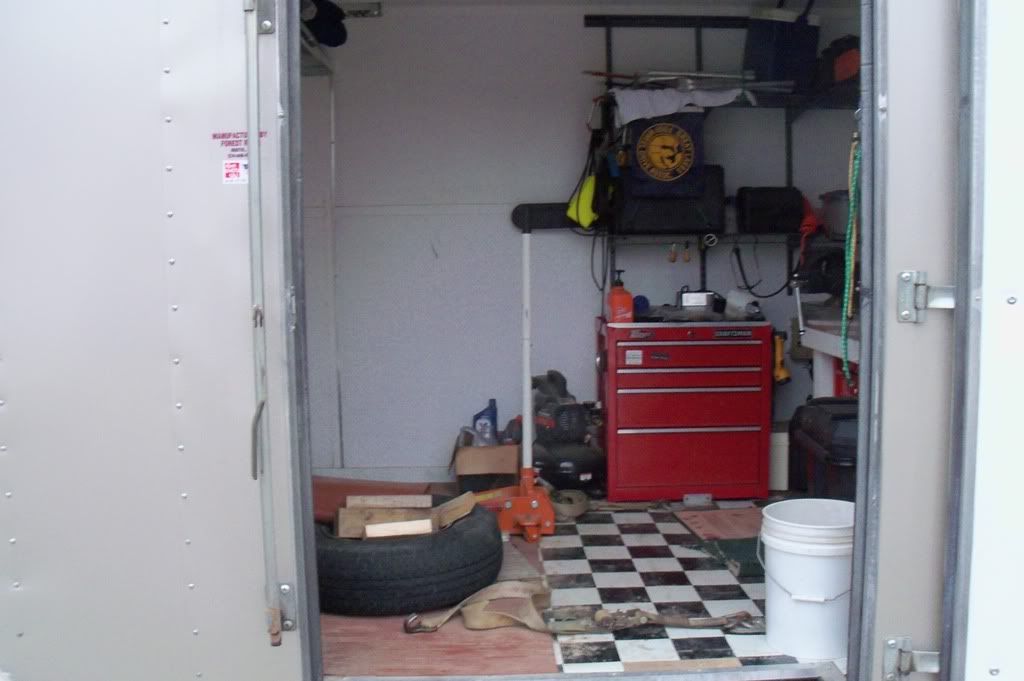 Now for the downside of Michigan winter wheeling and salt. This trailer was bought new in 2007. I winter wheel at least 2-3 times per year and here are some results.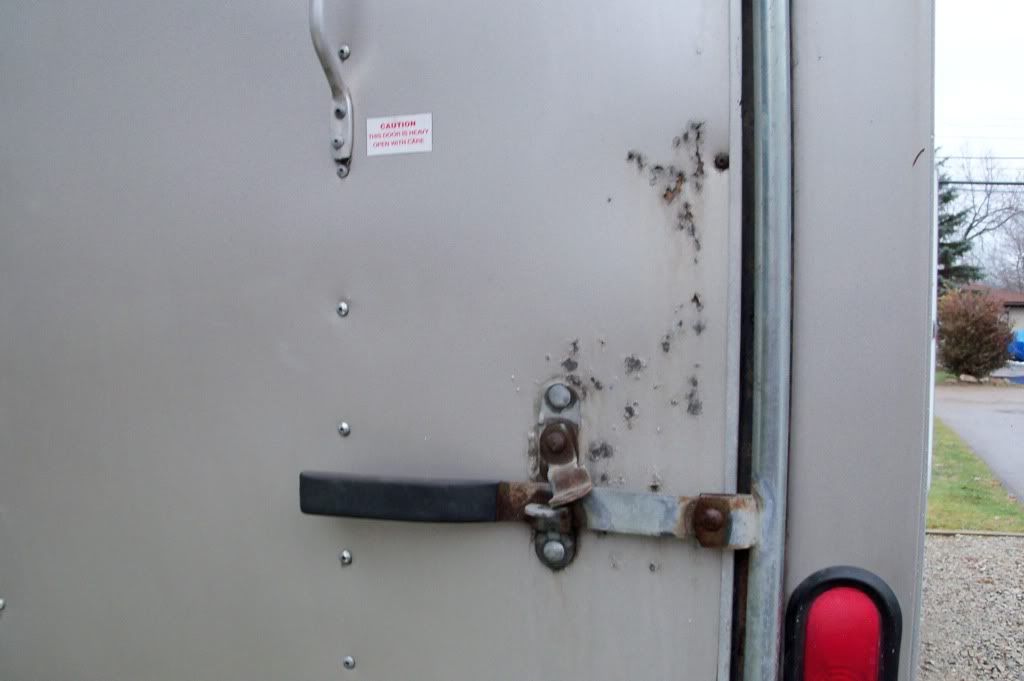 This one is both salt and also shows where the inner fender is rubbing on the wall. This is NOT NEW. My previous enclosed trailer did the same thing.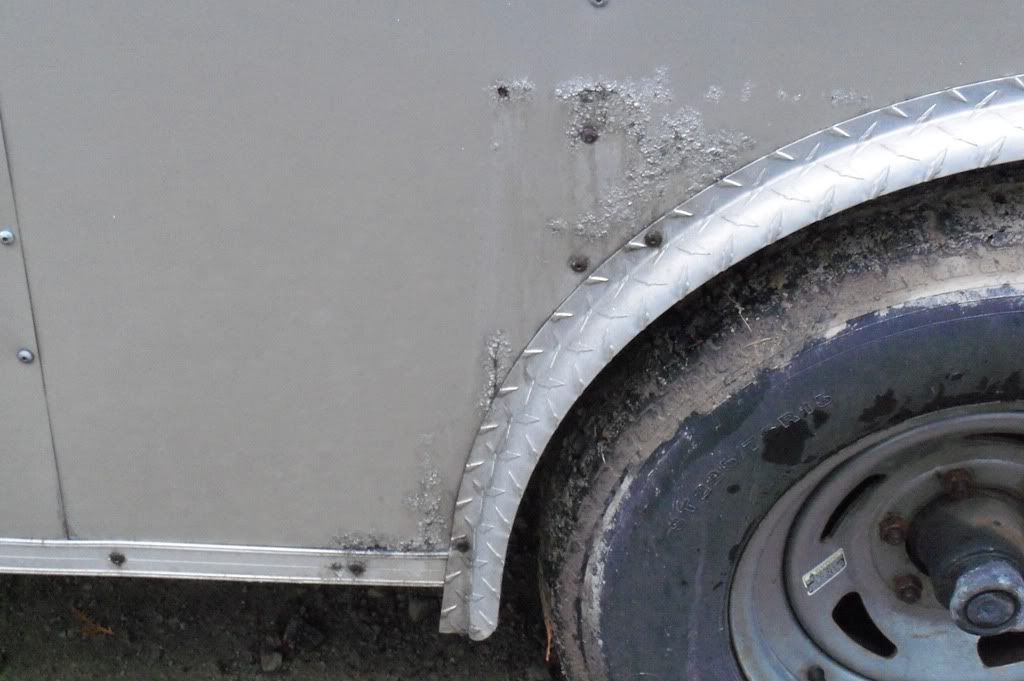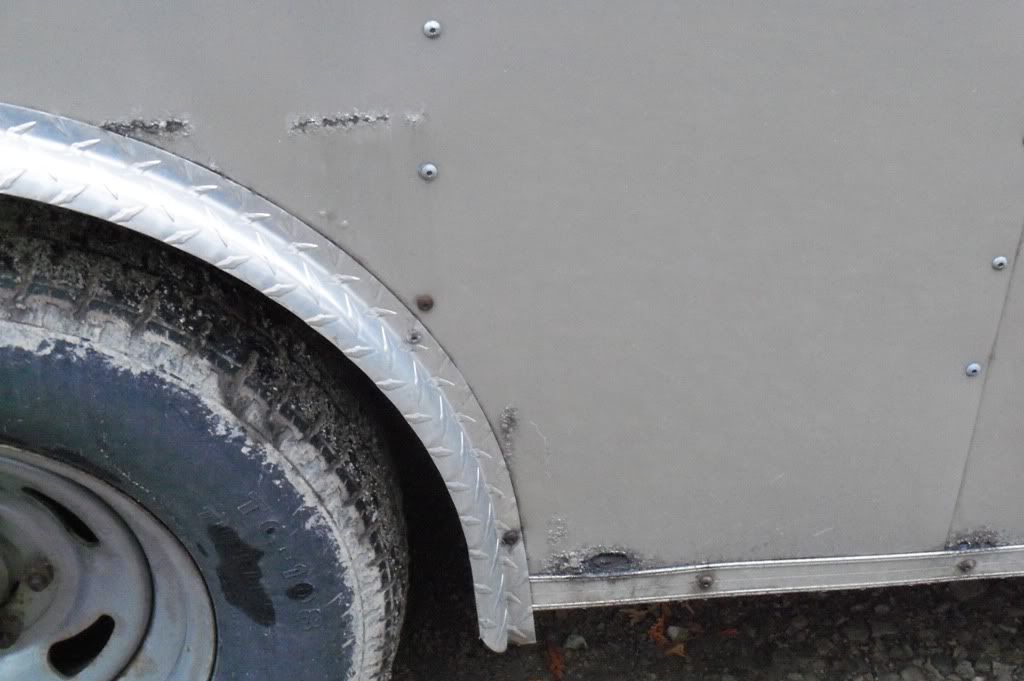 Here is the extended tongue for use with the RV. I also added an ATV tool box to store equalizer hitch components.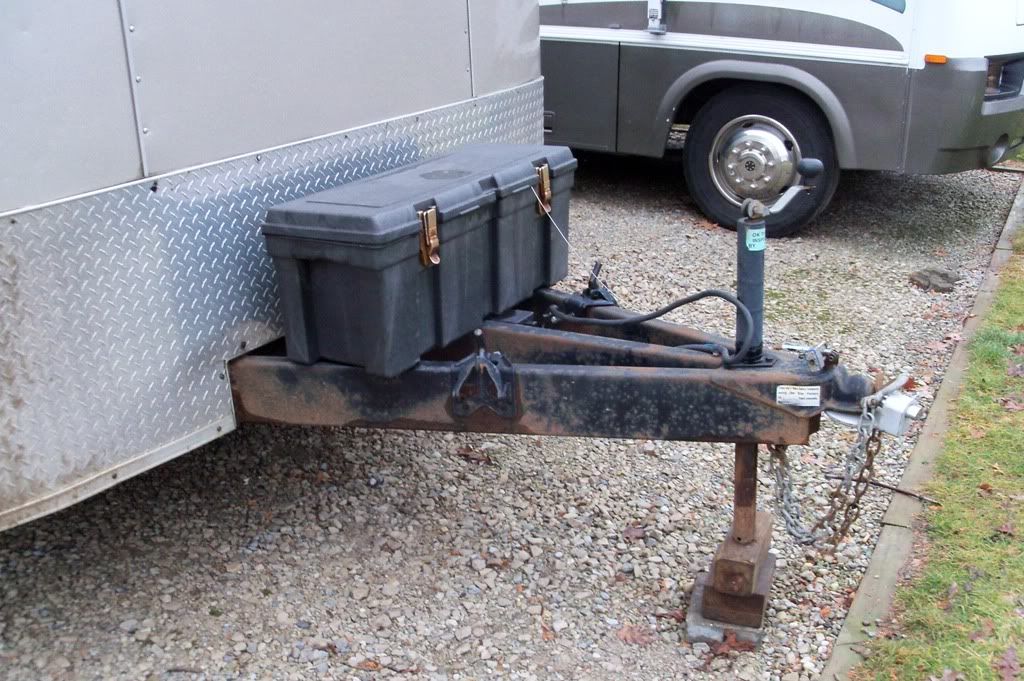 Hope this helps.
Jim