so i got this 92 xj with a blown head gasket for $500... yep after removing the head and all its blown, for sure... also cylinder 2 looks like the piston blew before the gasket... sounded like a rod knock when it started, above like 2k or so no issues but below you could hear it. photo below is cylinder 2 and cylinder 3. looks like it melted somehow...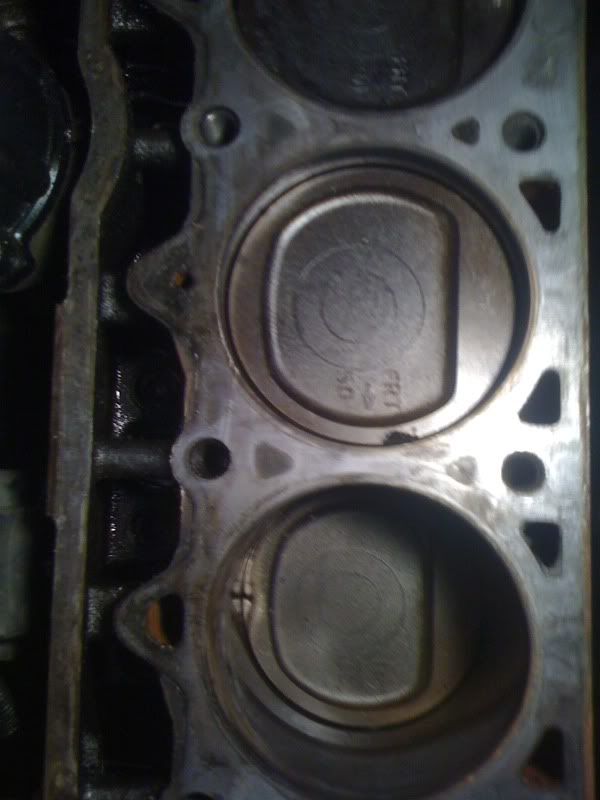 ive never done shit with the lower end of a motor before so i need advice.. repair with a new piston, rings and shit or replace the whole flippin motor before i send the head off to get checked, cleaned, honed, planed whatever and buy piston, rings and tools to finish?
i talked to a couple friends and since i need to replace the oil pan gasket and rear main as well it seemed simple to replace the piston and rings since everything was open but they both said the rod may blow out the side of the motor within 500-1000 miles, is this true?
hoping to have it at the mounds on turkey day on 31s but the plans/ideas are below if that doesnt happen..
i need basic advice.. this jeep will serve any and all 4wd duties i need this winter... trips to boyne, crystal mountain, the U.P. for snowmobiling, towing toys as well... it shouldnt leave me stranded with enough $$ in toys behind it to get jumped.. ive found several motors in junkyards for 450 or less... no idea on condition, but carpart.com has helped... needless to say this jeep will be getting a 5.5 or 6.5 lift come spring, 35's, 97+ mirrors, and be as murdered out as can be considering it is white, its already got 20% tint all around but will be limo and the windshield will be done too.
thanks in advance anyone and everyone..