OK- I'm finally ready to send this one down the road. I was the 2nd owner back in '95 when I snagged it. It was lifted, then lowered, and then stripped down to the frame and shell. I was going to turn it into a baja racer with long- arms, cage, or straight-axle it with 35's ect....
you get the idea. It has never been in an accident as long as I owned it. It even placed 2nd place at a couple of the World of Wheels and Super Chevy events 12 years ago.
Everything except the gas fill door was shaved (welded metal in place) including door handles, tail lights (relocated into the steel roll pan), all the holes in the roof from the roof rack, and tailgate handle. All the electronics are still there as well, but will need to be re-connected. I was going to go back to standard handles, so there are a couple sets of doors here. I have almost everything to reassemble it.
Here's a couple "glory days" photos: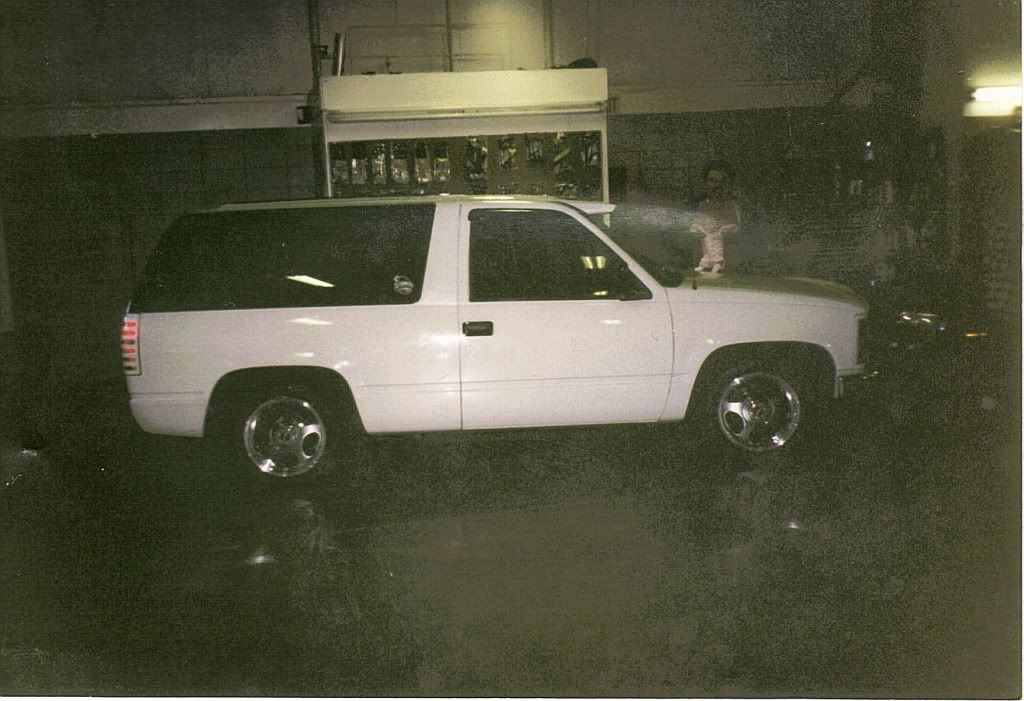 This thing has been moved around in my heated pole barn for the last 10 years and there is not a spec of rust ANYWHERE on the body of this thing!!!
Even the front engine bay area of the frame is bare steel and rust free! You will not find a cleaner 2-door shell anywhere in michigan! I have 2 sets of fenders, 2 sets of doors (1 is brand new!) and most of the suspention componants.
I'll post some pics up later this weekend but I'll start by listing the parts I have for it and pricing.
Complete body (with all the glass) $1200
2 sets of doors $150 per set
2 sets of fenders (i think) $100 per set
2 dashes $100 each
'97 front grill assembly with Stull billet grill insert $100
NP 241 t-case (fresh rebuild before tear-down) $250
stock IFS componants $250
14 bolt SF rear-end (3.73 gears set up for leaf mounts 8 lug) $200
700r4 4x4 tranny (built with Redline and Trans-Go componants) $500
front bumper $75
tailgate (handle shaved) $200
All interior componants upon request but I have modified door panels, seats, ect. just ask (a couple of the smaller items may be missing, but all should be able to be located on any chevy p/u.)
$2800 takes it all!!!! Taking offers
I want to try to sell it as a package if at all possible, so I may not respond to you right away on offers on the seperate parts.
It has a clean green title ready to be signed.
The only items I know are missing are the hood and rear stock leafs (altered when lowered).