Ok so I have started to buy parts for the rig so I thought now would be a good time to post up my build thread.
First let me tell you my goal.
I'm looking for a reliable DD for the wife that can be taken on moderate trails and camping. More of an excursion/ expedition type vehicle then any thing.
The vehicle we chose to start with is a fairly clean 1998 Grande Cherokee Laredo 4.0.
So far I have installed new brakes all around.
New distributor cap. (Accel)
New rotor. (Accel)
New plug wires.
New plugs.
New wiper blades.
And new front sway bar bushings.
Fixed the parking brake.
Fixed a coolant leak. (Lose clamp)
Adjusted the tired steering box.
Removed the universal side steps that came with it.
And gave it a good cleaning.
Right now I have on order the following.
Flowmaster cat back.
OBX header.
A new flex section for the exhaust to take some of the stress of the header.

New front and rear O2 sensors.

Also ordered some 2.5" pipe and mandrel bends to make the front section of the exhaust out of.
Headlights. (Note: I did not want these. The wife over ruled me.)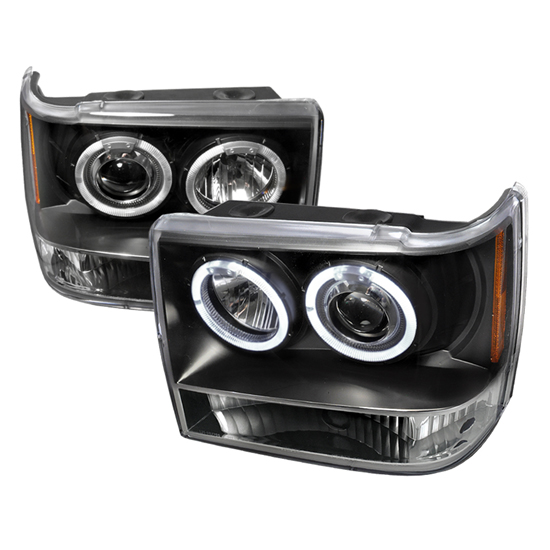 2" budget lift. (Bout it used for $20. Just something to play with for now.)
I still need some more things for it and will be ordering more stuff today.
Right now its not running right. So I'm fixing every thing that's wrong with it first.
Then when its running right and has no problems I will start moding the crap out of it.
List of what it still needs.
99+ intake.
Steering box replaced. (Thinking I'm going to run the 99 Durango box.)
Fan clutch is locked up. Going to convert to electric.
Some the seals are leaking. Both motor and axles.
Needs a good service.
Going to have the small rust hole in the passengers rocker fixed.
Need a new right front fender. (Still looking for a black one.)
Need a new steering wheel. (96-98 leather.)
Need T-case shifter trim. (NP242.)
Looking for a drivers seat bottom. (Leather, black, no heat)
Need a new spare tire.
Need new speakers. (Has the infinity system but all door speakers are bad.)
Need new lift shocks for the hatch and hatch glass.
Need a new rear wiper arm.
Need new front door panels. (Leather is cracked really bad.)
Need new valve cover. (Rust.)
Need new CD player. (Stock wont play MP3s.)
Need to get an alignment. Drifts to the right a bit.
Then the moding starts.
I'm thinking it will end up on 33-35s with a 4.5 to 5.5" long arm kit.
Not sure what I'm going to do for axles just yet. But I'm not going to be beating the crap out of it, so I don't think I need any thing supper big. Just a good set that I can install lockers in that will do good with 33s-35s and not brake if I get a little to aggressive.
Then I will do bumpers, rock sliders, skid plates, and a roof rack.
Should be a real nice rig when I get it done.
This is about what I'm going for when I get it done.