fit series one frame, burgendy aikten one, american BB, drop outs cut.
Odyseey Race fork (non butted version) hole drilled for a front brake plate but if wanted I could weld it closed and smooth it over. w/ tree headset cap thing.
SandM redneck lite, black,
T-1 small bars, cut down. picture below.
King Headset, black,
Monkey hub 48h, laced to a hazzard lite chrome rim.. has barley been riden. with sandm dirt front tire.
Odyseey hazzard light 48h, laced to a big city. chrome is pitting on rim but not on side of rim so braking is okay. profile ti 9t cog. and a hallow axle. . with odyseey tire.
kink light pegs 2- 3/8 2- 14mm.
atom lab marvin pedals,
Odyssey cranks, american BB, 175mm.
25t RNC lite sprocket.
rnc ti barends.
bent tech 77 left and right.
shadow slim set.
odyseey aluminum seat post with marvin guts.
I was a bike tech for 3 years or so. It was well taken care of.
this may not make much sesnse up top, I was going to part it but have since decided not too.
asking 900obo for the whole thing.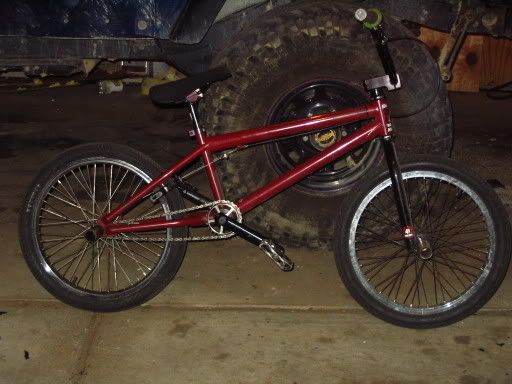 I have more pictures if intrested