I had this listed a while back, then pulled it because the wife said I should keep it and finish it. Well, I haven't had time to do anything with it since then, so it's back up for sale.
I have towed the trailer around the neighborhood and on roads up to 45mph. It tracks great, tows great, and should be even better once finished and weighted down a bit with decking and cargo. It as not been weighed or plated/titled yet.
Main chassis welding was done with a 220v Lincoln MIG. Body and tire carrier were done with 110v Lincoln FCAW.
Asking $500 (NEW PRICE!!) or reasonable offer. My garage is already overflowing, so I'm not interested in any trades. Located in East Lansing.
Chassis:
2x2x.25" square channel for the main rectangle portion of the frame
2x2x.25" (well, a hair thinner but thicker than 3/16") angle for the full-width crossmembers, notched and welded to fit over square tube of main rectangular portion of frame
2" receiver in the rear (welded to rear of frame and next crossmember)
Extendable tongue (~4' of adjustment) out of 2.5x2.5x.25" square tube.
Ring for pintle hitch (removable); you could easily fabricate an insert for a ball coupler.
Lights temporarily wired up (twist-and-tape)
Spare tire carrier (on A-frame part of tongue) installed, set up to fit 31" tire with 5-4.5" rim
Welded-on Bulldog jack
Axle:
3500lb hubs/bearings/spindles in fabricated 2x2x.25" square axle
Includes spare set of bearings/seals
Suspension:
3500lb trailer leaf springs minus the two shortest leaves
Shocks included, but no mounts have been fabricated yet
Tires/rims:
31-10.50-15 BFG A/T tires – used but with tons of tread, two are new-style and the spare is old-style
15x8 Jeep Canyon rims (5.5" backspacing) with center bored through-and-through to clear trailer hub (no change in diameter inside, still works as a hub-centric rim).
Body:
Multi-compartment design made from 1/8" angle
No decking or sides have been installed
It would be easy to cut the body structure off if you wanted to utilize a different design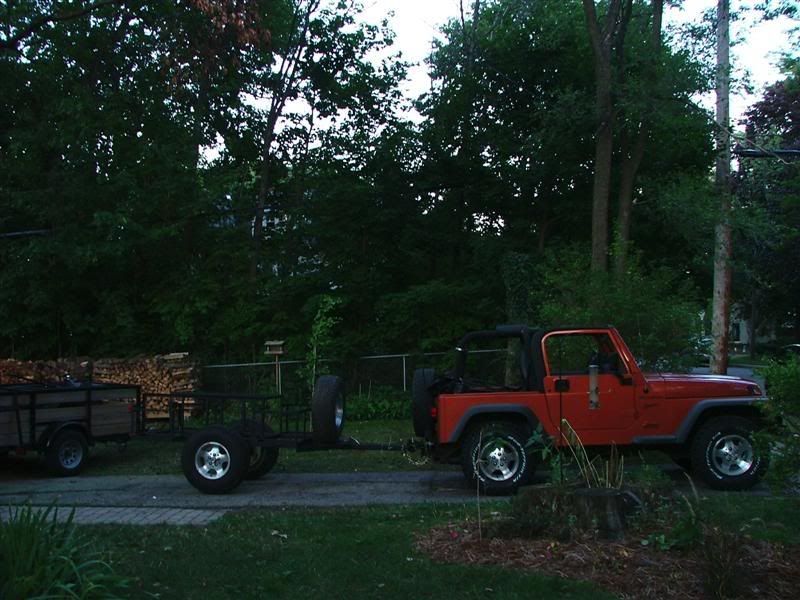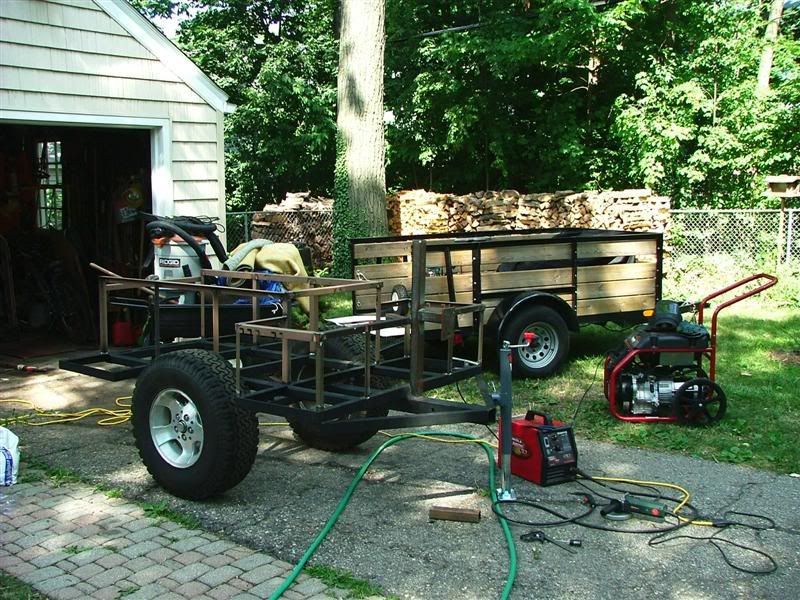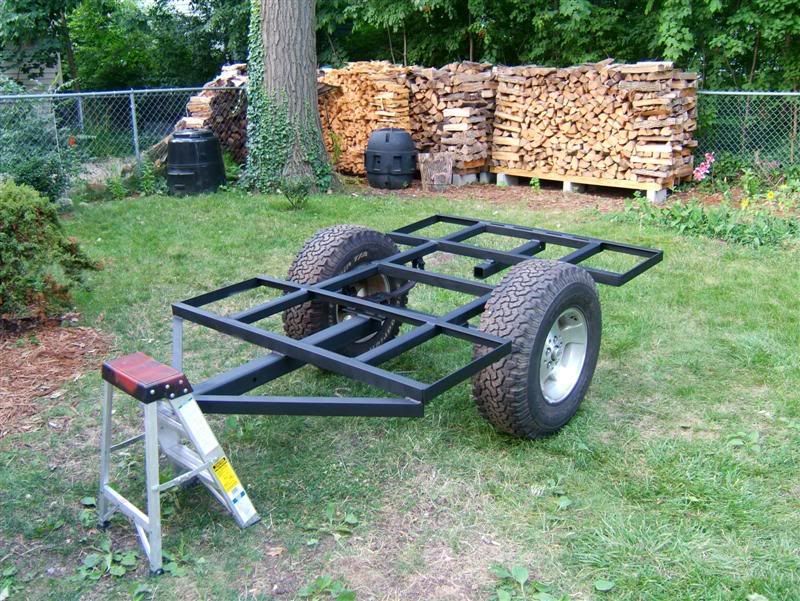 And with its tongue removed, it will fit inside a 5x8' utility trailer for transport or storage!