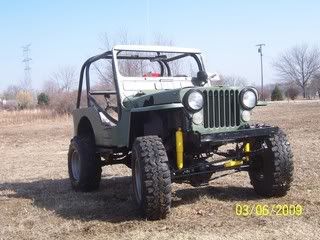 Ive decided to sell my old trusty jeep. Ive had this jeep since 1989 and it truly is a sweet jeep. Here goes.
1952 Willys M38. It is in excellent condition. Ive owned this jeep since 1989 and have taken great care of it. I have put many hours into modifing and maintaining this Jeep.
THE BODY
First lets start with the body.
- The body is in excellent condition, very very solid and very very clean. THere are some spots where there is some rust. All panels where the body meets have a rubber gasket between them. This has helped preserve the jeep over the years and it has done a great job.
The driver side floor board has been replaced years ago and could use a little attention under the seat The floor where the driver puts his feet is in great shape with no rot thru.
- The passenger floor is in excellent condition accept where the passenger feet go and that is starting to rot through though its not completely gone
-The floor in the cargo area is completely solid but is pitted from use. All seems are solid and rot free.
-all rear seat brackets are still in place.
-The body is not the straightest body around but is not rotted. As you can see the body could use some finish body work. The rough body job is done and now needs the final phase of some touch up and a little body work where I didnt finish it. I was going for complete resto and just didnt finish it. Now its time to sell it. A little body work here and it will look immaculate.
-THe hood hasnt been addressed at all as far as body work is concerned and will need a little straightening and bump and paint.
-The windshield frame is in excellent condition and has the middle of the windshield vent mounted with a lever so it can be opened and closed for fresh air. There is no windshield.
-The dash is excellent and has the original dash lights and dash panel. THere is a passenger grab bar.
-THe glove box is small but no rot and in excellent condition.
INTERIOR
-There is a full 6 point roll cage inside with door bars. The front of the cage is mounted to the frame by being attatched to the nerf bars. This is a very solid design and works well. Flanges are welded to the cage and can be unbolted and removed and rebolted back in with great ease.
-There are 4 point RJS harnesses bolted to the bar that runs just behind the rear of the seats.
-The seats are Jeep factory Cj seats and are very comfortable. The driver seat is a bit torn up from use but not destroyed. I have a seat cover on it and it still works well. The passenger seat is in great shape from little use. The passenger seat also has a flip forward design.
There is a console mounted between the seats and is also very comforatable for driving.
THere is a small padded steering wheel and there is a tilt wheel column from a CJ
It has turn signals and hazards tho its been awhile since ive used em. The steering column also locks with a key. The steering shaft setup never really was right. There is some work that needs to be done on the steering shaft to make it safe for road use. When it was done the proper parts wherent available. Now those parts are available and need to be put on in place of the hand built parts. Complete steering shaft needs to be addressed.
-THere is a 28000 btu bus heater mounted under the dash. This thing rocks and will dry your shoes out quick. It has a double fan blower but its time for the fans to be rebuilt. One fan does work but you can tell its time for rebuilt fans.
The Jeep has a modern electrical system out of a Jeep Cj with a chevy 4 cyl.
It has an ATO fuse box and is ultra reliable. It is very cleanly installed and routed with great care
THis jeep is street legal and with a windshield and a little work can be driven on the road. I drove it for a dailly driver for 3 straight years.
DRIVETRAIN
Buick v6 231cid THis engine came out of grand national and has the rolled fillet crankshaft and the stage 2 heads and valve covers
-the pistions are popups hypereutectic with the heads the compression is 10.25:1
the engine makes plenty of power. Recently when i ran it i noticed more blowby than usual and most likely has a ring thats sticking, the engine runs great and has plenty of power so i know that is hitting on all 6. The jeep has been sitting in my garage for about 5 years and ive been working on it here and there.
Holley intake manifold and a Holley 390 four barrel
-Exhaust headers with a full stainless steel 409 exhaust system all the way out to the back
-It has dyno max turbo tubes and wont get torn off in any mud hole.
-THe radiator at one time got pushed into the engine and looks like it got a bit mashed up believe it or not it has held water and worked with no problem. I would want to get a recore but it does work.
-T-176 Fourspeed toploader
-Dana 300 transfer case
-Dana 44 rear axle out of an 86 CJ Loaded with 456 gear and minispool.
It has drum brakes in the rear and i have an extra set of drums for this axle.
-The front is a dana 44 built on the wide track measurements. It has 456 with minispool diff. THe Driver inner and outer axle shafts are broken where it spit out the u joint
The front has the conversion to F-150 rotors and spindles and bearings and hubs. The hubs are from early broncos and have all steel parts inside. Heavy duty. The brakes are Gm conversion and use blazer calipers also heavy duty.
The front axle has an axle truss on it for added strength and stability.
It has a set of Monroe gas magnum shocks and steering stabilizer.
It has a set of super swamper tsl on it they are 34-10.50-15 there are alot of cleat on all of them and some of them are a bit worn on the tread surface. They are a bit dry rotted too but they work well in the mud or snow.
It has American racing outlaw aluminum rims.
All brake lines and hoses are new and in excellent condition. Though i wanted to spend some time re routing some ot the brake lines to make them look super sweet.
I have new wheel cylinders and brake hardware for the rear, just never got around to putting them on.
THe frame in the front where the bumper mounts is twisted a bit from where the bumper was torn off in a 4x4 incedent. A ramshackle bumper was welded in place for a temporary. I have the front double tube bumper. It also has a double tube steel bumper on the rear.
There is a frame mounted pull point in the rear, its actually a special military frame insert for pulling things. Beefy.
I know there are things that im forgetting but im doing my best to give the most accurate description possible.
All in all this is a very clean military edition willys jeep. It has a clear title. It is very capable off road and gets alot of respect at every 4x4 run ive been on. Ive gotten into Fourwheeler magazine with it and most recent JP magazine when i did a superlift run at The Badlands.
It has no problem with places like Bull gap and Test hill at Silverlake sand dunes.
Im asking 4200 obo i welcome people to come look at it.