**TIRES ARE SOLD!**
I decided to do something a little different with the wheels and tires on my truck, so I'm selling the ones that are currently on there.
The tires are 38"x14.5"r16 Nitto Mud Grapplers, on 16"x12" Mickey Thompson Classic II's (polished aluminum) 8x170mm ford bolt pattern.
The wheels are in really good shape, they are filthy in the pictures because I haven't washed them in a while...but they will polish up and look brand new (I will give them a good cleaning/polishing before I sell them). The only problem is the center caps in the rear; they got a little pitted up from the salt this winter, so they could use replaced. If it doesn't bother you, a little metal polish and steel wool will get rid of the rusted look...but they will be a little pitted still.
The tires have been on the truck for 20k miles or so, and have a good amount of tread left (not 100% sure, but close to 50% tread left...maybe slightly less) They are great tires all around, I never had a problem in the mud, sand or snow...just read some reviews on them, and you won't see anything negative other than the noise on road, but that's what you get with an aggressive mud terrain tire. You can see the amount of tread left on the pictures I posted below with the quarter.
New the wheels go for $175 a piece, and the tires are around $400 a piece online.... total package for them was around $2500. I'm really not sure what to ask, so I will start them off at
$1000 or best offer
. I won't ship them because these suckers are big and heavy…I'm
located in Monroe
, so you would have to pick them up. I would rather sell them as a package, but I will be going down to pick up my new wheels and tires this Thursday, so I can have them split up if need be.
So here are some pictures: (like I said, they are just dirty right now…I will clean them up before I sell them, so they will look like new again, and dont mind the rusted ass shocks in the pictures...I just cut the shock boots off and found a mess underneath, new ones are on order)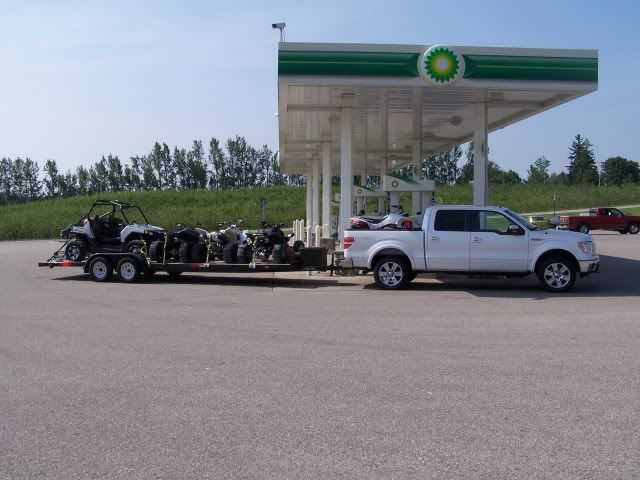 Let me know if you have any questions, and no....I'm not looking for any speakers or paintball gear. Only trades I would possibly be interested in is a Springfield XD-9, Cabelas Gift Cards
, or a nice indash TV/DVD player.