This first post is LONG due to me procrastinating on starting the build thread. Now I am playing catch up.
My dad and I caught the jeep-bug last summer. He bought a 92' YJ with 2" lift and 31's. It has a 2.5L was intended to be a toy up at he cabin (near Harrison, MI). We took it out and wheeled it a little but it just didn't have the 'oomph' to climb the hills or get through the bogs. We both looked at a specific hill while up one weekend and in true Arnold fashion "I'll be back!"
So the project started in mid December with a 90' YJ rolling chassis (frame, axles, "clean tub"...more on that following, and a 2.5l motor) The chassis was purchased on Ebay from a seller in New York, New York. It was claimed as 'rust-free' and the pictures reinforced that claim. My dad and his friend took the 10 hour trek to buy the chassis only to find that it was CLEARLY not a rust-free chassis. He bought it anyway ($600) and brought it home. The intention was to have to spend as little time doing bodywork as possible, this was not going to be case now.
After getting a plan of action, we found a 92' 4wd Blazer with a 4.3 auto (no bitching about a v8! I've heard enough) and bought that for a donor. First step was to strip the Blazer of all necessary parts and get it out of the way. The motor/tranny/t-case we're pulled all in one piece. Everyone said it couldn't be done without lifting the body off the mounts... I beg to differ (wasn't easy I'll admit). The entire engine and computer harness were removed, fuel sending unit along with computer/aldl and a few necessary electrical components from the interior. The radiator was saved and a few other little misc. items that may come in handy later (the seats for example). The blazer was then put outside as a catch-all for scrap parts.
[IMG]
[/IMG]
(the 4.3 pulled)
(the mess that will be the wiring)
Next came the YJ frame/tub. The tub was removed from the frame and my dad started on repairing the ridiculous rust holes. I started working on the frame modifications.
Now would be a good time to explain what the original intentions were for the project; - A trail worthy Jeep that could make it over/through ANYTHING that we would encounter in the area that surrounds the cabin and still be somewhat streetable however it would see very minimal concrete time. Now this means somewhat harsh trails and some steep hills and ruts but very little rocky terrain. The engine would be a TBI 4.3L in the 200hp/270tq range with a 700R4 tranny mostly stock. Suspension intended was an SOA lift, stock axles (mostly) and running on 35's (I know, don't scream yet....its coming).
The frame was completely stripped and wire-wheeled to prep for the coating of POR-15. The can says "use in well ventilated area"... you would think "DUH" right? Not always an option when in a heated barn and it is 9 degrees outside. Full face respirators were a life saver in that endeavor.
(check out that haze!)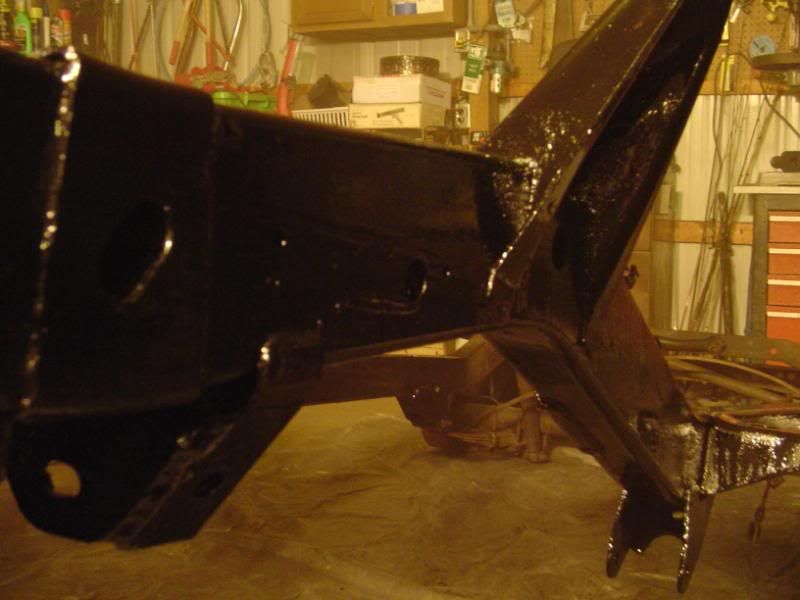 (Caution: Wet Paint)
Now I tried to convince my dad that the stock rear would never hold up to 35's after doing a little reading (not comfortable with stock front either, but no rock crawling in its future...if it breaks, it'll get a 44). AFTER I ground the perches off and cleaned up the Dana 35 and got it ready, we found a Ford Explorer 8.8 with 4.10's, LS and disc at a local scrapper. I then had a hay-day with grinding on that. It has been fully set up for the SOA and is awaiting the engine/tranny mount up for the correct pinion angle. It also got all new emergency brake components/disc-drum/pads and new fluid. The gears looked great (only 58k miles I was told...). After it was all cleaned up and ready for spring perch positioning, my dad welded the tubes and the pins to ensure we don't end up spinning a tube. Probably wouldn't happen with a 4.3 but now it definitely wont.
(starting the grinding)
(new brakes and tubes welded)
Originally for the front suspension we intended on using a "Z-link" drag link and a drop pitman arm to correct the bumpsteer. After being scolded by everyone I came across and reading how dangerous the setup really is, we ordered the JB-raised steering bracket. I installed that in a short period and I am extremely happy with the results. Anyone considering doing the high-steer custom knuckle setup for the Dana 30, please please please save your time and money and order the JB-RA. Will save you sooo many headaches. The front Dana 30 is going to be left in but unsure of its future as of yet. It may get Alloy USA upgraded shafts (1-piece so no posi-lock BS) or we may keep an eye out for a HP Dana 44. Not crazy about going through the hassle of that high-steer setup at all though.
(SOA perched with massive stupid strong anti-wrap perches)
(drilling/tapping holes for JB-RA)
(bracket installed with extended drag link also)
Now you have to take into consideration that we only work on this for a few hours a day and that is pretty much restricted to the weekends only for me. I have (more or less) completed the chassis short of shocks and a few little odds-n-ends and my dad has fought with the tub for this period as well. He originally intended, as stated earlier, that bodywork was to be minimal at best because "we are just going to tear it up anyway". Well, he is a PERFECTIONIST (borderline anal) and couldn't let anything go. I don't know if anyone has ever scrutinized the stock body work on a YJ tub but right off the line it is HORRIFIC! This is now the straightest dang YJ tub in the area (and if it isn't you'd better not mention otherwise). He replaced all the problem areas in the tub and you can't even tell a single spot where steel was replaced unless you see the following pictures.
(passenger rear wheel well - BEFORE)
(cut out)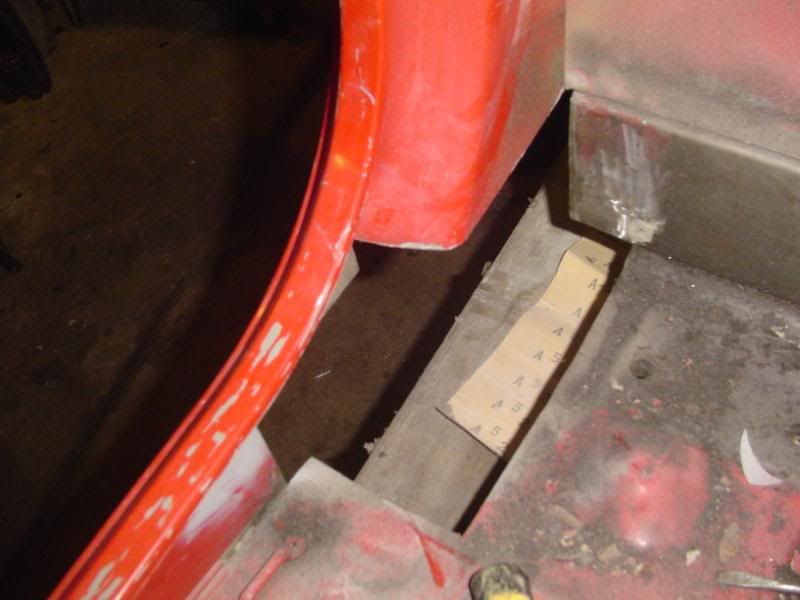 (first puzzle piece)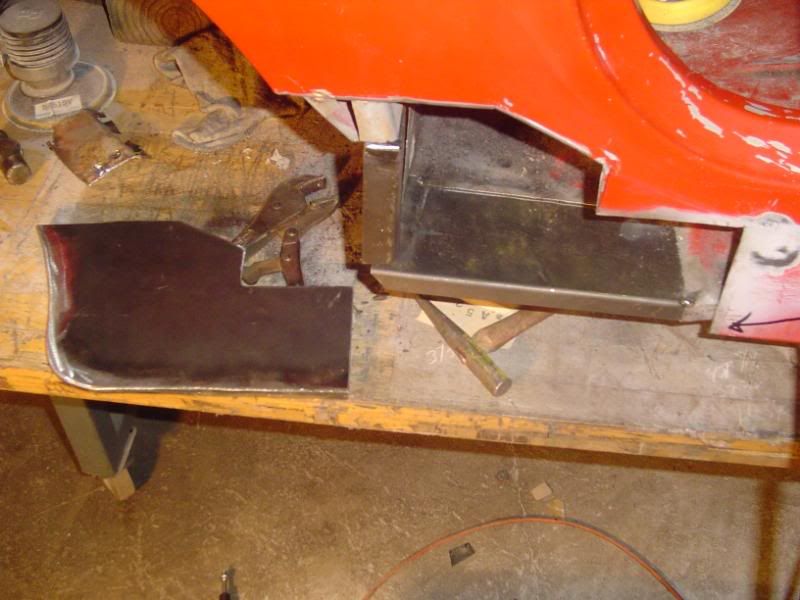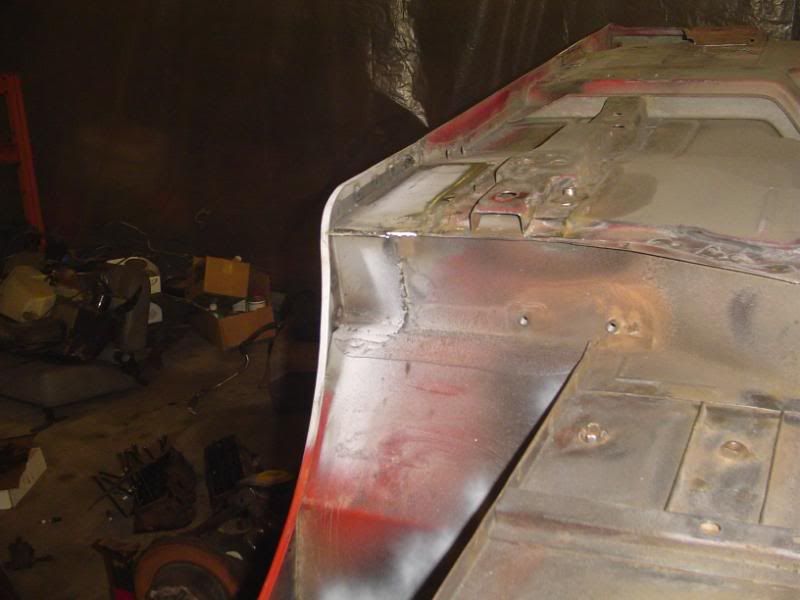 (Stamped - DONE)
(drivers reinforcement post replaced, yes it was ground smooth after pic)
(passenger replaced)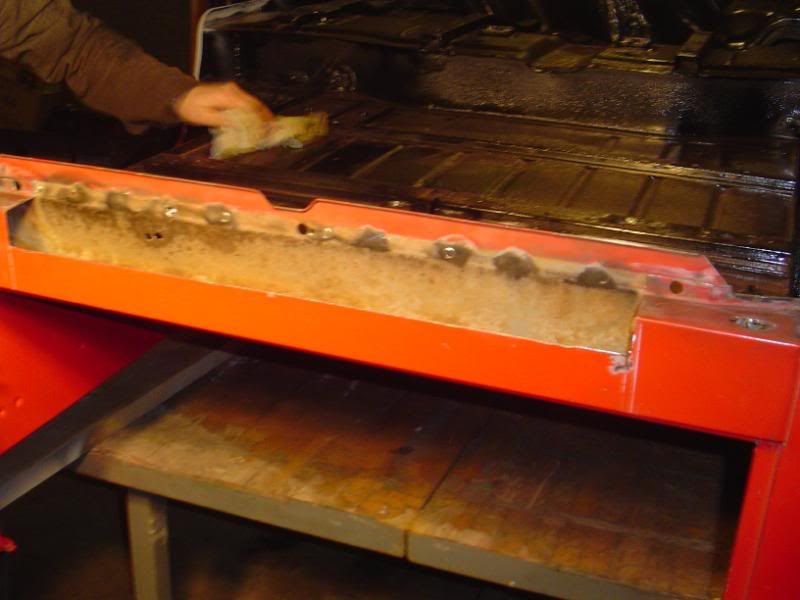 (under tailgate W.I.P.)
I didn't put all of the pics up showing all the spots replaced as it would take 3 yrs to load the page and I think I over did it as it is. I'll post the finished body pics up later. I haven't uploaded them yet.
Now this is where we sit as of right now. The tub is primered and ready for base/clear. First the inside will be POR-15'd then coated with Herculiner. The frame/suspension is nearly completed except for bumpstops, boomerang shackles (on the way) and add-a-leafs.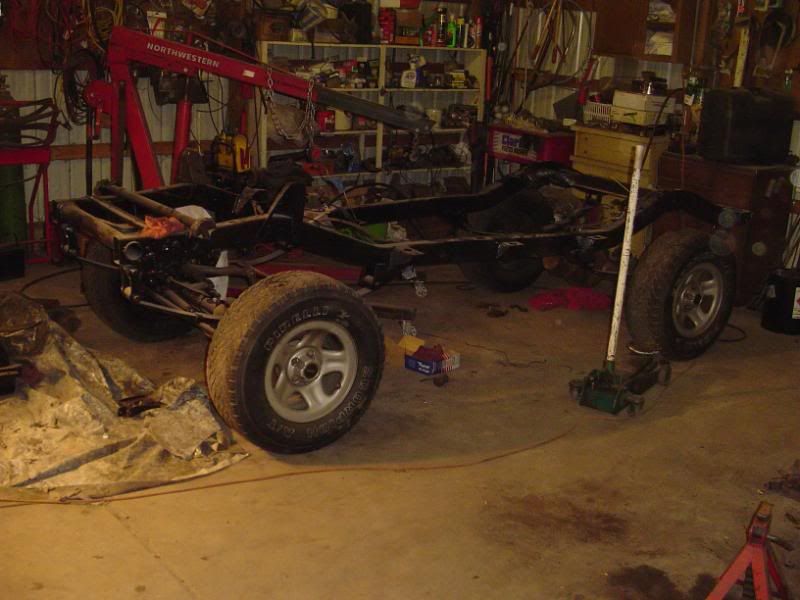 (as it sits right now on stock rollers)
The motor build will start in the coming weekend and things will really start to take shape. The transfer case from the Blazer (231C-HD) was fitted with a Tera-flex SYE on Sunday. Its not too difficult of a job but take your time, pay attention and KEEP IT CLEAN. I also had a 231J on the shelf that I tore down to compare the two. The 231C-HD really IS HD! 6 planetary gears and wider chain alone are enough to convince me. I wish I had taken pictures to display what I am explaining but to anyone that doesn't have the $ for an Atlas or Dana 300, the 231C-HD would be a better choice everytime vs. the J model.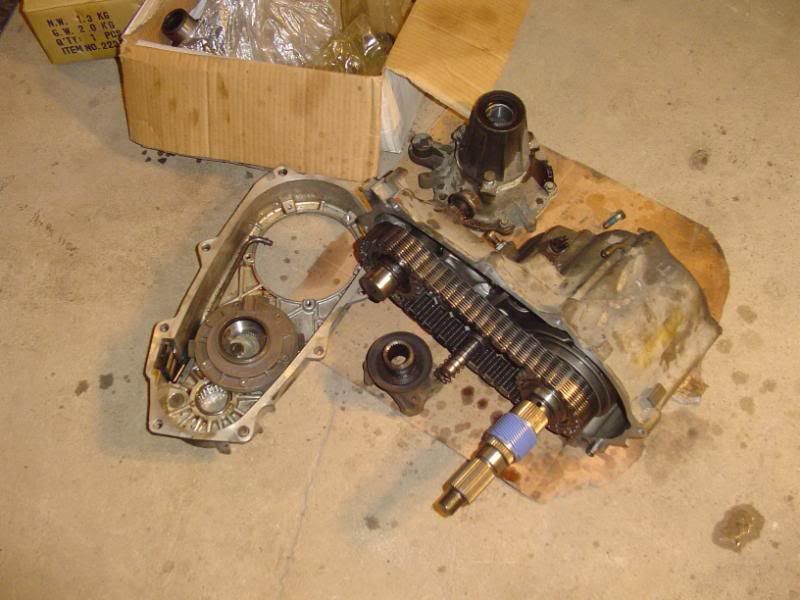 Current tire size choice is favoring 35's but 37's have been considered deeply. Its all in whether or not we have the featherfoot to prolong the front axle life.
More later....I think I've stared at this screen long enough.