The Project: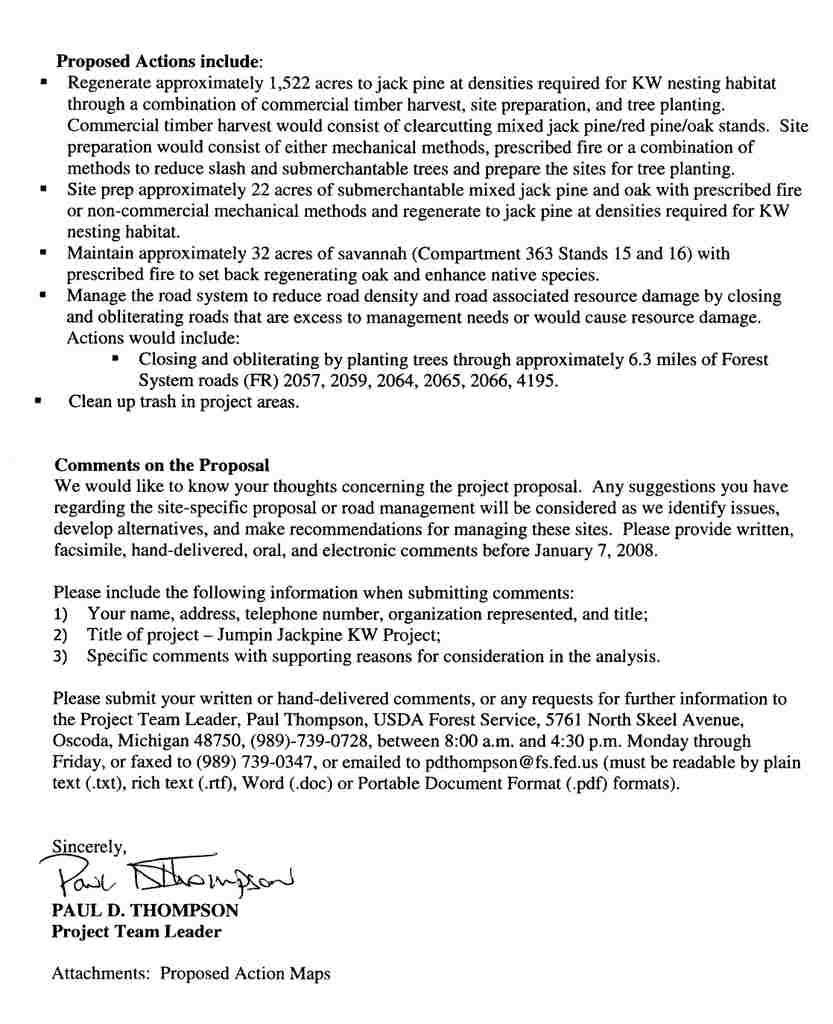 Our comments:
January 6, 2008
In regards to: Jumpin Jackpine KW Project
Paul D. Thompson
5761 N. Skeel Ave.
Oscoda, Mi 48750
Dear Sir,
Please accept the following comments for the Jumpin Jackpine KW Project:
1) Projects involving the transportation system should never be released for Scoping at any time other than the summer months. Winter snow obscures the road system making it impossible to gather meaningful and accurate data. Spring thaw can leave the more rustic roads sensitive to rutting and degradation. Fall brings the opening of the various hunting seasons and the Forest should be left for their enjoyment.
Please postpone the Scoping of this project until summer of 2008 so meaningful research can be conducted on the road system considered for obliteration.
2) The maps provided are too poor to conduct meaningful analysis. It is extremely difficult to discern which roads are under consideration for obliteration.
Please provide better quality maps of the Project Area before Scoping during the summer of 2008.
3) No road names or numbers are listed for Forest Roads on the first map of the set.
Please provide adequate labeling of roads under consideration for obliteration.
Because of the above issues with the Jumpin Jackpine KW Project, GLFWDA is not able to provide substantive comments about which roads to obliterate and which provide our members with their desired recreational experience. Please take corrective action before proceeding with this Project.
Sincerely,
Chair, Land Use Committee, GLFWDA
If anyone knows the area in question, please contact me.
Thank you