Hey guys, I'm kicking around the idea of selling my scrambler. The Cleveland winters produce too much snow and I'm going to need a more comfortable daily driver (I have a Corvette right now and the Jeep is my other vehicle). I can't really do the "going to meet clients while wearing a suit" thing in this jeep.
Here's what I got: 85 Jeep Scrambler, 79K original miles, 258ci Inline 6cyl (original), 4spd manual, Dana 300 transfer case
Dana 44's out of a Scout, 4.56 gears, ARB air lockers front and rear with compressor, SOA with 1.5" RE YJ springs, 1" body lift, Shackle reversal, 1-ton steering and flat top knuckles (with high steer arms, but the steering is still on the original knuckle arms),tom woods driveshafts, 10K lb winch, stinger front bumper, interior cage fits under half hard top, half hard top, rear cage in case you want to mount a seat in the back, nice rear bumper with class III receiver hitch, bikini top, sport seats with 5pt harnesses, aluminum diamond plate tool box in back.
4 38x16x16 Mickey Thompson Baja Claws at 95%, MTII classic aluminum wheels (16x10) these wheel probably need more backspacing as the tires rub a bit when turning, 1 spare 38x14 SS SX 75% tread.
This jeep runs great, no problems, does 70 straight and true on the highway (with a tailwind :D ) and it gets 15 mpg!!! (probably due to the gearing). The body has no visible rust, however, the previous owner did put bondo in it and re-painted it. The frame is solid! I have undercoated everything since I have owned it. An auto mechanic by trade and I built this whole project and purposfully made it a "streetable" and capable rig! Most all of the nuts, bolts and hardware are new.
Here is a pic pre-stinger and tires
Here is the cage (pre-new seats and new tires/wheels)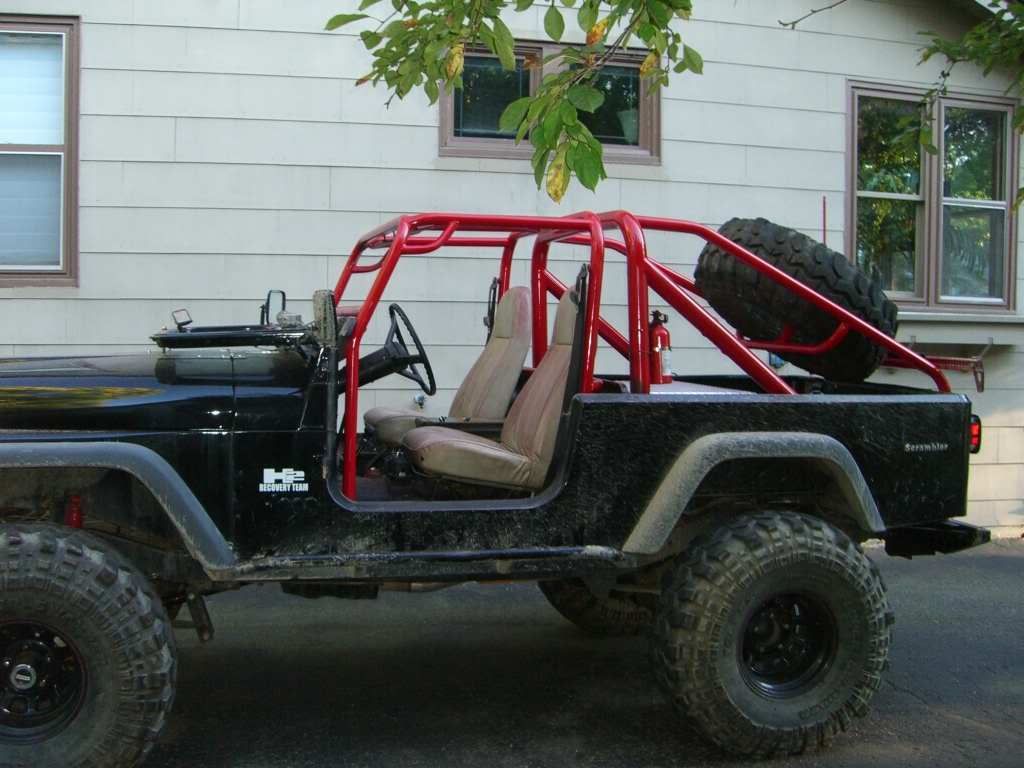 Once again pre-seats, tires and stinger. This is to give an idea of the condition
Here are some that I took tonight (its hard to get good ones because the Jeep is continually covered in snow). I'm not a huge fan of how low the bumper hangs in the back, but it makes towing easier.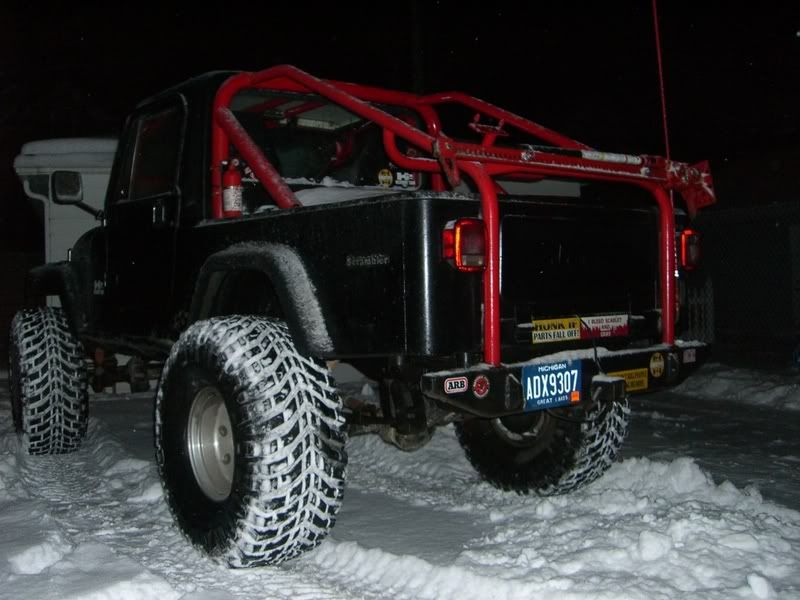 interior
And the new stinger. It appears that I lost a headlight bezel! I will replace
Any interest out the in this Jeep? Located in Cleveland, OH. Would make someone a great street drivable, very capable offroad vehicle.
As most of you know, these Scramblers are getting harder to find.