Quote:
Originally Posted by
jeepers48
Bridged rockers aren't adjustable, torque to specks and that's it. If your running a high lift cam then your bridged heads "might" need machine work. Buy single rockers & studs.

If you've tightened the (bridged)rockers to specks and start bending push rods after start up, Cha-ching!!! My question/s would be, what kind of cam did you install? lift and duration, etc.

I think you'd do better checking out the amc forum and throwing your questions there.
AMC used to adjust/ regulate the oil pressure by changing the spring inside the oil pump housing. I wish I had your problem. The spring is easy to swap out, take off the nut on the bottom of the oil pump, the spring comes out along with the small piston that reulates your oil pressure.
Thanks, I think I might post up on bulltear
If you read most of my posts - this is a new problem, not a problem that started right after my build. If it was a problem with my heads, I think it would be very apparent shortly after first start up. I have had extensive head work done, and my machinist knew what cam I was using. I don't think my rods are bent, my motor runs awesome.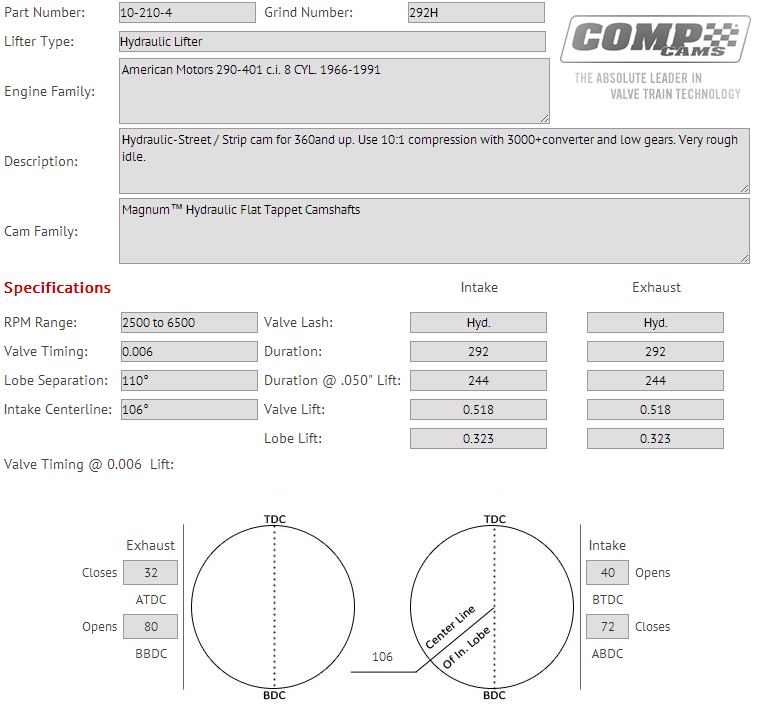 I think the reason my one set of rockers got loose after I played with them is that I did not torque them down with that piston at top dead center. I just went out to barn one day, took off my valve cover to inspect what was ticking, and tightened the loose rockers to spec in whatever stroke that cylinder was in. The valves might have been slightly/completely open, and just I torqued them down. In theory, they could loose some of their 20ftlb's I torqued them down to once the valve closes again since the tension is decreased, correct?
Then shortly later they started to tick..... Thats why when I re-adjusted them I did lots of research and did it with the motor running.... it has been running fine ever since, no ticks, runs strong, starts right up
Just has a extra beefy oil pressure
Oddly enough, the tick I had doesn't worry me that much - I think I know why it happened. The oil pressure does worry me, because that is a change I don't think I can control or that I contributed to.