First tow last weekend, about 500 miles with just my buggy in it. Tows nice. It's really rough on the larger bumps on the road, much more so than my other trailer. Not sure if that is 100% the fault of the trailer, or if my new WD hitch setup may be contributing to it too. I makes the ride pretty bad on rough roads, but I can live with it. My wife said it feels like the rear truck tires are being bucked up off the road.
Found out how sensitive load distribution is. Even with all the crap in the cabinets, I need to have my buggy's front tires over the ramps on the floor. I moreless centered it across the wheelwells for one short portion of the trip, and it mad a big difference in a bad way. The steering wheel seemed really light and the truck wouldn't hold a straight line very well - way too sensitive to let your guard down while driving.
Got 12.2 MPG @ 70 MPH with the cruise set, which including resetting it a few times to try different things. Tried 5th gear the first tank, 6th gear the second tank. No difference, but it's a lot quieter in the cab in 6th gear. It was pulling 13.5 for a while on a long straight stretch, but as soon as I had to exit to get fuel, that went right back down near 12 from accelerating.
Having my smaller tires on, being in Michigan (not much for hills), having a more aerodynamically efficient trailer, and going 70 MPH instead of 60-65 MPH allowed the use of 6th gear that didn't work very well with my other trailer. I'm calling this trailer a solid 1.5 - 2.0 MPG gain compared to my last trailer, which I am very pleased with.
Buggy is easy to load - just keep the driver's tire about 1" from the door opening and everything lines up perfectly. There is about 1.5 - 2.0" of clearance on either side. It needs to sit a little further ahead than what you see here.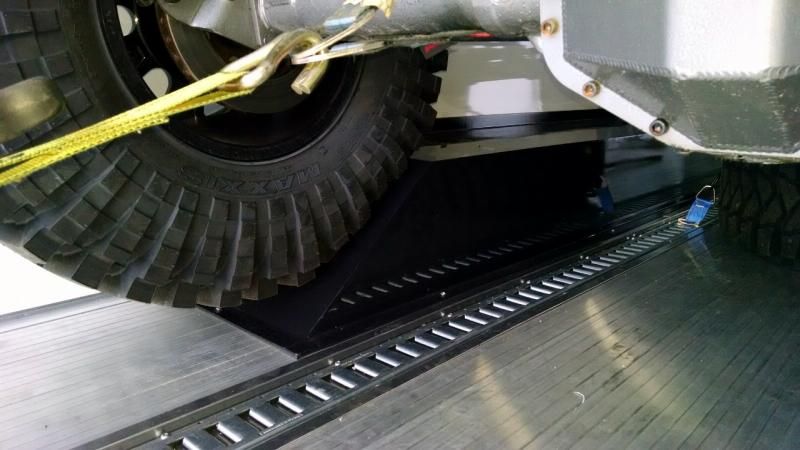 The shorter ceiling bit me when I wasn't expecting it. I can't back in or the back portion of the roof hits the ceiling. If I drive in forward, when the rear tires get on top of the ramp, there is about 1/2" of clearance with 25 gallons of fuel and zero clearance (maybe a slight interference) with an almost empty tank. With the back tires on the ramp and the front tires on the floor, it tilts the back of the roof up. A short roofline wouldn't have this problem.
A few reasons why.... the ramps were built with a little more clearance (height above the wheelwells) than I planned on, the only measurement I had to the buggy's roofline was with 39" Krawlers and now the 40" Trepadors are a little taller, and (maybe) when Wayne worked on my shocks, he might have change the ride height a little bit. And my cad model of my buggy was a sketch from a picture, not exactly accurate. So an inch here and there added up and made the difference between hitting and not.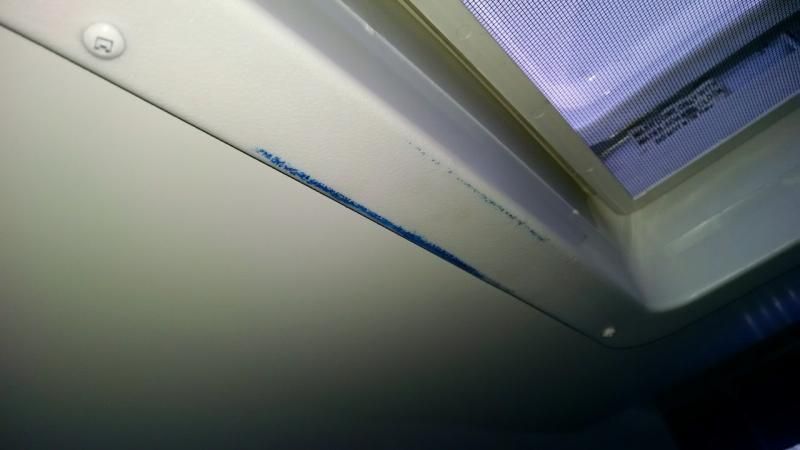 That being said, I'm fine with the height the way it is and wouldn't have done it any differently if I had another chance. I did NOT want another 7'6" interior height trailer. I'll use a ratchet strap to compress the rear suspension a couple inches when I haul more than just the buggy and need to drive it all the way forward.