Name: Jake
Location Toledo Ohio
Value: 3000$ trade value
Number call or text 4199368379
I have 2 very nice ar 15 rifles. Both were professionally built by a local shop by the owner one for his wife one for the shoo itself. These are both full military spec builds and use top quality parts. These are chambered for 5.56 and 223 si they will run both kinds of ammo.
First rifle specs:
Daniel defense 16" barrel
Daniel defense stripped reciever
Bravo company bolt carrier group
Bravo company charging handle
Troy omega rail
Battle comp 2'.0 muzzle device
Alexander arms grendal Multi Cal lower
Daniel defense lower parts kit
Magpul furniture
Magpul buis flip up sites gen 2
2nd rifle:
Aero precision stripped upper with laser t marks
Sato arms 5.56 stainless heavy barrel
Full auto bolt carrier group more heavy duty
Ar57 Multi Cal lower
Cmmg lower parts kit
Magpul style furniture
Heavy hand gaurd
Nc star scot style optic
Both rifles are in like new condition. The first is more of a tactical build would be great for completion or 3 gun shooting. The second is more of a heavy varmint build really accurate. You will not be dissapointed with these rifles.
Package also includes:
13 magazine 9 pmags the others are metal Mag's with magpyl followers
2-300rds od brass 223 and 556 ammo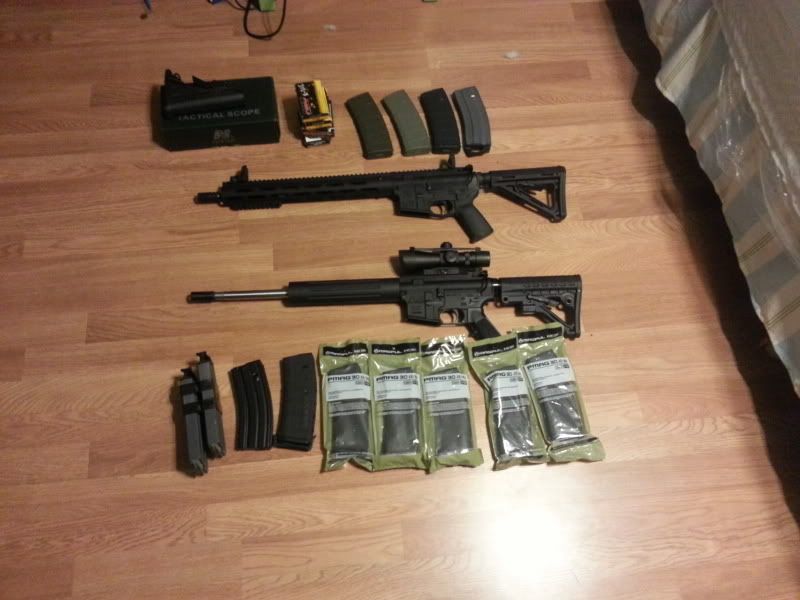 Would like to trade for a off road toy v8s10 or other intersting things pretty open to offers