Still need cage pics...although I think I really need to finish it due potentially to frame flex.
Well took this thing out for it's first attempt at offroading in the new configuration. Before going out I had to modify my transfer case crossmember. The drivetrain twists so much that my front drive shaft hits the crossmember. So I modified a mount with a hockey puck instead of a soft bushing, that didn't fix it. So I pulled the crossmember off, heated the area up, and beat it in with a 3 lb sledge. That gave me enough clearance it seems. No more contact at this point. I'd like to get more solid motor mounts though, I think this would help a ton (obviously).
A couple of things, my clutch linkage does not like frame twist (I assume thats what happened). But the spot I went up was rather level, so idk.. Attempted the first little hill climb. I was going super slow, and didn't expect to make it. To my surprise it easily crested the top and then started spinning tires, slowly mind you. So I tried to push the clutch in and roll back down. Well that didn't work, I lost half of my clutch throw so I couldn't disengage the clutch and I couldn't get it out of gear! By this time I had dug myself two big ole 38" tire holes. Shut the jeep off, couldn't get the drivetrain to release its pressure and couldn't get the trans out of gear. Ended up unlocking the front hubs, couldn't get them to unlock without a little movement though, so the front end stayed locked in. Jacked the back up and was able to get a tire off the ground and put the rear end in neutral, thank god for a twin sticked d20. Next step was jacking the front end up and kicking it off the hill, which worked fine.
Then I decided to try and adjust the linkage some, to get rid of some of the slack in the system. Well one of the rod ends broke instead, and thus no clutch. I tied a rope in place of that linkage part, which surprisingly worked. Although it only really worked twice and then was too loose lol. Got it into second and started it in gear, couldn't shift into third though… Got to the main road and was able to shut it off and put it in third, then start it. Got the the paved road and managed to shift it into fourth gear, and played my 1 potential stop at the highway safe and was able to get on without shifting out of gear.
Jeep goes down the road, smooth road, very very well. Bumpy turns I can start to feel the wheels wobbling, which is scary. I would like some shorter shackles to combat this. So the jeep is at my mom's, waiting to get a better linkage setup. I believe I will have to lengthen one of the levers of the clutch as well, so that I have more throw and control over the disengagement point of the it. I suppose I'll need to finish tying the cage into the frame, to help with frame flex.
here's where I lost pedal travel, I guess the rear tire there is pushed up some. Otherwise not much flex going on… Weird thing is when I did flex it out on a 33" tire, I don't recall loosing my clutch travel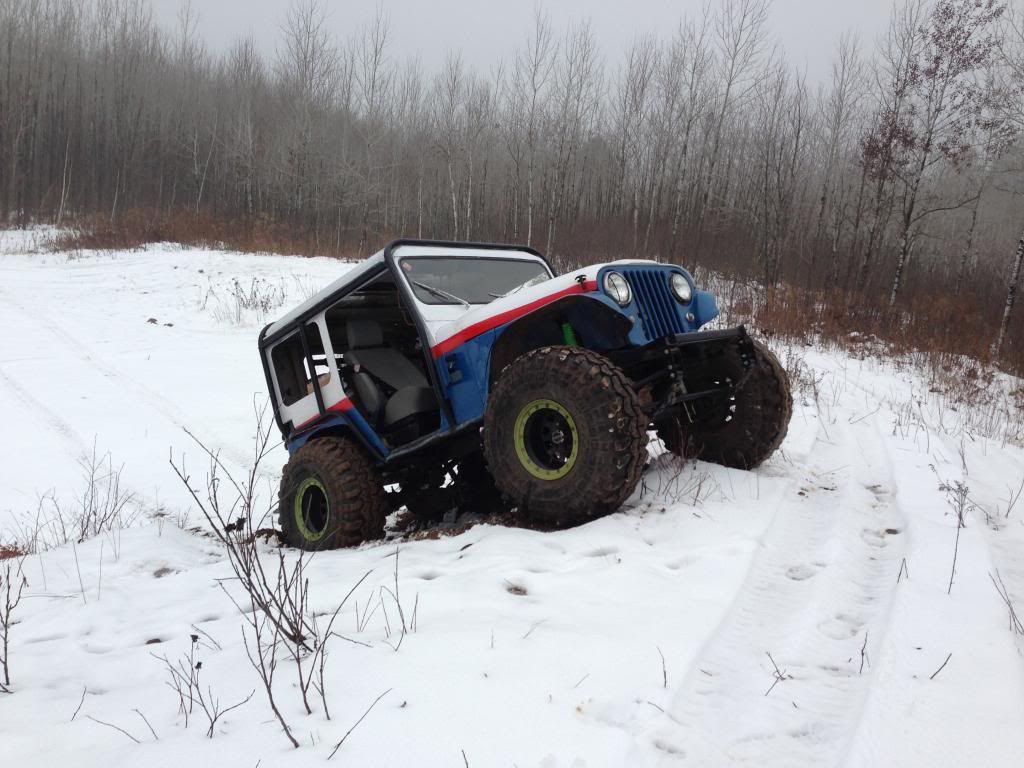 and here's where I broke the linkage