Now selling without the extra engine, the Myers top and doors.
Just the jeep for $850 Firm.
It is out at the folks place and the top will be removed at time of sale. That way it does not fill up with leaves and such. The title is signed. Give them the cash, air up the rollers, and pull it onto your trailer.
1969 jeep Willy's cj5 with same period Myers hard top. I also have the doors but the hinges were lost before I installed them. All original drive train except motor which might be a 231. I will need to check the numbers tomorrow the po said it was a 225 but I doubt it is. I do have a 69 dauntless 225 in the shed which I got from a member on here for a grand who said it only had 25k who knows. I do not have the flywheel for the dauntless. The 225 is in good shape in every way from what I can tell. It turns over by hand very easily. The wiring in the jeep is shot, I have a key Jerry rigged to start and the jeep run it. The 3 speed transmission will not go into 1st or reverse and should be rebuilt anyway. So I can rock it back and forth but wont be driving it up any trailers in 3rd gear.
I can start it and after it warms up it runs ok it smokes a little and backfires a bit if you really get on it. The engine in it needs a tune up or just pull it and put the 225 in.
I was going to restore it to 100% stock condition and sell it for around 9k. I just picked up a unexpected project truck which I could not turn down, and am doing a buggy at the same time which I still need put another 7k into. So this is getting sold and I will just do another later.
The tub is good, some idiot covered it in bondo which varies from 1/16 to 1/8 thick in spots. But, if you look on the inside of the tub the steel is good. Not perfect it will need some body work but very repairable. I have crawled under it and the tub looks good I have lots of pictures of under it. I was going to soda blast all the bondo off. But I need a industrial air compressor to run the soda blaster and simply don't have the time before I leave on Saturday.
The frame is in great shape, the seats are perfect with no rips, someone put a family roll bar in it at some point but it fits nicely under the top. There is no rear seat.
If you want something to restore and sell or just a great start to a project this is for you. The v6 dauntless puts out more torque then many v8's at lower rpm. It needs work but is better then many cj-5 out there.
Here is a picture I took tonight after starting it and letting it run for a bit after sitting.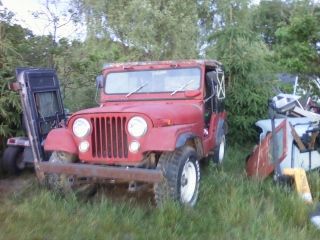 I have over $2700 into it looking to get $1800.
Here is all the pictures I have on it ignore the measuring. There are a few of a Ford T-18 which I am selling in parts.
http://s398.photobucket.com/albums/p...cpZZ1QQtppZZ32