I picked this up but won't be needing it now.
Mask is new, never used with protective stickers still on face.
Have 3-4 filters, blower, battery and charger. Also have the flow meter.
Mask is a medium.
Not sure if the blower and battery are new or not. They appear to be but the blower is dusty from sitting and the battery has some scratches from storage. Battery takes a charge and blower definitely puts out some air.
3Ms description,
The complete system includes a tight fitting full facepiece, facepiece-mounted blower/filtration unit, rechargeable battery, battery charger and high-efficiency particulate filter. The NiCd battery pack provides up to 8 hours of operation. The facepiece-mounted, motor-driven fan is contained in an integral filter carrier and draws ambient air through the filter/cartridge. The rechargeable NiCd battery pack with top switch is fitted with a clip for belt mounting.
Use for respiratory protection against certain airborne particulate contaminants including dusts, fumes, mists, radionuclides and asbestos.
**NOTE** For disposable shield use: A410-6885
Features:
* Size: Medium
* NIOSH approved powered air purifying respirator (PAPR)
* Motor-driven fan contained in an integral filter carrier draws ambient air through the filter/cartridge
* System includes:
o Tight fitting full facepiece
o Facepiece-mounted blower/filtration unit
o Rechargeable battery
o Battery charger
o High-efficiency particulate filter
Applications:
* Painting
* Welding
* Abatement
* Metal working
* Automotive manufacturing
* Chemical manufacturing
* Pharmaceutical manufacturing
* Petrochemical
* Nuclear
* Utilities
* Wood working
* Asbestos exposures
* Battery manufacturing
Spec Summary:
Airflow range:
4 to 15 cfm (114 to 425 lpm)
Weight:
Full facepiece: 0.9 lb (408 g)
Powerflow blower/filtration unit: 0.5 lb (227 g)
Battery pack (NiCd): 1.6 lb (726 g)
High efficiency filter: 0.3 lb (136 g)
Visor material:
Polycarbonate
Facepiece material:
Silicone
Intrinsic Safety:
The PowerflowTM PAPR with BP-17IS battery pack
has been tested and classified for intrinsic safety
("Exia") by Underwriters Laboratory (UL) for use in
the following Division I locations: Class I, Group D;
Class II, Groups E, F, G and Class III. Temperature
code "T3".
NOT MINE, just a factory pic, mine is exactly the same.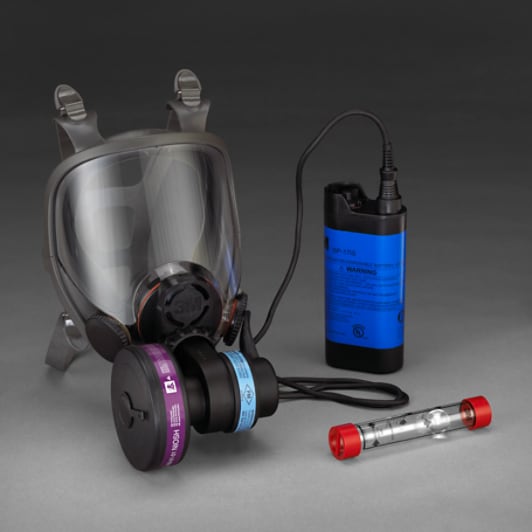 New online they go for $375-$500
I'd like $200 OBO or trade.