It is with a sad heart that I have to put my project truck up for sale. I had to move out of MI for a new job and the place we're renting will not allow us to work on any vehicles and our current financial situation will not allow me to rent a place to store it. So, my loss can be someone else's gain.
The truck is an '88 MJ short box that I got with no engine or transmission. The truck was originally a 2WD but I had started a 4WD conversion using parts from a '91 XJ. I was intending this to be a basic off-roader/wheeler/trail truck and have tailored the build accordingly.
Work I've done/parts I've added:
*Replaced driver's side floorpan with one from Sherman's. I installed it with structural rivets and two-part construction adhesive used in construction of buses. Other small patches were also installed in the rest of the floor and passenger side rocker panel. Also patched area under the battery mount. Most of these areas were covered with Zero Rust paint and I was planning on covering the floor in Herculiner.
*Swapped in 4.0L HO engine, AW4 transmission, and NP231 transfer case from '91 XJ. Also, was in the process of swapping the entire wiring harness over to the MJ.
*I installed a 2" budget boost from my old XJ.
*Dana 30 (disconnect model) cleaned up, painted, and installed.
*Dana 44 from an '87 MJ with the Metric Ton package, cleaned up, painted and installed with new u-bolts.
*Swapped in dual diaphragm brake booster from later model XJ.
*Converted door locks and ignition to single-key style used in the '91 and up XJs and MJs (I like simplicity for stuff like this). I also swapped the glove box door so the lock matched.
*Swapped in full gauge cluster and console shifter from the XJ. Full center console also included but not installed.
*Swapped in MJ buckets but had to adapt the seat covers from an XJ. Forward tilt still works for both seat backs.
*Tires are on aftermarket aluminum rims but a set of four Jeep factory aluminum 5-spoke rims will be included.
* Installed aftermarket Pioneer radio (canít remember model) and door speakers. Wires are run but not hooked up. I also have a small Sony amp that I was going to use for the front speakers that will be included. RCA cables are run for the amp.
*I removed the taillights and installed fog lights in their place to use as back-up lights. I had planned on building a heavy-duty bumper with LED lights for tail/brake/turn signals.
*I have done some extensive trimming in the front and rear fenders. There was a lot of rust in the bedsides so those cuts are very high. The bottoms of both sides were cut higher for clearance while wheeling.
Work that still needs to be done:
*All of the seams in the floor should have seam sealer applied to them.
*The front and rear diffs do not have matching gears (rear is 3.07 and front is 3.55).
*Rear brake drums were fused and trashed when I bought the Dana 44. I had removed all of the components and was going to do a rear disc swap of some sort but have not gotten the parts yet.
* The fuse block needs to be mounted on the firewall and the remaining wiring has to be routed and connected.
*The motor needs the following parts: a valve cover gasket, power steering pump (or just the reservoir if itís replaceable), alternator, distributor cap, rotor, plugs & wires, and maybe some miscellaneous hoses.
*Front and rear bumpers are needed.
*I had planned on converting the AC compressor for OBA but had not bought the parts yet.
*I have not picked up a master cylinder or ran brake lines so this will have to be done.
*Some of the body parts are blue and some were painted white with house paint and a brush (no kidding!) so if a single color is desired, that will have to be addressed.
There may be other things that I have neglected to mention but the above information is correct, to my knowledge. I will include any parts that I had purchased for this build. I am looking to get
$500 FIRM
. The only catch is that the truck is in Imlay City, MI and I live in MN now. I will be coming back to MI the weekend of March 19th and would be available for a potential owner to pick up the truck on that weekend only. If I canít sell the truck, I will more than likely have to sell it to a junkyard. I have included a couple of pictures of earlier in the build.
If you have any questions please send me a message through this site. Thanks.
Battery tray patch
New floorpan installed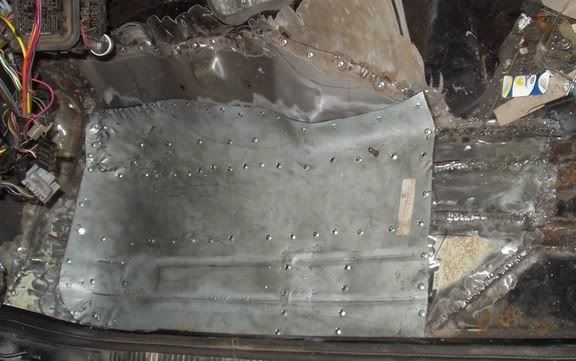 BB installed (without motor)