Quote:
Originally Posted by
bj house
What scares me more than anything is if the ball coupler let loose it would shoot skyward with a whole lot of force.
Had that happen.....fuckin sucks donkey dick....specially when the trailer flys up, comes unhooked, flys forward, slams down on the top edge of the tailgate and slides down the skin of the tailgate diggin and rippin it apart and finally ruining the bumper as it lands there.....all of this can easily be prevented by wrapping the slack in the chains around your receiver while loading something to hold it down if you're nervous about your coupler, or if you have a dumbass brother who forgets to lock it.....
Here's some pics of what happened to me. I was stripping a non-drivable Ford Explorer, and since we had a backhoe handy, and the sploder was goin to the boneyard, we thought it'd be fun to try and load the explorer a little different way.....By stabbing the claw tipped bucket through the roof, and biting into the sheetmetal skin of the roof, picking it up by that....Well once it was about 2/3 of the way over the back of the trailer, the roof ripped, the sploder fell and all hell broke loose on the truck hooked to the trailer as the coupling let loose. Forgive me for the shitty 1/3 megapixel cameraphone quality. You can kind of get an idea of what was going on.....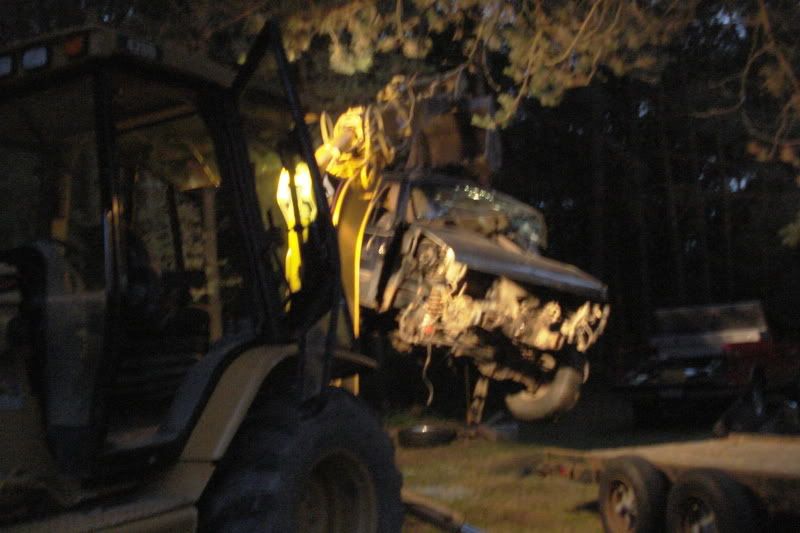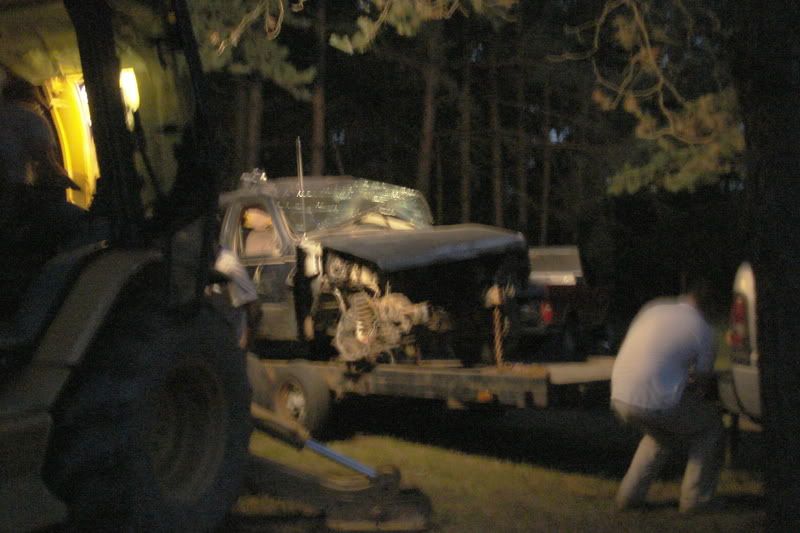 Yea....that was a fun night.....lucky no one got killed...
Quote:
Originally Posted by
busyfixin
yes, the ramps with legs are the way to go. its pretty easy to figure out what the best way is, just go look at any real trailer's ramps, and you find spring assisted ramps with support legs. you will also find the "slider tubes" as mentioned above. the key is to leave them somewhat loose, allowing about 2-4 inches space between them and the ground, that way they wont be tight against the ground once loaded.
If you look in this bad example.....you can see the ramps I use. They have legs sticking down at about a 90 degree angle to the ramp, with rebar tieing the tip of the leg, to the tip of the ramp that makes contact with the ground. That way, the leg doesn't want to bend over on you. They are a very heavy duty design. And extremely heavy in general. Sorry for the bad pic again.