FVCK!!!
Fool me once, shame on me....
So, I had sent my cylinder and head out to a guy in colorado for a bit of work, reassembled everything how he said to and voila! Spark freakin Knock.
On a KTM, you're supposed to set your deck height (the height the piston comes out above the cylinder) to 0.0mm. I didn't think to check this and was happy to get my bike running again. The past month, I've been fighting a peculiar problem; jet the bike so it doesn't knock and I foul plugs and run shitty, jet the bike so it runs awesome and it knocks like a sonofabitch.
Here is how far my piston comes up above my cylinder: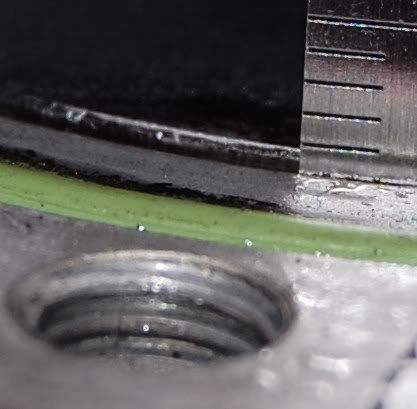 Fuck me - that's about 0.7mm too damn much and the reason why my bike can sound like a fvcking diesel. I really have learn how to just do the machining myself. :miff:
So I 'm tearing it down for the third time this season to add some base gaskets. I'd really like to cunt-punt the asshole that worked on my shit.